Offer (15 July 2022)
The LONGER RAY5 is available in the LONGER shop at the current special price of only 429 euros. There is also a free gift package available until July 31st, consisting of a 5W laser module and a set of engraving material (77 pieces).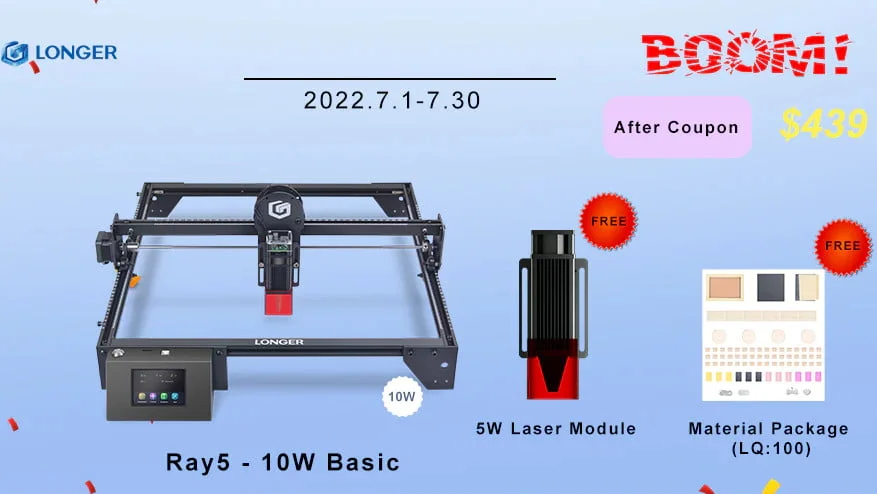 Simply call up our discount code above and redeem it in the LONGER shop.
LONGER RAY5 product details
Today we got another great deal for hobbyists! The 3D printer manufacturer "LONGER" now also has inexpensive laser engraving machines in its range. The current top model is the LONGER RAY5 with a 10W laser module and some very interesting features.
A 10W laser module is not one of the most powerful on the market, but the LONGER RAY5 makes use of a tiny 0.06 x 0.06 mm laser dot. This enables the laser engraver to cut different types of wood up to 20 mm and acrylic even up to 30 mm. The maximum speed is up to 10.000 mm per minute.
To ensure that nothing gets in the eye when cutting or engraving, the LONGER RAY5 relies on various safety precautions. The laser module is covered by a privacy screen so that it is not possible to look directly into the laser or to be reflected in the laser.

A heat sensor detects when things are getting hot and also sounds an alarm. If the laser gets stuck in one spot, the laser engraver will automatically turn off after 15 seconds. Vibrations on the device are also registered and cause the machine to switch off.

Extensive connection options ensure that print files can be transferred to the laser engraver in various ways. In addition to USB and the classic SD memory card, the LONGER RAY5 also supports WiFi. This enables full operation via app. The laser engraver is operated manually via a 3,5″ touch display. On the software side, LaserGRBL and LightBurn are supported.
Specifications
data
Brand: LONGER
Model: RAY5 10W
Type: laser engraving machine
Material: aluminum + acrylic
Laser: 10 W (4.5 - 5.5 W optical)
Wavelength: 450 ± 5 nm
Laser Dot: 0.06*0.06mm
Variable focus: No, fixed 50mm
Speed: up to 10.000 mm/min
Engraving area: 400 x 400 mm
Software: LaserGRBL & LightBum
Connection: USB, TF, WiFi
Dimensions
Weight: 5,6 kg
Size: 58.6 x 58.3 x 17.65 cm
LONGER RAY5 reviews
German review
LONGER Ray 5 | Inexpensive LASER with display! (XXL TEST 2022)
English review
Laser from LONGER? any good?? Longer Ray5 is really good!
User Reviews