ATOMSTACK A5 PRO product details
Attention hobbyists! Today we present you with the ATOMSTACK A5 PRO an inexpensive laser engraver for the hobby room. The engraving machine is delivered largely pre-assembled, particularly for beginners. The construct is set up and ready to go in 10-20 minutes. The housing is made of an anodized aluminum alloy, which makes it light on the one hand, but also stable.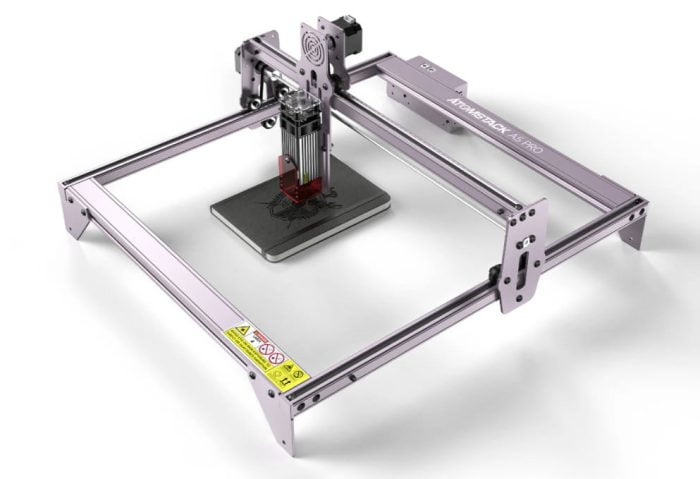 With a work surface of 410 x 400 mm, the A5 Pro meets most engraving and cutting requirements. The mainboard is a LaserBox V1.0 board with GRBL as firmware. LaserGRBL and Lightburn are fully supported. There is no SD memory card slot. Instead, you have to connect the laser engraver to a PC or Mac via USB.
With a power consumption of 40 watts, the laser power of the ATOMSTACK A5 PRO is around 5,3 watts. The laser point measures only 0,03 mm², so that particularly fine engravings and cuts are possible. Wood, plastics and leather, but also lacquered or non-reflective metals can be engraved. The laser cuts soft materials such as wood with a thickness of up to 5 mm. So that nothing gets in the eye when engraving with the ATOMSTACK A5 PRO, the laser is surrounded by UV protection (acrylic cover). You should still wear protective goggles!
Specifications
data
Brand: ATOMSTACK
Model: A5 Pro 40 W
Type: laser engraving machine
Material: aluminum + acrylic
Laser: 40 W (4.5 - 5.5 W optical)
Wavelength: 445 ± 5 nm
Variable focus: No, fixed
Engraving area: 410 x 400 mm
Motherboard: 32-bit motherboard LaserGRBL (LightBurn)
Dimensions
Weight: 5,6 kg
Size: 57 x 60 x 27 cm
ATOMSTACK A5 PRO reviews
English review
Atomstack A5 Pro Review - Is Ortur in Trouble?
German review
Engrave stainless steel with a cheap laser. Atomstack A5 Pro from Banggood
User Reviews
ATOMSTACK A5 PRO price comparison