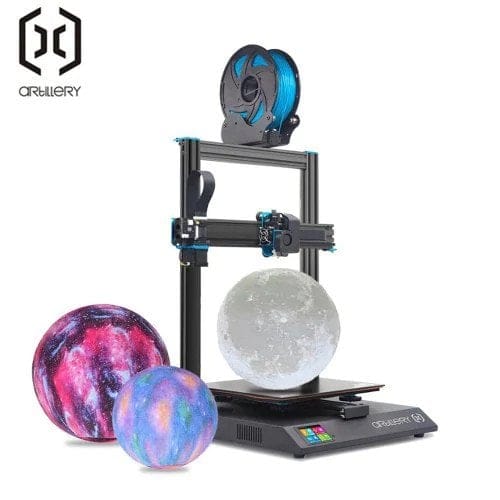 Artillery Sidewinder X1 3D printer for € 350
With this Gearbest Offer you can buy the Artillery Sidewinder X1 3D printer for only 350 € instead of 373 € The dispatch takes place directly from the German warehouse within 2-5 working days. There are no additional costs for this item.
N4C0B46DE6DEB001
Show Code
Artillery Sidewinder X1 product details
The Artillery Sidewinder X1 is a FFF (Fused Filament Fabrication) 3D printer from the still less known manufacturer "Artillery". The 3D printer has been removed from the packaging already built up to 95%. Attach a few more parts (~ 20 minutes) and the printer is ready to go. Everything you need for the assembly is included. Only the sensor for auto leveling is missing! But you can easily buy it separately.
Even 3D printing experts are convinced of the quality of the individual components. This is also reflected in many Sidewinder X1 test reports that give the 3D printer excellent marks. The frame consists of stable aluminum profiles. The power supply is CE compliant and can be used without hesitation.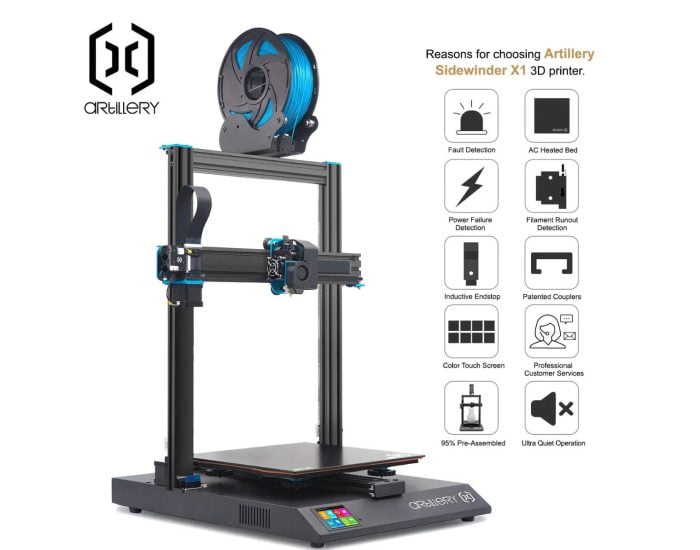 The print area is 300 x 300 x 400 mm, so that even large objects are no problem for this 3D printer. In addition to the large printing area, the printer has a number of other interesting features. It is printed on a pre-cut Ultrabase type glass plate, on which all types of plastics adhere perfectly and can be easily removed. Despite the large heating bed, this is internal thanks to the 220V direct feed 1-2 minutes at 110 ° C brought. The printer is controlled via the Color touch screen, This is again much more convenient than control via buttons and controls.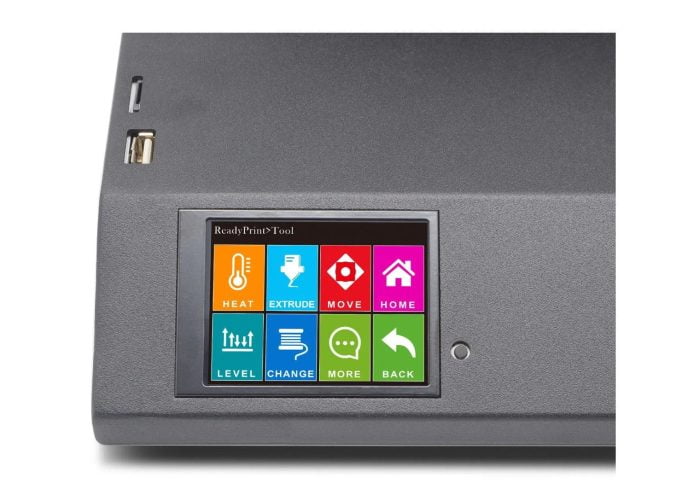 The Sidewinder X1 is exceptionally quiet during printing. Less than 60 dB are reached. The board used is a FMD Gen L. The (noname) drivers are plugged in and can be replaced. Incidentally, Sidewinder does not use mechanical end stops, but rather inductive end stopsthat work a little more precisely. The extruder is one Titan extruder with gear, ie precise and powerful plastic feed, which is installed directly on the Y axis. Due to the short feed, the layer accuracy is even higher. The extended nozzle ensures high printing speeds. For the eyes there is also a colored LED backlight that can be controlled via the printer menu.
Specifications
data
Brand: Artillery
Model: Sidewinder-X1
Type: 3D printer (FFF)
Print area: 300 x 300 x 400 mm
Layer resolution: 0.01 mm
Nozzle: 0.04 mm
Print speed: 150 mm / s
Movement speed: 250 mm / s
Filament: PLA, ABS, Flexible PLA, TPU, Wood, PVA, HIPS
Temperature: 240 ° C
Energy intake: 600W
Volume: <60 dB
Dimensions
Weight: 14 kg
Size: 55 x 40.5 x 64 cm
Artillery Sidewinder X1 reviews
My BEST 3D PRINTER? Artillery Sidewinder X1 [TEST / Review / GERMAN]
user reviews
Artillery Sidewinder-X1
Overall rating:
(3 reviews)
Write a Review
Very good value for money
I bought the Sidewinder at the beginning of the year and have now expanded it by quite a few upgrades. Out of the box it's pretty darn good. Simply unbeatable with the improvements. Nothing better in the price range.
I bought the Sidewinder X1 after hearing that it is currently the best 3D printer kit from China. I wasn't disappointed either. Super processed, high quality hardware and the first print results were excellent without optimization. What annoyed me a bit is the missing leveling sensor. I thought it was included. The dealer has now offered to send me one. Therefore only 4 out of 5 stars.
Simple structure, good results
Super light construction and delivers excellent printing results. It is also so quiet that it does not interfere with overnight printing.
Artillery Sidewinder X1 price comparison
Price too high? Use our price alarm clock!
Prices last updated on: 2. July 2020 08: 03