Offer (21 June 2022)
The ORTUR Laser Master 2 PRO is now available with 4 different laser modules, which differ in terms of performance and area of ​​application.
The most powerful model with 10W laser power (40W power consumption) is the ORTUR Laser Master 2 PRO LU2-10A, which the hobby shop "MadeTheBest" is currently on offer for 500 euros instead of 530 euros.
Alternatively, models with a smaller laser module are available from MadeTheBest for prices starting at 380 euros.
Simply call up our exclusive discount code and enter it in the shopping cart at MadeTheBest. The offer is valid until June 30, 2022.
MadeTheBest is an official ORTUR sales partner with free shipping worldwide. The delivery time is 7-12 working days.
ORTUR Laser Master 2 PRO product details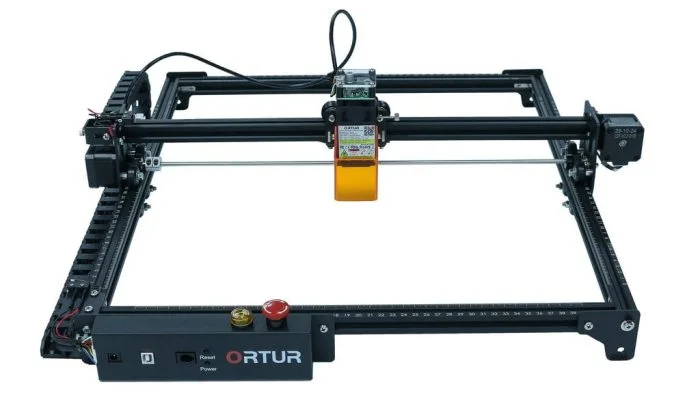 Today we have another deal for the hobbyists among you. To be precise, it is about the ORTUR Laser Master 2 PRO laser engraver, the successor to the particularly inexpensive and extremely popular ORTUR Laser Master 2. ORTUR has extensively revised the new PRO model or added new functions.
Parameter
Laser Master 2 PRO
Laser master 2
Laser
LU2-4LF/SF | LU10-A | LU2-2
LU1-4 (LU1-3 / LU1-2)
Performance
5.5W | 10W | 1,6W
5.5W (4,5W / 1,6W)
wavelength
445±5nm
445±5nm
Fokus
Fix
Fix
Speed
up to 10.000 mm / s
up to 3.000 mm / s
Area
400 x 400 mm
400 x 430 mm
mainboard
OLM MAXUP V10
OLM MAX V10
firmware
OLF-V1.5 firmware
V1.40 Series firmware
Safety

1. Motion detection

2. Motor movement

3. UV protection

4. Fire alarm

5. Emergency stop

1. Motion detection

2. Motor movement

Price
335 Euros
260 Euros
More safety
Above all, when it comes to safety, ORTUR has made a lot of improvements. An acrylic cover that surrounds the laser module prevents the laser point from radiating to the sides. Nevertheless, one should not do without protection for the eyes. With a laser power of up to 10 watts (40W power consumption), the laser engraver is no toy!
The new OLM-PRO-V10 mainboard (OLM-MAXUP-V10) carefully monitors the engraving process and ends it in the following situations:
Movement: Strong vibrations or movements end the engraving process.
Crash: If an error occurs during data transfer (PC crash), the device switches off.
Motors: As soon as the motors stop for a long time, the laser switches off.
Fire: If there is a fire, a loud alarm sounds.
The red emergency stop switch, which stops the ORTUR Laser Master 2 PRO at the push of a button, is also new.
Photo-realistic engraving
LU2-4LF/SF
With a size of 0.17 x 0.25 mm (long focus) or 0.12 x 0.15 mm (short focus), the laser point of the ORTUR Laser Master 2 PRO is significantly smaller than that of comparable devices (0.23 x 0.23 mm). At the same time, the PWM control of the laser has been improved so that up to 1000 shades of gray can be displayed. The result is clean cuts up to 9mm in softwood and photorealistic engravings on wood, plastic, leather and even anodized metals.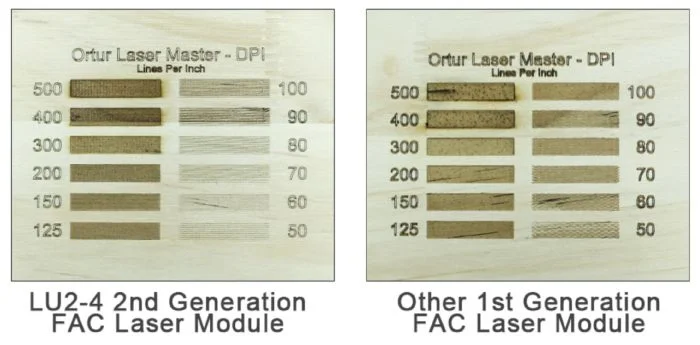 The difference between long focus (LF) and short focus (SF) refers to the respective application. Due to its small laser point, the SF module is better suited for cuts than engravings. Conversely, the LF module is better suited for engraving due to the larger laser point.
LU2-10A
The new leader in terms of performance is the LU2-10A laser module, which generates a laser power of 40 watts with a power consumption of 10 watts. With its tiny 0.05 x 0.1 mm laser point, the laser engraver goes to work at up to 15000 mm/minute and even cuts 30 mm thick acrylic or 20 mm thick wood.
Engraving and cutting is realized by the combination of two lasers, which individually achieve 5.5 watts of laser power, which results in a total of 10 watts of laser power.
LU2-2
The weakest model in the series in terms of performance is the LU2-2, which is ideal for hobby engraving thanks to its small focal point of 0.07 x 0.06 mm and the low 1,6 watt laser power.
Specifications
data
Brand: ORTUR
Model: Laser Master 2 PRO
Type: laser engraving machine
Material: aluminum + powder-coated steel
Laser: LU2-4 (4500 - 5500mw)
Wavelength: 445 ± 5nm
Focus: Fixed
Speed: 0 - 10.000 mm / min
Engraving area: 400 x 400 mm
Motherboard: OLM-MAXUP-V10 with 32bit MCU
Dimensions
Weight: 2.8kg
Size: 60 x 57 x 14 cm
ORTUR Laser Master 2 PRO test reports
German review, structure, tips & tricks
Ortur Laser Master 2 Pro | CNC lasers for everyone | Construction | review | Tips and Tricks
English review
100 Projects Later: Ortur Laser Master 2 Pro REVIEWED
User Reviews