Artillery Sidewinder X2 product details
A few days ago Artillery presented the new Artillery Sidewinder X2. Now the 3D printer is officially available. Let's take a look at the innovations of the Sidewinder X2 and the differences between it and its predecessor, the Artillery Sidewinder gives.

The structure and design of the Artillery Sidewinder X2 have hardly changed. Purely optical design elements have been added here and there. The display is in the same position and the printing area remains unchanged at 300 x 300 x 400 mm. The automatic bed leveling, which Artillery introduced for the first time, is new. A leveling sensor measures the inclination of the print bed.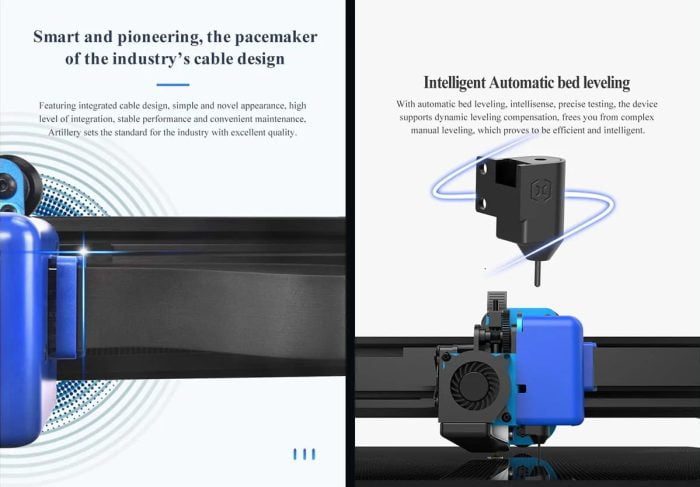 The AC heating bed with a glass surface, which is brought to printing temperature within a few minutes, has also been improved. We said goodbye to the 8-bit mainboard of the X1. Instead, the Artillery Sidewinder X2 is equipped with a new, in-house developed 32-bit mainboard. This gives Artillery new opportunities to develop additional functions for the 3D printer. You don't have to worry about 110V or 220V anymore. Artillery has integrated a voltage converter that can be switched over with a switch.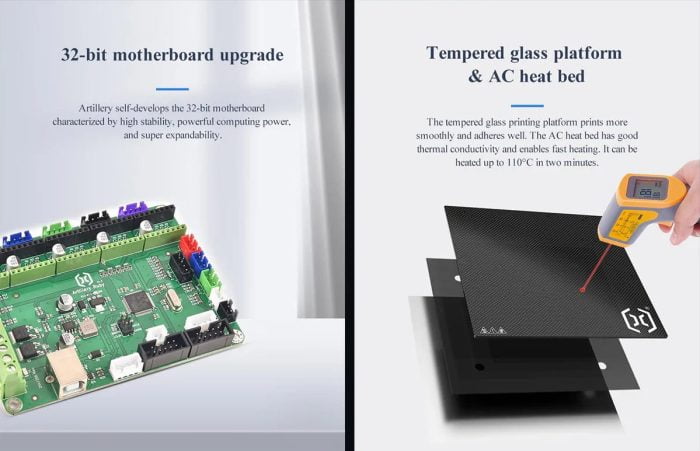 Another benefit is the new cable routing, which improves the look and at the same time reduces wear and tear. With the Sidewinder X1 in particular, many users had problems with friction on the cables, which in some cases even led to failures. Incidentally, all the cables of the Sidewinder X2 are already pre-installed so that the user no longer has to lend a hand. So much for the major changes. With the extruder, a Titan Dircet Drive extruder is still used.
Specifications
data
Brand: Artillery
Model: Sidewinder-X2
Type: 3D printer (FFF)
Print area: 300 x 300 x 400 mm
Layer resolution: 0.1 - 0.35 mm
Nozzle: 0.4mm
Printing speed: 60 - 150 mm / s
Movement speed: 250 mm / s
Filament: PLA, ABS, Flexible PLA, TPU, Wood, PVA, HIPS
Temperature: 240 ° C
Energy intake: 700W
Volume: <60 dB
Dimensions
Weight: 12.9 kg
Size: 55 x 40.5 x 64 cm
Artillery Sidewinder X2 reviews
German review
ARTILLERY SIDEWINDER -X2- The beautiful straight printer!
English review
X2 NEW! Artillery SIDEWINDER X2 - Best 3D Printer Under $ 500 // Unboxing & Impressions