ORTUR Laser Master 2 product details
Update 12. March 2021
We have a new coupon for you that gives you a $ 5 discount on the upgraded version of the ORTUR Laser Master 2 (20 watts). Simply access the box above. The dispatch takes place directly from the EU warehouse and currently takes 3-7 working days. There are no additional import fees (customs & taxes) due to shipping from the EU.
Update 13. January 2021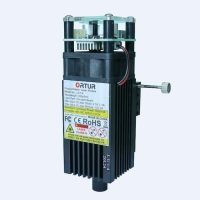 The ORTUR Laser Master 2 has been upgraded. The engraving machine is now also available with a 20 watt laser module. The new laser module with the designation ORTUR LU1-4 has a light output of 4.500 to 5.500 mW. A reduced laser point increases the engraving and cutting precision. Anyone who owns a first generation Laser Master 2 can purchase the module separately and thus upgrade the engraving machine at a later date. With our discount code (2), the module is already available for 107 euros.
Alternatively, the ORTUR Laser Master 2 Upgraded is also available separately. Gearbest has also provided us with a discount code (1) with which you can save a few euros.
Update 27. November 2020
The ORTUR Laser Master 2 is currently on offer at Gearbest! The offer price for the model with a 15 watt laser module is 182,65 euros. Alternatively, there is the Ortur Laser Master 2 with a 20 watt module from 233,38 euros. Be sure to select Fast-08 or Fast-30 for the warehouse. Then the dispatch takes place without further costs (duty & taxes) from one of the European warehouses.

The ORTUR Laser Master 2 is a top class laser engraver. The massive aluminum and acrylic construct can be assembled in just 20 minutes. With 400 x 430 mm, the engraving area is above average, which is why the Laser Master 2 is also suitable for engraving larger objects. The laser module provides a whopping 15 watts (alternative 7W / 20W) and burns into surfaces at up to 3000 mm / min.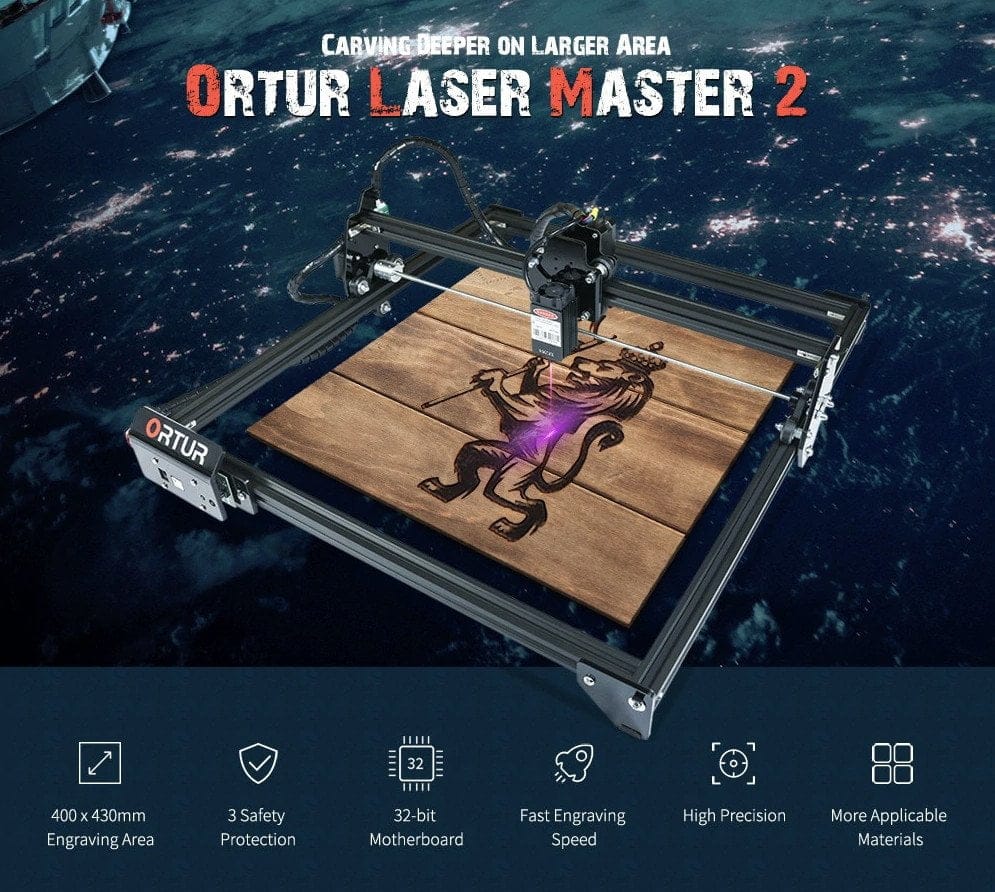 The engraving machine is equipped with various safety mechanisms so that nothing gets in the eye in the truest sense of the word. A G-sensor detects movements and stops the laser in the event of vibrations. If you forget to switch off the laser, it switches off automatically. If you pull out the USB connection cable, the process is also terminated.
The motherboard with a 32-bit STM32 MCU chip works with a baud rate of up to 921600. This enables a particularly accurate engraving process. On the software side, well-known programs such as LaserGRBL and LightBurn are supported. Different types of wood, plastic, paper and cardboard as well as leather can be engraved.
Specifications
data
Brand: ORTUR
Model: Laser Master 2
Type: laser engraving machine
Material: aluminum + acrylic
Laser: 15 watts
Wavelength: 445 ± 5nm
Variable focus: yes
Engraving area: 400 x 430 mm
Motherboard: 32bit with STM32 MCU
Dimensions
Weight: 2.8kg
Size: 57.00 x 55.00 x 17.52 cm
ORTUR Laser Master 2 reviews
▼ Ortur Laser Master 2 review | The difference with it's smaller brother
User Reviews
ORTUR Laser Master 2 price comparison