Artillery Hornet product details
Artillery's 3D printers are known and loved. Now the company is rounding off its range at the bottom and is showing the Artillery Hornet, a 3D printer that is aimed primarily at beginners and price-conscious buyers. The Hornet is a direct competitor to the Creality Ender 3 series. The in-house developed Artillery Ruby 32-bit mainboard and the quiet TMC stepper driver want the 3D printer to stand out from the competition.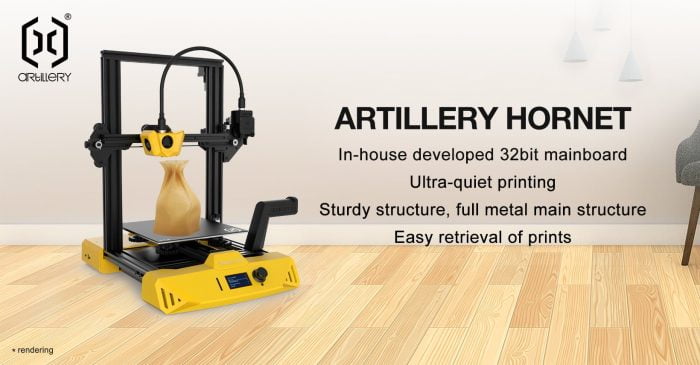 The assembly is suitable for laypeople and can be done in next to no time thanks to the pre-assembly. The yellow design elements of the Hornet, which additionally stabilize the construct, offer something for the eye. The 220 x 220 x 250 mm large print bed is heated and within 3 minutes to 80 ° C operating temperature. Instead of a direct extruder, Artillery opted for a titanium extruder clone. The hotend is an E3D V6 clone. Artillery states that the maximum printing speed is 60 - 100 mm / s. The layer thickness is specified as 0.1 - 0.32 mm. The display and the knob next to it enable easy operation.
Specifications
data
Brand: Artillery
Model: Hornet
Type: 3D printer (FFF)
Print area: 220 x 220 x 250 mm
Layer resolution: 0.1 - 0.32 mm
Nozzle: 0.4mm
Printing speed: 60 - 100 mm / s
Movement speed: 200 mm / s
Filament: PLA, ABS, Flexible PLA, TPU, Wood, PVA, HIPS
Temperature: 240 ° C
Energy intake: 350W
Volume: <70 dB
Dimensions
Weight: 10 kg
Size: 47 x 45 x 51 cm
Artillery Hornet reviews
XrControl live stream, Artillery Hornet
User Reviews
Artillery Hornet price comparison