ANYCUBIC Chiron product details
Huge print bed
The Anycubic Chiron is a FDM 3D printer that you can build yourself. The Chiron is delivered as a kit that can be assembled in about an hour. A special feature is the huge print bed, which with dimensions of 400 x 400 x 450 mm also enables particularly large prints. The print frame is made of solid aluminum. The built-in motherboard is the in-house "Trigorilla". The steppers can be exchanged on this board without soldering. The operation of the 3D printer is made easier by the TFT control panel.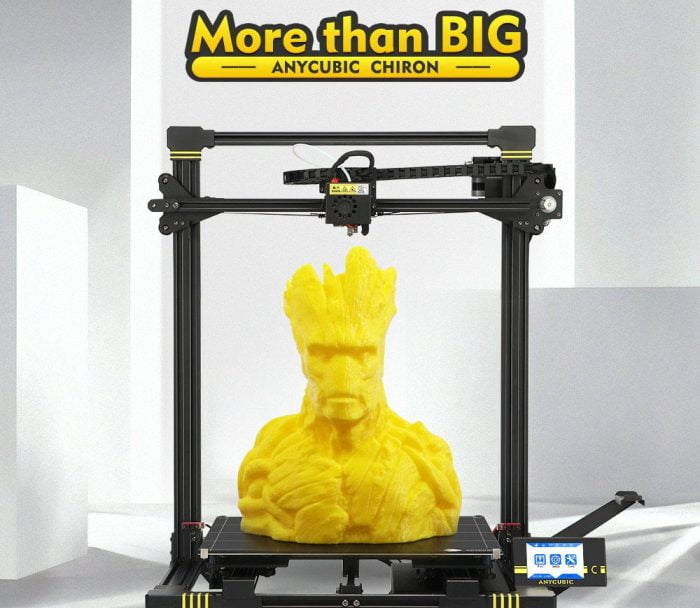 The printer is suitable for different types of filament (PLA, ABS, HIPS, wood, TPU). The single extruder reaches a maximum temperature of 260 ° C. The print bed is heated and heated up to 100 ° C within minutes. A special coating on the printing surface (Ultrabase Pro) allows the filament to adhere perfectly.
Another special feature of the Anycubic Chiron is the Matrix Automatic Leveling. Manual adjustment becomes a secondary matter here, because the 3D printer automatically moves through 25 control points and adjusts the distance between nozzle and print bed as best as possible. In order to be able to print flexible filaments with the Bowden drive of the Chiron, ANYCUBIC has made some optimizations. The manufacturer specifies the maximum printing speed as 100 mm / s. The recommended speed is 60 mm / s.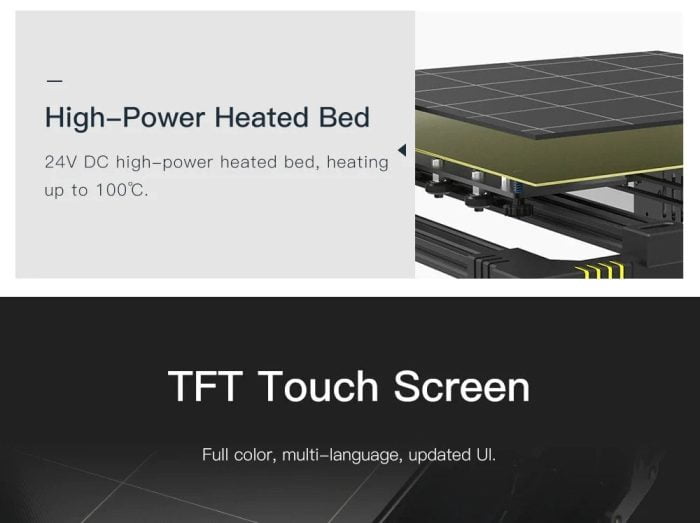 The Chiron has integrated a filament sensor and a power fail function so that even unobserved prints can be carried out as error-free as possible. If there is no more filament on the spool, printing is automatically paused. The same applies to unexpected power outages. Once the errors have been eliminated, you can continue from the paused point.
Specifications
data
Brand: ANYCUBIC
Model: Chiron
Type: DIY
Material (frame): aluminum
Nozzle: Single
Nozzle diameter: 0,4mm
Nozzle temperature: up to 250 degrees
Print area: 400x400x450 mm
Layer thickness: 0,05 - 0,3mm
Memory card: TF card
LCD screen: Yes
Print speed: 120 mm / s recommended 30-70 mm / s
Temperature: up to 105 degrees
Accompanying material: Abs, PLA
Material diameter: 1,75mm
Languages: English
File format: G-code, OBJ, STL
Model support function: Yes
XY axis positioning accuracy: 0,0125 mm
Z-axis positioning accuracy: 0,0020 mm
Voltage: 24V
Software: Cura, Repetier-Moderator
Compatible system: Windows, Linux, MAC
Laser life: no
Laser wavelength (nm): no
Voltage range: 110-240V
Current (W): 1000 W
Connector type: USB
Certificates: CE, FCC, RoHs
Dimensions
Weight: 7,9 kg
Size: 651 612 x x 720 mm
ANYCUBIC Chiron reviews
video Reviews
HUGE 3D printer - ANYCUBIC Chiron TEST [GERMAN / Review / Long Term Test]
User Reviews
ANYCUBIC Chiron
Thoughtful 3D printer
For under 500 € the Chiron is definitely one of the best 3D printers on the market. Simple final assembly, solid construction and the bed with coating is just fantastic. The automatic leveling is a bit tricky and not quite as automatic as the vlt. imagines. Here Anycubic should improve again. Otherwise a top device!
ANYCUBIC Chiron Price Comparison