Xiaomi MIJIA Handheld Vacuum Cleaner - Vacuum Cleaner presented!
Xiaomi has introduced a cordless vacuum cleaner under its own household brand "MIJIA". With powerful 23.000 Pa suction power, a long-lasting battery and a sophisticated filter system, the 172 Xiaomi MIJIA Handheld Wireless Vacuum Cleaner has a lot to offer. More about the cordless vacuum cleaner can be found in the following post!
Overview
Saugen
Motor: DC electric motor
Power: 350 Watt (effectively 100 AirWatt)
Turns: 100.000 rpm
Suction power: 23.000 Pa
Volume: ~ 72 dB
Dust container: 0.4 liter
Accumulator
Runtime standard: up to 30 minutes
Runtime Turbo: about 6 minutes
Charging time: about 60 minutes
Xiaomi MIJIA cordless vacuum cleaner
Update 17. February 2020
Gearbest has that Xiaomi MIJIA handheld vacuum cleaner currently in sale! With the coupon provided to us you can reduce the price of the vacuum cleaner buy for only 194 €, Priority Line is shipped at no additional cost. You can find more offers in our price comparison at the end of the article!
10 € GearBest Coupon - Xiaomi MIJIA cordless vacuum cleaner
With our coupon you can buy the Xiaomi MIJIA cordless vacuum cleaner at a reduced price for only € 194. Click on Show code so that the coupon is shown.
The Xiaomi MIJIA Handheld Vacuum Cleaner is the first cordless vacuum cleaner that is under Xiaomi's own Mi brand has appeared. Nonsense may think some now, after all, there is already the "Xiaomi Roidmi F8"Or the"Xiaomi Jimmy JV51". It should be noted that these are standalone brands or products financed on Xiaomi's crowdfunding platform "Youpin". Although these products are based on the quality standards of the electronics giant and are also partially linked to the Mi Home system, they are produced without much influence by Xiaomi.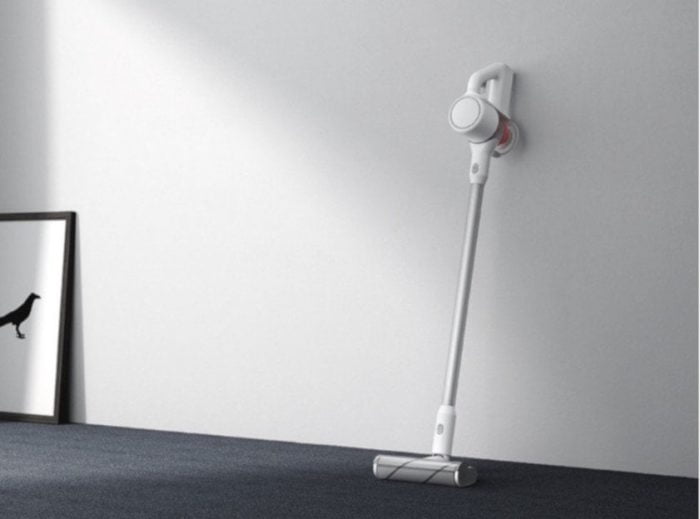 350 Watt Brushless Motor
For wireless vacuum cleaner products, it is natural to talk first about suction power and battery life. According to official data, the wireless MIJIA handheld vacuum cleaner has a nominal capacity of 350 Watt, which converted 100 AirWatt (not standardized unit!) corresponds. In comparison, a Dyson V8 makes about 115 AirWatt, a Dyson V10 even 150 AirWatt. The engine speed is 100.000 RPM and reaches one Operating volume of approx. 72 dB, The maximum suction power gives Xiaomi with considerable 23.000 Pascal (Pa)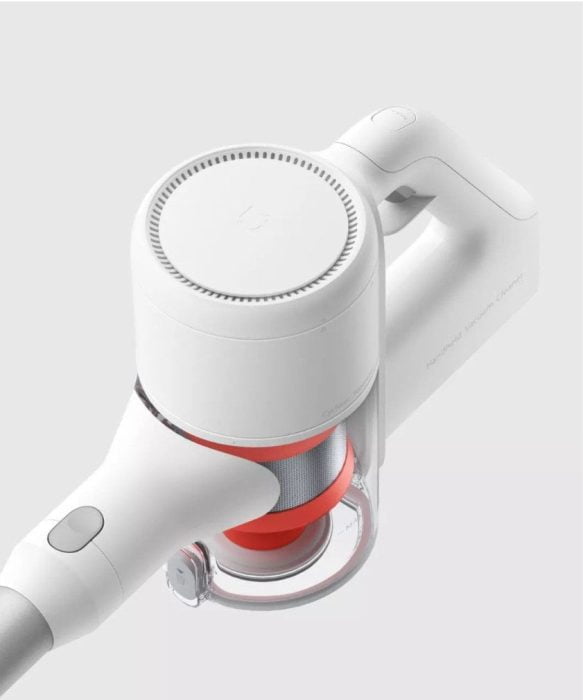 30 minutes of battery life
In standard operating mode is the Battery life approx. 30 minutes, A pushbutton can be used to set the vacuum cleaner in turbo mode. In this mode, the motor is dynamically controlled to ensure a constant output power. According to first test reports, the runtime is reduced in Turbo mode on only 6 Minutes, By comparison, a Dyson V8 comes close to 7 minutes. The battery is charged in just over an hour.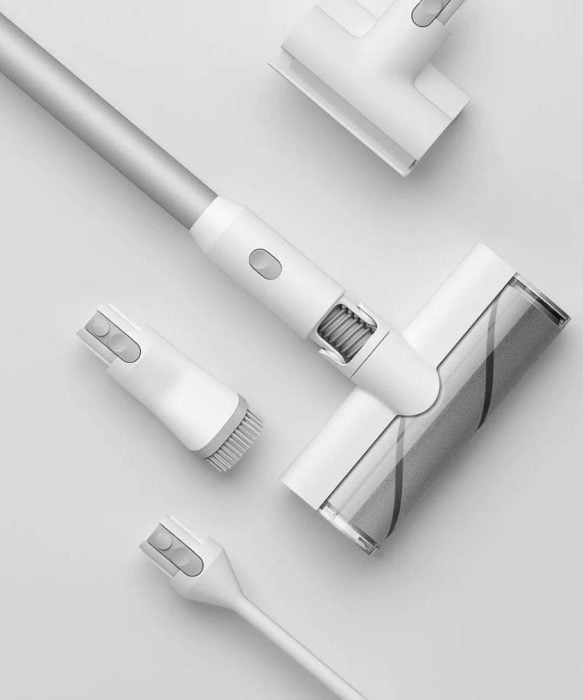 Modular design
The Xiaomi MIJIA vacuum cleaner comes with 4 different essays delivered. In addition to one floor brush are still one in the set electric upholstery brush, One ordinary upholstery brush and crevice contain. The first two are equipped with electric brush heads. According to first findings, the main brush with only one Soft roll delivered, which is mainly suitable for hard floors and less for carpets. The electric upholstery brush in turn uses a roller with carbon bristles. All essays can be with or without extension tube be used.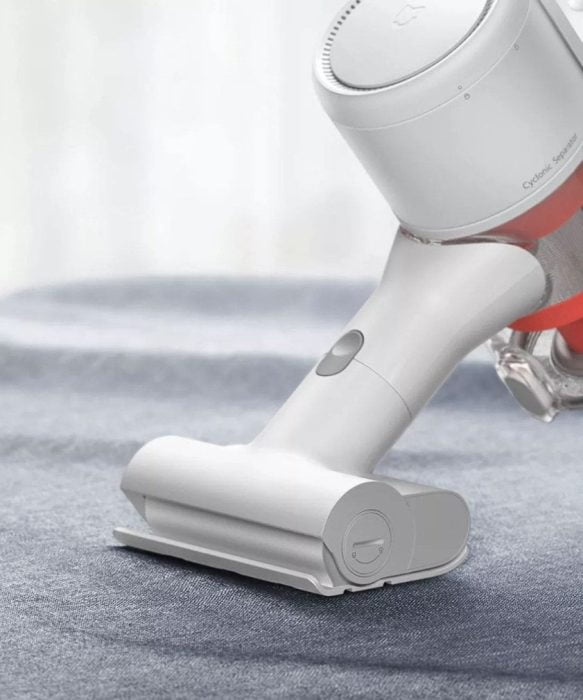 3 levels filter
The MIJIA cordless vacuum cleaner uses a 3-level filter system, Coarse dirt is at first stage by a metal filter separated. On the second level comes a fine one filter screen to use and third stops HEPA-Filter even the smallest particles with 2,5 μm diameter. The captured dirt ends up in bagless 0.4 liter dust container, This can be either completely remove or empty at the touch of a button on a bottom opening. The dust container as well as all brush rollers and filters can be cleaned under running water.
Price and availability
Chinese interested parties can pre-order the Xiaomi MIJIA rechargeable vacuum cleaner via the Chinese crowdfunding platform "Youpin". The price is 1299 yuan, which converted 172 € requirements. With regard to an international sales start, nothing is known yet.
10 € GearBest Coupon - Xiaomi MIJIA cordless vacuum cleaner
With our coupon you can buy the Xiaomi MIJIA cordless vacuum cleaner at a reduced price for only € 194. Click on Show code so that the coupon is shown.
Price too high? Use our price alarm clock!
Prices last updated on: 2. July 2020 00: 02