Xiaomi MIJIA G1 product details
The Xiaomi MIJIA G1 falls into the category of inexpensive vacuum robots. Instead of using a laser or camera, the G1 navigates the classic way with the help of a gyro sensor. Although the vacuum robot lacks advanced navigation technology, it is able to create a room map. The MIJIA app allows you to view the map. However, it is not possible to draw in restricted areas and intelligently divide rooms. These functions are usually only offered by more expensive models.

Steps and obstacles, such as stairs, vases or furniture, are detected and avoided via infrared. The G1 climbs up to 2 cm in height. Due to the small size of the housing of only 8,2 cm high, the robot vacuum fits under many couches and pieces of furniture. Two side brushes transport the dirt to the main brush, where it is directed into the 2200 ml dust container with a suction force of 600 Pa. The suction power can be adjusted in 4 stages via the MIJIA app.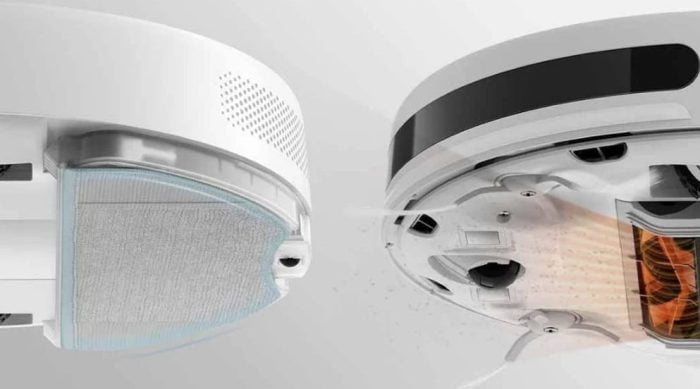 A HEPA filter prevents the finest particles from being released into the air. In addition to vacuuming, the Xiaomi MIJIA G1 can also wipe wet. Water is dispensed in 200 stages via a separately attachable 3 ml water tank. The battery has a capacity of 2500 mAh and lasts for up to 90 minutes of vacuuming or wiping in one go. A return-to-home function automatically brings the vacuum robot back to the charging station.
Xiaomi MIJIA G1 specifications
General
Brand: Xiaomi MIJIA
Type: robot vacuum
Model: G1 (MJSTG1)
Details
Suction power: 2200 Pa
Navigation: Smart Route
Dust container: 0.6 liter
Water tank: 0.2 liter
Power: 25 Watt
Volume: 50-65 dB
Battery: 2500 mAh
Working time: 80 - 90 minutes
Charging time: 3 - 4 hours
height and weight
Weight: 3.4kg
Size (L x W x H): 35 x 35 x 8,2 cm
Xiaomi MIJIA G1 reviews
BUDGET Mi Robot Vacuum Mop Essential G1 Review
User Reviews
Xiaomi MIJIA G1 price comparison