Christmas offer
Attention Late Christmas shoppers! If you are still looking for a Christmas present at the last minute, you can currently get the Oclean X Pro Elite for only 99,90 euros in the official Oclean shop.
Oclean gives 4 replacement brush heads and a wireless charging station as a free gift. Normally, the set in this version costs 149,90 euros (RRP).
Oclean X Pro Elite product details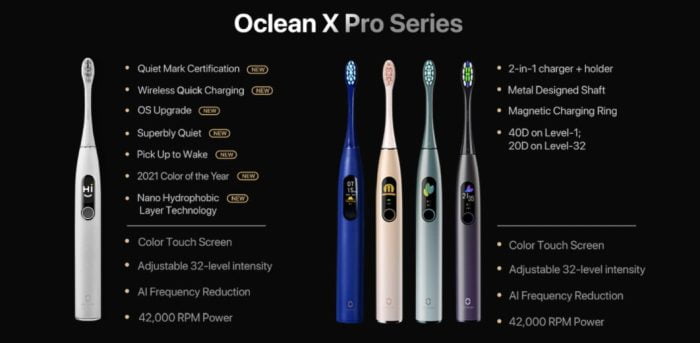 Today we received a new offer for the Oclean X Pro Elite. This is the direct successor to the Oclean X Pro that we recently had in the deal. In direct comparison, the Oclean X Pro Elite offers the following innovations:
Quieter (Whsiper Clean 2.0): Instead of a volume of 60 dB, the motor of the Elite model only goes to work with 45 dB. The number of oscillations is constant at 42.000.
New brush head: The arrangement of the bosts has been revised to make it easier to get to hard-to-reach places. Of course, old brush heads also fit on the Elite model.
Pick Up To Wake: The sonic toothbrush automatically detects when
Sensitive mode: In addition to the 3 modes "White", "Massage" and "Clean", there is now also a "Sensitive" mode.
OS Update: The user interface has been updated, which makes it more responsive and easier to use.
New color: the toothbrush is now also available in gray. Thanks to the "Nano Hyrophobic Layer Technology", the toothbrush lies particularly comfortably in the hand.
Wireless Charging: The Oclean X Pro Elite can be charged wirelessly. In addition to the charger supplied, other Qi chargers are also compatible.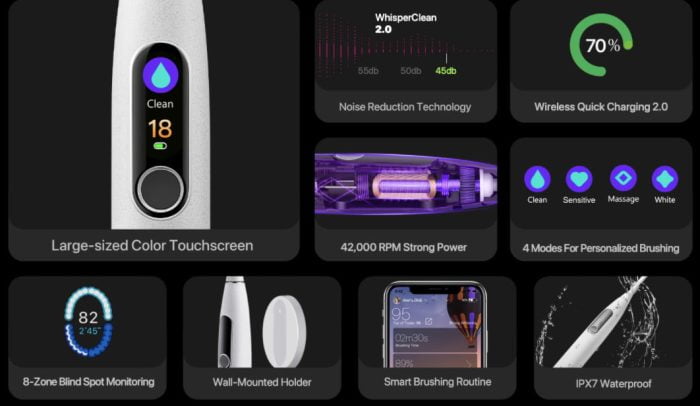 Despite all the innovations, there is also a disadvantage compared to the previous model. Instead of a running time of 40 days, Oclean promises a running time of just 35 days for the Oclean X Pro Elite when brushing teeth twice a day. The charging time has increased from 2 hours to 3.5 hours thanks to the wireless charging function.
We are also currently testing the Oclean X Pro Elite and are convinced of the toothbrush. The sonic toothbrush can certainly keep up with much more expensive models from well-known brands. What are you interested in about the new Oclean X Pro Elite? So in the comments!
Specifications
data
Brand: Oclean
Model: X Pro Elite
Type: Sonic electric toothbrush
Vibrations: 42.000
Intensity: 32 levels, 4 modes
Battery life: up to 35 days
Display: 0.96 inches
Bluetooth: 4.2BLE
Dimensions
Weight: 99g
Oclean X Pro Elite reviews
Oclean X Pro Elite - The new super toothbrush in the test!
User Reviews