Xiaomi EUNI ES808 - A new Xiaomi e-scooter?
Smart means of transportation of Xiaomi are on everyone's lips. After the release of the Xiaomi e-scooter M365 in December of last year, some online stores have once again listed an electric scooter called "Xiaomi EUNI ES808". What this is all about, you will find out in this post!
Overview
iRiding (Xiamen) Technology Co., Ltd
General
Type: electric scooter
Material: aluminum + plastic
Foldable: Yes
Protection class: IPX5
Performance
Speed: max. 20 km / h
Engine: 250W
Accumulator
Battery: LG Lithium Ion
Energy: 187.2 / 230.4 Wh
Voltage: 42V
Capacity: 5200 / 6400 mAh
Loading time: 2 / 2.5 hours
Distance: 20 / 25 km
other
E-ABS: Yes
Light: front LED and brake light
Horn: Yes
Bluetooth: Yes
Theft protection: Yes
Size (folded): 112 x 43.5 x 51 cm
Size (unfolded): 106 x 110 x 51 cm
Weight: 13.2 / 13.5 kg
"Xiaomi" EUNI ES808
"There is a new and better Xiaomi e-scooter?" - Anyone who has only recently opted for Xiaomi M365 Scooter has decided that he could get his breath! However, what looks like a new Xiaomi product is not entirely true. Some online stores have with the Xiaomi EUNI ES808 listed an electric scooter, which at first seems to be a Xiaomi scooter 2. Generation acts.
A Research on the Chinese Google equivalent "Baidu" However, there is hardly any Chinese website listing the EUNI ES808 as a Xiaomi product. Even the official Xiaomi website and the Chinese Xiaomi Forum do not provide any information about the EUNI e-scooter. Clues are there instead "JD Finance", a Chinese corwdfunding platform. Accordingly, the project was started by the EUNI ES808 scooter already 2015 and financing ended in October 2016. Manufacturer of the electric scooter is the "IRiding (Xiamen) Technology Co., Ltd." (骑 记)that was already founded 2012. So what does Xiaomi have to do with this product? Well, Xiaomi is listed on the project page as one of the investors. Another indication is that iRiding (Xiamen) Technology Co., Ltd has been a Xiaomi subcontractor since 2014 and among others for the Xiaomi QiCYCLE road bike XC650 and the Xiaomi QiCYCLE electric bike EF1 responsible for.
Why is EUNI Scooter still listed by individual shops as Xiaomi product? The reason is that Xiaomi is one of the best-known electronics manufacturers in China. Xiaomi products just sell better. In the broadest sense, you even get a Xiaomi product, because the electronics giant is known for completely subdividing individual divisions to subcontractors, such as iRiding (Xiamen) Technology Co., Ltd.
You can find all information about the manufacturer on: iriding.cc
EUNI ES808 vs. Xiaomi e-scooter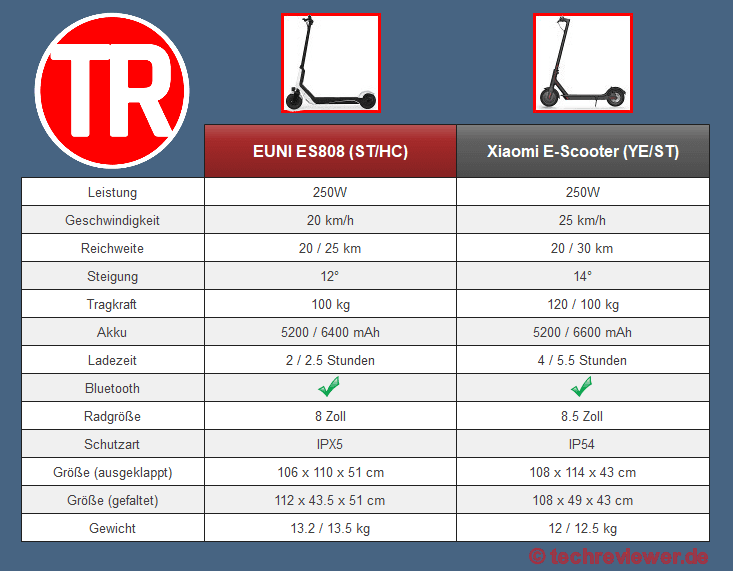 Before we turn to the specifications of the EUNI ES808, let's take a look at the comparison Xiaomi e-scooter at. It should be noted that it is the EUNI scooter in einer "Standard" version and a "High-Capacity" version gives. The same applies to the Xiaomi Scooter, which is also available in a "standard" version and the so-called "Youth Edition". The main difference lies in the battery performance of both models.
If you want to see the EUNI e-scooter in action, you should watch this (Korean) video!
[포켓 매거진] 샤오 미 우니 소개. 샤오 미 첫번째 킥보드 킥보드. Xiaomi electric kickboard EUNi!
Design
The EUNI ES808 is a foldable Stehroller with electric motor. folded The scooter takes it to a portable size 112 x 43.5 x 51 cm. Das Weight is 13.2 or 13.5 kgdepending on whether you opt for the standard model or the high-capacity model. To facilitate transport, the scooter is equipped with two small wheels, so you can pull it behind you like a trolley. When folded it brings the scooter to a size of 106 x 110 x 51 cm, It is interesting that the EUNI electric scooter after the Degree of protection IPX5 protected from jet water from all directions. Although you should not drive through puddles, a ride in precipitation should not harm the scooter. Further features are a LED headlights, Stoplight and horn.
Drive, power and braking
The e-scooter is powered by a electric motor, the one Rated power of 250W supplies. The power supply is via a LG lithium-ion battery pack with an energy of 187.2 / 230.4 Wh (depending on the model), which at one Voltage of 42V one Capacity of 5200 or 6400 mAh equivalent. The maximum possible Reach is included with the standard model 20 km and with the High Capacity version 25 km, In contrast to the Xiaomi pendant, the EUNI scooter has a throttle grip instead of an acceleration switch. The top speed gives the manufacturer for both models 20 km / h slopes be up to maximum 12 ° mastered. The charging time the EUNI e-scooter coincides with only 2 or 2.5 hours extremely low. On Overvoltage Protection Ensures that voltage, temperature and charging time are monitored automatically and in real time. Braking is electronic and mechanical over the so-called "Dual Power Off Brake System", whereby an abrupt or unsafe braking is prevented.
Computer and app
The speed, the covered distance and the battery level can be comfortably controlled via one Computer with display read off. At the same time it is also possible to transfer all data via one App to be displayed. The app is available for both Android, as well as for iOS mobile devices, The connection is via device, On Burglar is also on board.
Price Comparison
In China that costs Standard Model currently 1998 Yuan, which roughly equals 256 €. The High-capacity model beats along 2399 YuanSo about 308 € to book. One can therefore assume that the import price will soon fall. To what extent the EUNI ES808 is the better "Xiaomi scooter" will have to be seen. As soon as a test copy reaches us, the detailed test report follows! One should also note in this vehicle that no operating permit exists and the scooter (at least in Germany) may not be used in public transport!
Price too high? Use our price alarm clock!
Prices last updated on: April 5st, 2020 20:00