Overview
Specifications
Model: DV550
Headphone Type: In-ear
Driver unit: Dynamic Moving Coil
Driver size: 10mm + 6mm
Rated transmission range: 10Hz-20kHz
Diaphragm size: φ9.2mm
Impedance: 16 Ω ± 15%
Sensitivity: 98 ± 3dB
* Cable length: 1.2m, removable
* Connection: 3.5mm
What's in the box
1x DIVOIX DV550 headphones
1x metal case
1x Operating Instructions
6x 2 silicone earpads
First impression
The DV550 was delivered in a beautiful metal box, which is also suitable as a transport box due to its slim design. In the box were the separate earphones, the 1.2m long cable with remote control, 6 pair of ear tips in three different sizes, a pair of so-called foam tips, which were already on the earphones and an instruction manual in English.
The specifications listed on the product page differ slightly from the specifications printed in the operating instructions. According to the operating instructions, the DV550 has a dual driver unit with a 10mm woofer and a 6mm tweeter, an impedance of 6 '+ - 15%, a sensitivity of 100 + -3dB, a power of 2mW and a frequency range of 10Hz to 20kHz.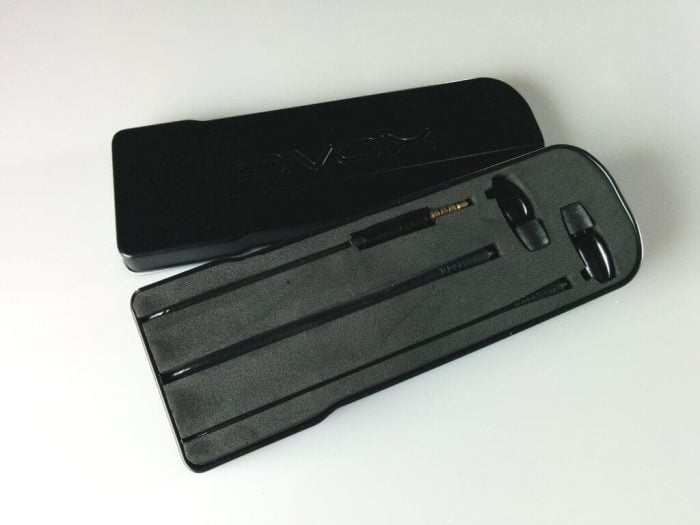 The round housing of the DV550 is made of aluminum and looks well processed. As a standard earpads are so-called foam tips on the earbuds, which adapt perfectly to the ear and also provide an improved grip. The only disadvantage of these foam tips is that they are difficult to clean due to the slightly adhesive surface.
The earphones can be easily connected to the cable. The connector is also fixed, so that unintentional separation is possible only with force. The direction marking is located at the respective plug connections and is easily recognizable, at least in the case of light.
The cable of the DV550 is rubber coated. Here, however, I would have liked a textile-reinforced cable. In the middle is a small remote control including a microphone. The remote control has a one-button system. Among other things, this can be used to regulate the playback, pick up calls and hang up or even refuse. The 3.5mm jack plug is gold plated.
Klang
I can only describe the sound of the DV550 with 'wow'. The headphones are very warmly tuned and, as usual from the Divoix series, this in-ear was also supplied with a lot of power. The bass is strong with these headphones. By strong I mean really strong! You can really feel the woofer in your ear. Friends of electronic music in particular will have a lot of fun with these headphones.
The mids and heights are still not lost with this headphone. Although some of the strong sound predominates and in some pieces you would certainly want a neutral headphones yet you can hear soft music with the DV550.
For action-packed films, this in-ear is also excellent. A distorted sound or a scratching I could not find in my audition.