UMIDIGI S2 Pro - Waterproof ?! 18: 9 China smartphone
The UMIDIGI S2 Pro is the new 18: 9 smartphone of the Chinese producer "UMIDIGI", which was once known as the "UMI". The smartphone was announced in August 2017, it is now available, which is why we will look into this article a little closer to the final specifications of the smartphone.
Overview
Processor and memory
CPU: MediaTek Helio P25 (MTK6757)
GPU: Mali T-880 MP2
RAM: 6GB LPDDR4X
Internal memory: 128GB eMMC5.1
Memory extension: Yes
Display
Display Type: Sharp TDDI In-Cell
Display diagonal: 6 inches
Display resolution: 2160 x 1080 pixels
Screen Protector: Corning Gorilla Glass 4
cameras
Main Camera: 13MP (Sony IMX258) + 5MP
Front camera: 16MP
Network
Dual SIM: Yes
SIM size: 2x Nano SIM
wireless
WiFi: 802.11a / b / g / n
Bluetooth: 4.0
GPS: Yes
sensors
* Accelerometer
* Proximity Sensor
* Brightness sensor
Accumulator
Battery: 5.100 mAh
Connection: USB-C
other
Operating system: Android 7
Size: 158.1 74.6 x x 8.8 mm
Weight: 186g
UMIDIGI S2 Pro
UMIDIGI S2 Pro is, according to the recently released S2 without "Pro-Addition", the second smartphone of the Chinese manufacturer, located on the Design of a Samsung Galaxy S8 oriented. The main focus is on the large and high-resolution 6 inch display with an aspect ratio of 18: 9.
Click here for the smartphone!
Display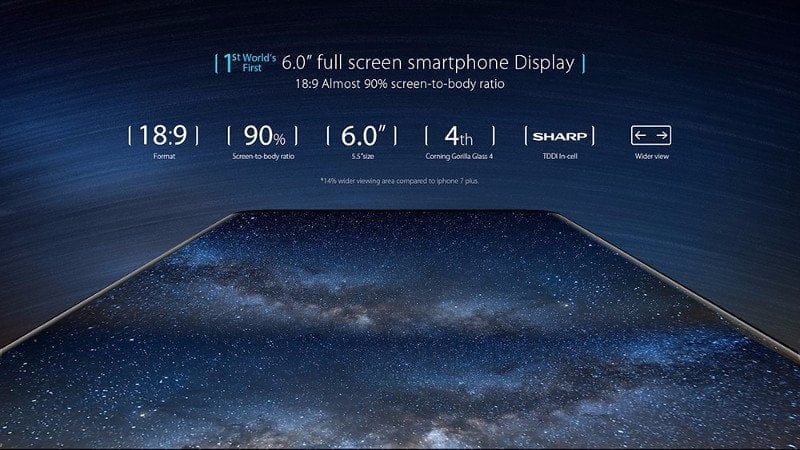 The display of the smartphone has a Diagonal of 6 inches and solve it 2160 1080 x pixels on. UMIDIGI itself speaks of one Screen-to-body ratio, so a ratio of display to housing, of whopping 90%. Whether large or small smartphone manufacturer, so far almost every manufacturer has gefflunkert in this statement. Based on the dimensions of the case, which are 158.1 x 74.6 x 8.8 mm with this smartphone, as well as the display diagonal and the display resolution, however, one comes to a value of only more 78.77%, On Xiaomi Mi Mix 2 For comparison, for example, one reaches 80.79%. Even if UMIDIGI flunkert with this indication, the Smartphone offers a comparatively large display, whose housing dimensions are not however over a 5.5 Zoll Smartphone lie.
The panel is from Sharp and is of the type "TDDI In-Cell", Such in-cell panels are characterized in particular by the fact that the LCD and the touch screen are interconnected without intermediate layers, which at the same time allows the production of a lighter and more compact panel. The display is protected by Corning Gorilla Glass 4, which is characterized by a high scratch resistance and resistance to breakage.
Processor and memory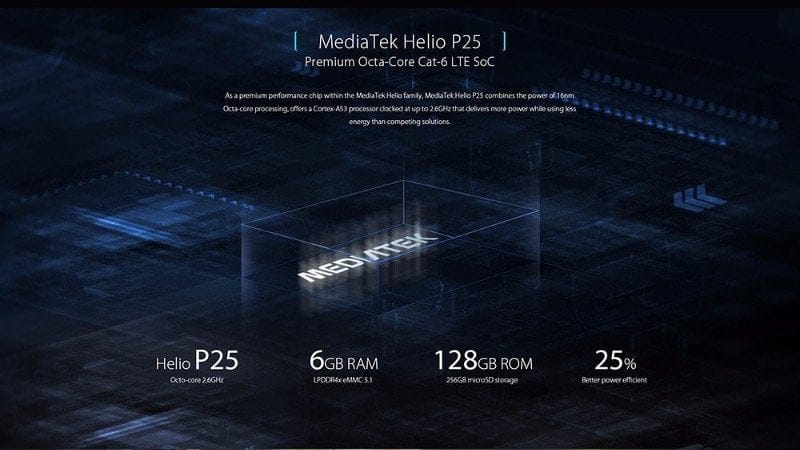 Every year, the UMIDIGI S2 Pro relies on the tried and tested MediaTek Helio P25 processorwhich is also found in many other middle class China smartphones. It is one Octa-Core Processor whose Cortex-A53 cores clock up to 2.6 GHz. The graphics processor of the system-on-chip is a so-called Mali-T880 MP2 GPU. The Helio P25 system-on-chip has already been proven in many other smartphones we've tested. Although the system will not compete with other high-end smartphones in terms of performance, almost all of the smartphones we tested with Helio P25 SoC impressed with its reasonable everyday performance with fluid multitasking and sufficient gaming capability. The storage facilities The S2 Pro is lush. Installed are one 6GB DDR4X memory as well as a 128GB eMMC5.1 Flash Memory, A memory expansion using microSD memory card is possible at the expense of the second nano-SIM slot.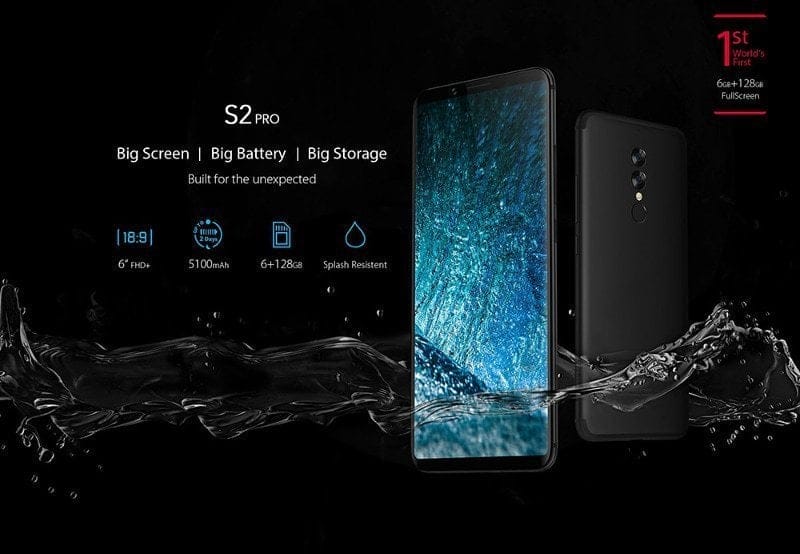 camera
The smartphone has a back Dual main camera, When selecting the sensor UMIDIGI has for one 13 megapixel Sony IMX258 main sensor and an additional, unspecified, 5 megapixel sensor decided. Most likely, this is the same sensor combination that has already been used in the smaller UMIDIGI S2. Incidentally, was in the first model of the S2 despite the specification of an 5 megapixel sensor no such installed. To what extent this fact also applies to the S2 Pro, will have to show in the test. Further information about the camera would be one F2.0 aperture as well as a PD autofocus. front camera uses an unspecified name 16 megapixel image sensor, In general, UMIDIGI leaves only a few details about the front camera in this smartphone, which is why you can also (possibly) adjust to a "surprise" here.
Design, battery and others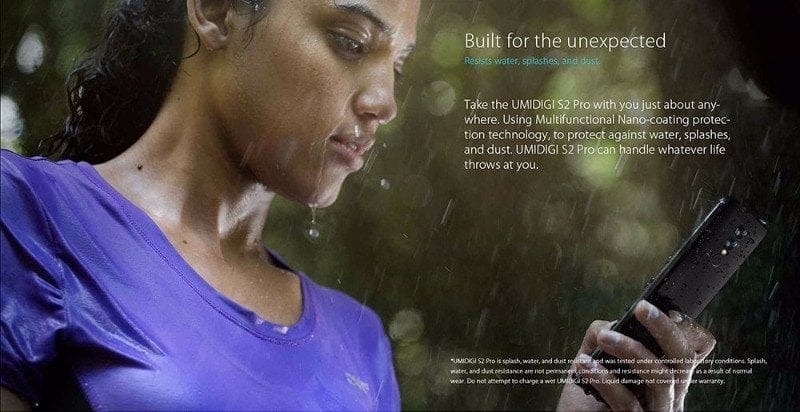 The Dimensions of the housing be, as already mentioned, 158.1 x 74.6 x 8.8 mm at a Weight of 186g, Thus, the UMIDIGI S2 Pro is a big smartphone in a compact case. The housing itself is after the so-called "Unibody" Design made in one piece and made of metal. As a further highlight, in addition to the 18: 9 display, UMIDIGI promises one Protection against water and dust, This protection is realized by a special Nano-coating, In the test, it could be quite interesting, how the UMIDIGI S2 Pro is actually waterproof, or whether the manufacturer has again resorted to far. Other features are a smart Unlocking function by means of face recognition, a big 5.100 mAh battery, which should ensure a long-lasting battery life, as well as a Fingerprint scanner, The usual in this country mobile frequencies are fully supported. As a dual SIM smartphone, the S2 Pro can be operated with two Nano SIM cards. GPS / GLONASS, as well as the usual sensors (Acceleration, approximation and brightness) are available. The smartphone supports wireless transmission Dual-band WiFi (802.11 a / b / g / n) and Bluetooth 4.0, As operating system is Android 7.0 preinstalled.
Initial Coverage
In the field of China smartphones UMIDIGI has its place and is already one of the better known producers. Nevertheless, the manufacturer is often in the criticism, especially with regard to the hardware specifications to make more false information. The same could apply to the UMIDIGI S2 Pro. Especially that "Nano-Coating", which aims to protect against water and dust, leaves questions unanswered. Although there are indeed such (spray) coatings, which can protect the hardware from water, from a complete and long-lasting water protection is not to mention. Who orders the UMIDIGI S2 Pro already now, should not be one of the first to go swimming with it as a precaution and rather wait for the first test reports to the device.
The UMIDIGI S2 Pro is available now and costs £ 1 in Presale on GearBest 255.10 €. Shipping will take place from mid-December.
Click here for the smartphone!
Price Comparison
Price too high? Use our price alarm clock!
Prices last updated on: April 5st, 2020 17:02