UMIDIGI Crystal - All about the Xiaomi Mi Mix clone
There is hardly a China smartphone producer who currently has no Xiaomi Mi Mix clone in development. With the UMIDIGI Crystal and Crytsal Plus, UMIDIGI (formerly UMi) also announces an almost borderless smartphone, which will be released in the summer of 2017.
UMIDIGI Crystal
Update (10. August 2017)
Actually, the almost-borderless UMIDIGI smartphone should appear in June, but once again interested parties were disappointed by UMi or UMIDIGI. Meanwhile, a new release date is known, after which the Advance sale of the UMIDIGI Crystal on the 15. Start in August should and shipping with the 20. August is dated. The smartphone will be released in two versions.
cheapest model, which will be on sale from $ 99, is counting on one MediaTek MTK6737T processor, 2GB RAM and 16GB flash memory. Das more expensive model uses one MediaTek MTK6750T and owns 4GB RAM and 32GB flash memory, As operating system comes Stock Android, based on Android Nougat used. The dual main camera uses both an 13 megapixel, as well as 5 megapixel sensor from Samsung. The used in this country LTE tapes 3, 7 and 20 are supported.
Enclosed you will find a price comparison for both models. Both GearBest and Banggood have that UMIDIGI Crystal already on sale Listed! The shipment could actually be made at the end of August.

The following article is now obsolete and dated May 2017. The article I have left on this stand, because it is always interesting to see how UMIDIGI throws around with misinformation and release dates does not comply. The previously announced color variants will not exist initially! The smartphone will only appear in black. Nor will a "UMIDIGI Crystal Plus" appear!
Update (23. May 2017)
Meanwhile, it is known that the smartphone in 4 colors will appear. In addition to the Crystal Black and Dazzling Blue Lumia Edition it will be one too Full Metal Edition of the UMIDIGI Crystal in the colors Matte Black and Apple Red give. All hints for the Crystal Plus are now gone. It would also have been surprising if UMIDIGI actually released a Qualcomm Snapdragon 835 smartphone.
By the way, there is also the possibility right now to win one of 100 test copies of the Crystal. Via the following promo page (link) reviewers can apply for one of the 100 prototypes. All you have to do is enter the email address and a link to a self-written test report.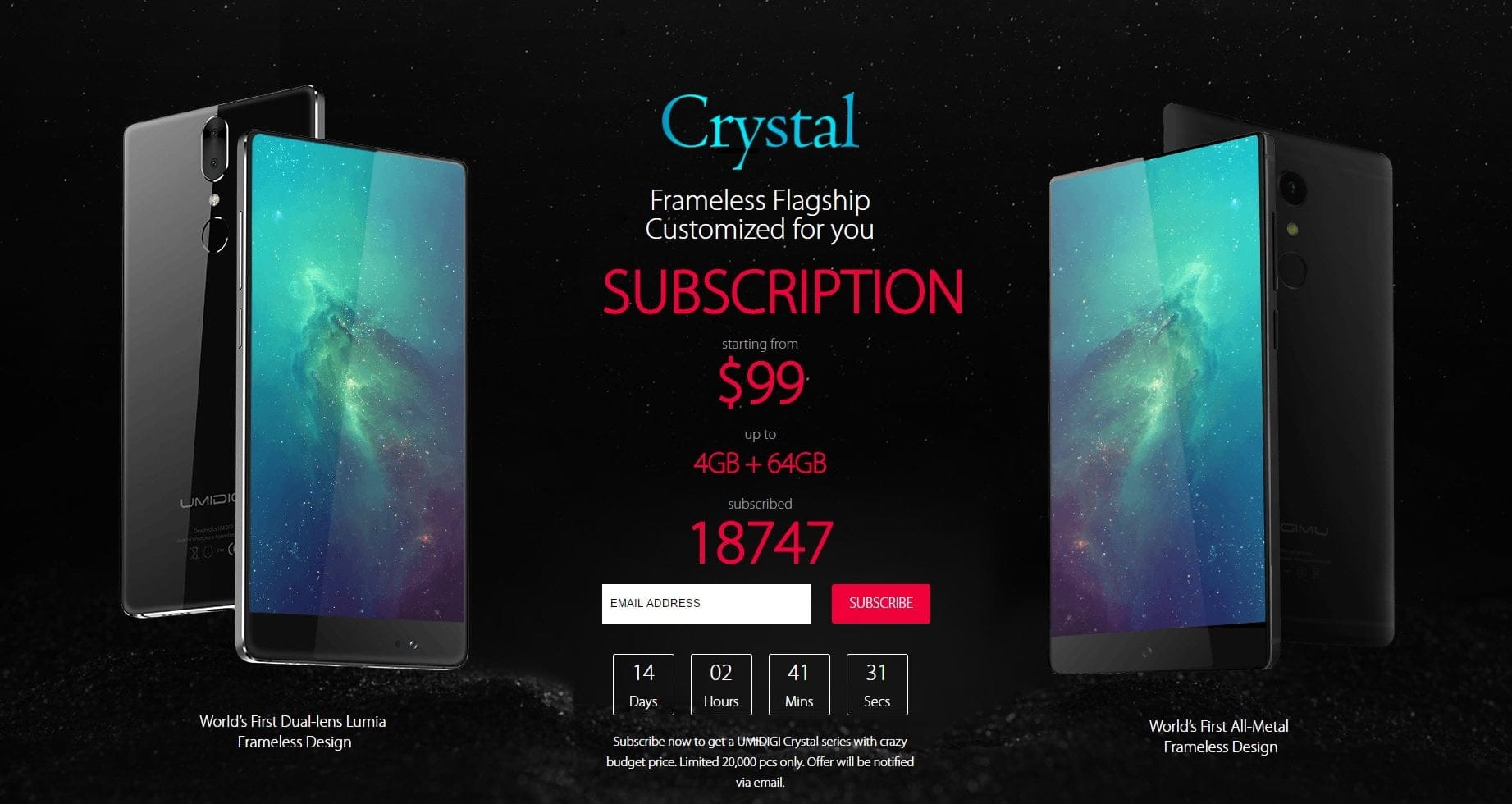 The manufacturer UMi - now UMIDIGI - has already announced a lot, which has in the end never come true. The publication of the UMIDIGI Crystal however, seems to be - partly - realistic. Rimless or Bezelless smartphones are currently fully in vogue and various manufacturers have announced in the past few weeks comparable models and also already presented. Of course, this smartphone will not work without display borders. In the lower part of the smartphone was - similar to the Xiaomi Mi Mix - installed a front camera.
The UMIDIGI Crystal should be in one "Lumia" Edition with shiny case back and one "All-Metal" Edition appear with matte black back. The almost borderless display should be a Diagonal of 5.5 inches and probably will dissolve in Full HD. In the processor choice, the manufacturer relies on MediaTek's mid-range chip "Helio P25", UMIDIGI has also commented on the storage equipment. In addition to one 4GB large memory should the Crystal Smartphone one 64GB large internal memory have.
UMIDIGI Crystal Plus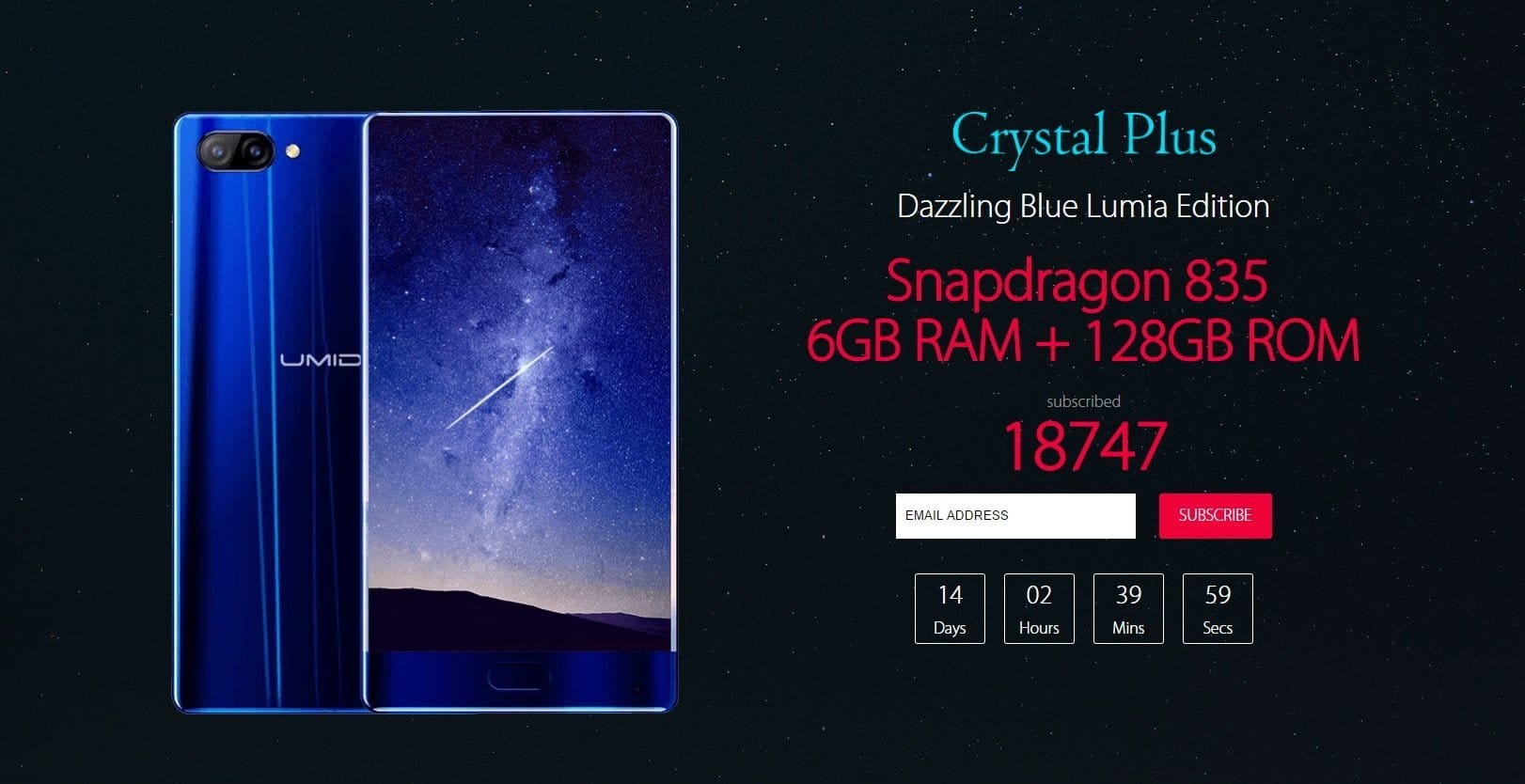 Also announced was the UMIDIGI Crystal Plus, which should appear as a high-end model of the rimless smartphone. The smartphone should as "Dazzling Blue Lumia" Edition appear and therefore be equipped with a blue-shimmering back. Incredibly, however, the indication of the Qualcomm Snapdragon 835 processors, Although the Crystal Plus would not be the first UMIDIGI smartphone with Snapdragon SoC (see UMi Emax Mini), but it would be unlikely if a comparatively small manufacturer like UMIDIGI would suddenly buy from Qualcomm. More likely is a plus model with MediaTek's high-end chip class, such as the MediaTek Helio X27 or Helio X30. The storage equipment should be on one 6GB large memory and one 128GB large internal memory amount.
Price and availability
Both smartphones are supposed to 15th of June 2017 appear. Who the smartphone to a Price of 99 $ You can subscribe to a PreSale newsletter on the UMIDIGI homepage. Presumably, the number of 99 $ action will be severely limited, so few prospects will actually receive a UMIDIGI Crystal for 99 $.
Source: umidigi.com