Ugreen 7 in 1 Multiport Adapter Product Details
The Ugreen 7 in 1 Multiport Adapter is a useful gadget to expand PCs, laptops and mobile devices with additional connection options. The handy size of only 10.5 x 5.1 x 1.8 cm and the low weight of 118g make the multiport adapter the perfect companion at the mobile workplace. Only a USB-C connection is required for connection. As a plug-and-play device, it can be used immediately.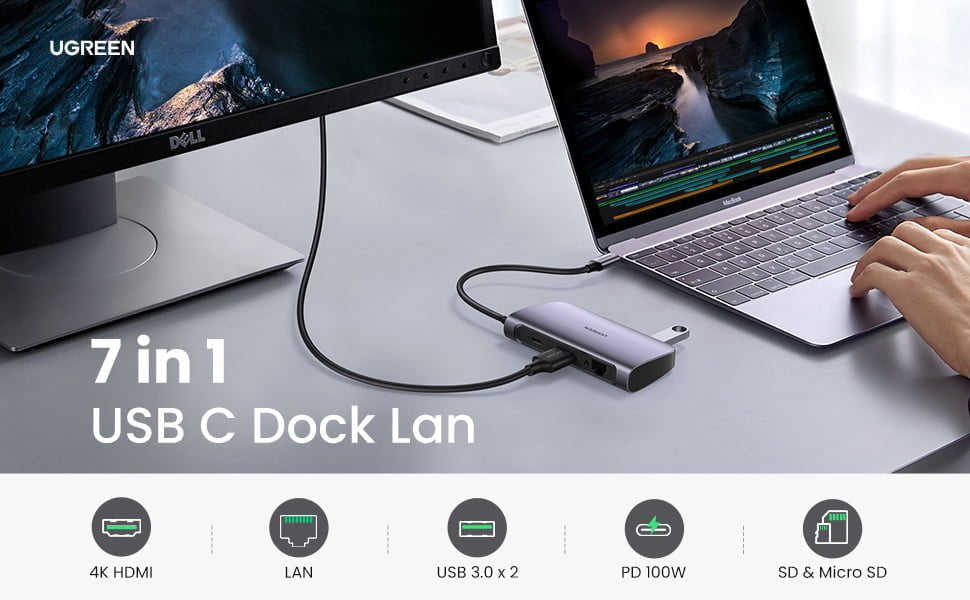 The adapter is equipped with a total of two USB-A ports, which, thanks to USB 3.0, achieve transmission speeds of up to 5 Gbps. There is also a USB-C socket, which can be used to transfer data and charge devices connected with Power Delivery with 100W.

Also included is a memory card reader that can read and write microSD and TF cards. Monitors or projectors can be connected via HDMI. The resolution is limited to 4K30. The Ugreen 7 in 1 multiport adapter is rounded off by a 1 Gbps LAN port.

Specifications
data
Brand: Ugreen
Model: 7 in 1 multiport adapter
USB-A: 2x USB 3.0
USB-C: 1x PD
microSD: 1x
TF card: 1x
HDMI: 1x (up to 4K30)
LAN: 1x RJ45 (1000 Mbps)
Speed: up to 5 Gbps
Dual monitor: mirror mode / extension mode
Compatibility: PC, Mac, smartphones
Dimensions
Weight: 118g
Size: 10.5 x 5.1 x 1.8 cm
Ugreen 7 in 1 Multiport Adapter Reviews
No reviews available yet.
User Reviews
Ugreen 7 in 1 Multiport Adapter with Gigabit Ethernet