BlitzWolf BW-GM3 Curved Gaming Monitor product details
Update 25. November 2021
New low price for the BlitWolf Curved Gaming Monitor BW-GM3! When shipped from the EU warehouse, the Curved Monitor is currently available for only 300 euros. Simply call up the discount code above and enter it in the shopping cart.
Banggood's own brand "BlitzWolf" now also has a gaming monitor in its range. The BlitzWolf BW-GM3 is a 34 inch curved monitor that supports the Xiaomi curved monitor not only looks similar, but also has a similar data sheet. The centerpiece is a 34 inch VA panel with 1500R curvature, which has a 21: 9 aspect ratio and has a resolution of 3440 x 1440 pixels. The manufacturer of the panel is not known, but suggests a Samsung panel.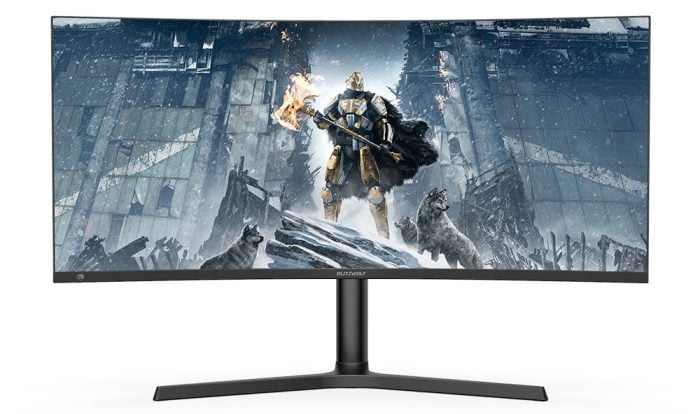 In contrast to the Xiaomi monitor, the BlitzWolf BW-GM3 has a slightly higher refresh rate of 165 Hz. According to Banggood, 144 Hz output is also supported via HDMI. In terms of response time, the VA panel type is rather unsuitable for (professional) gamers. If you gamble a bit here and there and also use the monitor in everyday life, the 11 ms greyscale response time will hardly be a problem for you. The BlitzWolf Curved Gaming Monitor supports AMD FreeSync to avoid image breaks and streaks during gaming.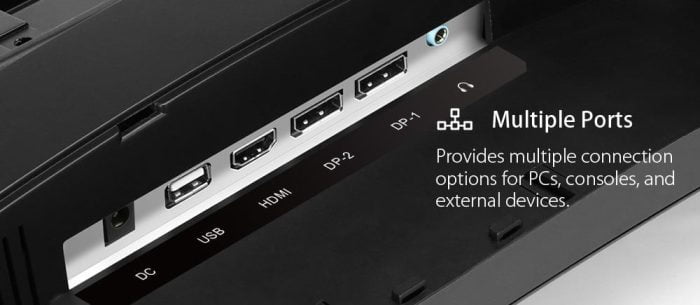 The contrast of 4000: 1 is also slightly higher than that of the counterpart of the well-known brand. The maximum brightness of the display reaches 300 cd / m², with an even illumination of 88 percent. The high viewing angle stability, which is up to 178 ° at horizontal / vertical viewing angles, is typical of VA panels. The output of HDR content is not possible due to the maximum 8-bit color depth. The sRGB color space is covered to 120 percent.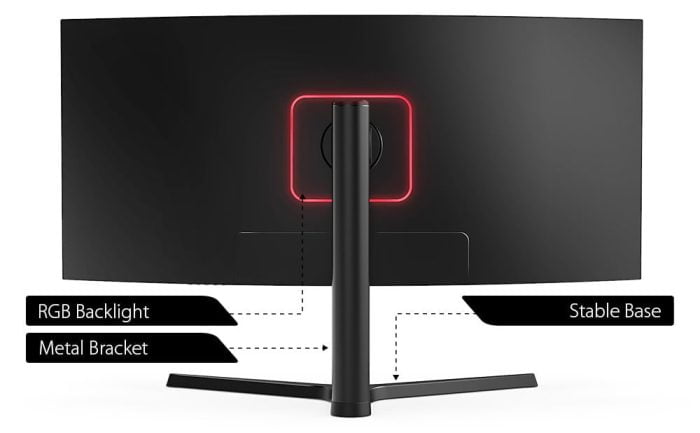 For the eye, there is an RGB light on the back of the monitor that puts the wall behind the monitor in scene. The connections include an HDMI socket, two DisplayPorts, a USB socket and a 3.5 mm jack connection. It is not known which HDMI and DP standards are used. We have already sent the seller a request for this. The monitor has not built in a loudspeaker. Special functions of the OSD are PIP (Picture-in-Picture) and PBP (Picture-by-Picture). A height-adjustable foot with flexible suspension allows individual alignment.
Specifications
data
Brand: BlitzWolf
Model: BW-GM3
Type: Curved Monitor
Dashboard: VA
Diagonal: 34 inches
Radius: 1500R
Resolution: 3440 x 1440
Refresh rate: up to 165 Hz
Contrast Ratio: 4000: 1
Response time: 11 ms (grayscale)
Adaptive Sync: Freesync
Brightness: 300 cd / m²
Color space: 85% NTSC, 120% sRGB
Dimensions
Weight: 5,9 kg
Size: 80,8 x 56,5 x 20 cm
Questions and Answers (FAQ)
Q: What type of panel does the BlitzWolf Gaming Monitor use?
A: A VA panel is installed, which is characterized by natural color rendering, high contrast and far-reaching viewing angle stability. High response times speak against VA panels.
Q: Is the monitor VESA compatible?
A: Yes, the monitor is VESA compatible.
Q: Does the monitor have a built-in speaker?
A: No, a loudspeaker is not installed.
Q: Is HDR supported?
A: No, there is no HDR support.
Q: Are FreeSync and G-Sync supported?
A: The monitor is only FreeSync compatible. Nvidia cards from the 10 series also support FreeSync.
BlitzWolf BW-GM3 Curved Gaming Monitor Reviews
There is currently no review for the BlitzWolf BW-GM3. As soon as we receive a test copy, we will test the monitor extensively and use the Xiaomi Curved Gaming Monitor to compare. Should the monitor drop in price even further, it could become a serious competitor!
User Reviews
BlitzWolf BW-GM3 Curved Gaming Monitor price comparison