Oclean W1 product details
The Oclean W1 is another smart dental care product from the Oclean range, which is an ideal supplement to daily dental care. The handy oral irrigator works without a cable and instead has a built-in battery that lasts up to 30 days at a time. The battery is charged in less than 3 hours thanks to fast charging technology.
The integrated water tank has a capacity of 30 ml. The advanced pump technology mixes a high proportion of air with the water. On the one hand, this saves water, so that the teeth can be cleaned for up to 2 minutes at a time with a tank filling, but this also creates a high pressure of 140 kPa, which is guaranteed to sweep leftovers out of the spaces between the teeth.
There is no need to worry about gum irritation. Despite the high pressure build-up, the intensity of the Oclean W1 can be regulated in 9 levels, so that there is something for every type of gum. There are also 3 different modes of operation that vary the spray pattern.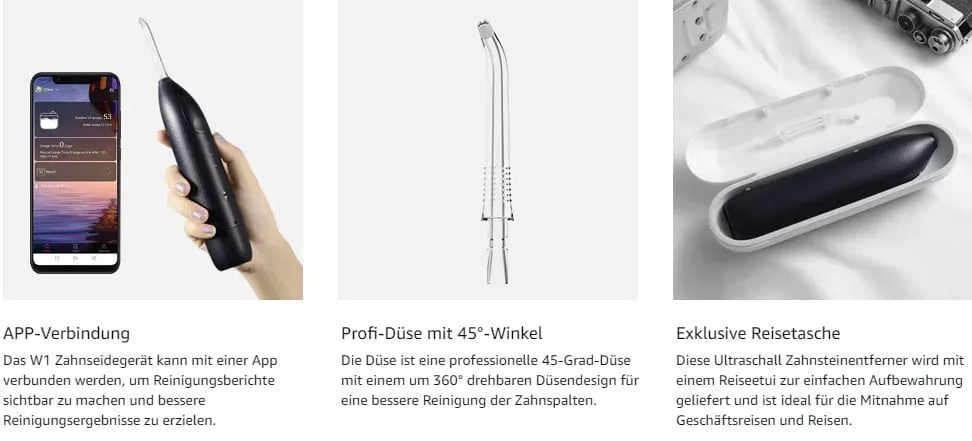 There are several illuminated control buttons on the device itself for quick switching between modes. Alternatively, the Oclean W1 can also be controlled via an app. So really smart!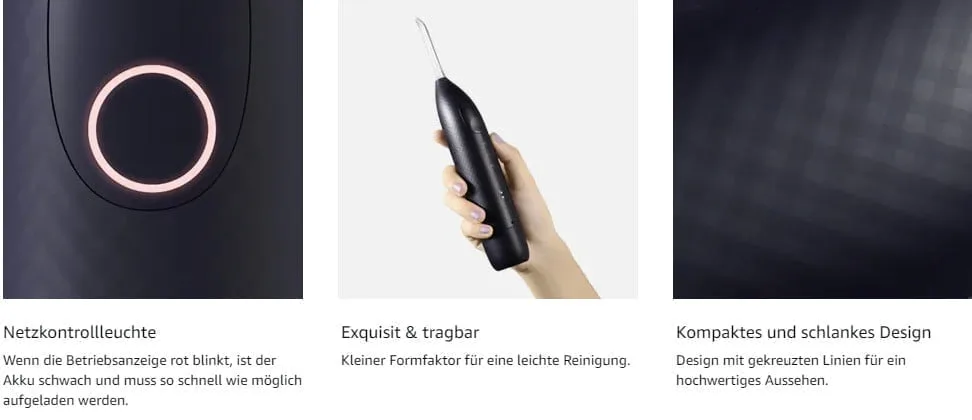 The scope of delivery also includes various attachments, with which the water jet can be individualised. The spray head, which is angled at 45°, allows the oral irrigator to reach every part of the oral cavity. In addition, the spray head can be rotated 360°.
Specifications
data
Brand: Oclean
Model: W1
Type: oral irrigator
Pressure: 140kPa
Intensity: 9 levels, 3 modes
Water tank: 30 ml
Battery life: up to 30 days
Charging time: 3 hours
Display: analog LED
Bluetooth: 4.2BLE
Dimensions
Weight: 120g
Oclean W1 reviews
English review
Oclean W1 Smart Oral Irrigator Review
User Reviews