Degrii Zima Pro product details
A dip in the cool water is one of the greatest joys of summer. But cleaning the pool often turns out to be a chore. A solution to the problem: the Degrii Zima Pro, an autonomous pool robot that keeps the pool sparkling clean.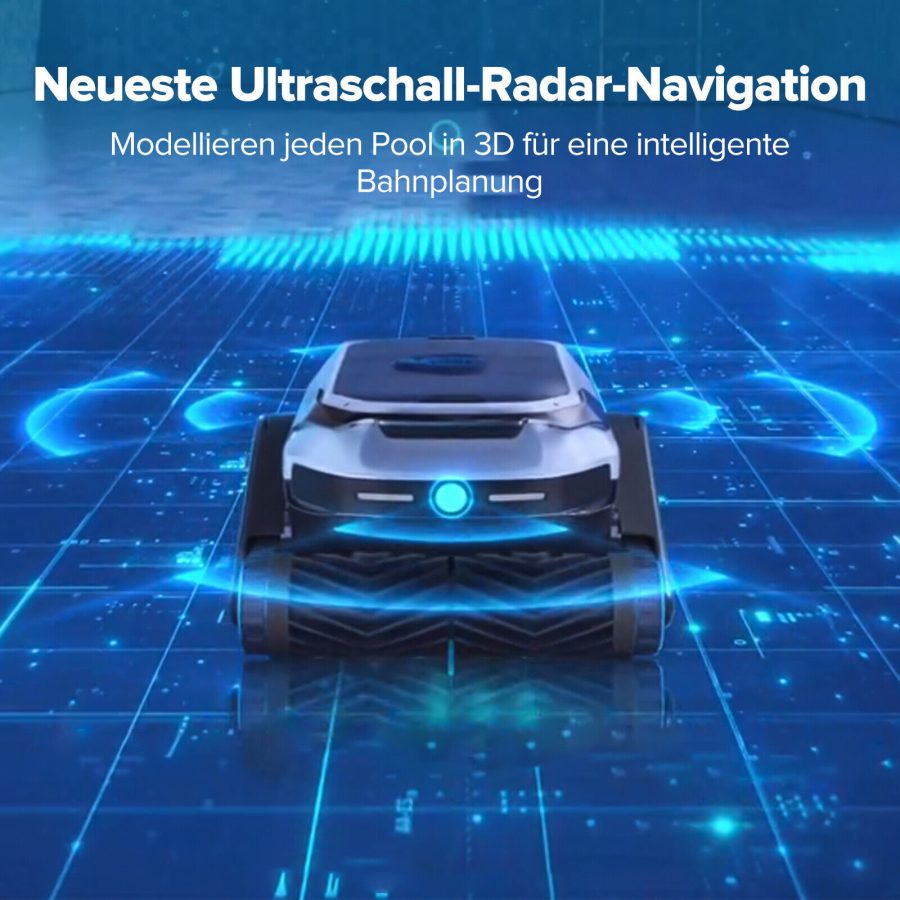 Precise ultrasonic technology
The unique selling point of the Zima Pro is its ultrasonic technology. Before each cleaning, four sensors analyze the area on all sides and create a detailed cleaning map based on this. He skilfully avoids obstacles, he climbs walls without any problems and even steps are no obstacle for the Zigma Pro.
All pool sizes and shapes
It can cope with all pool shapes and pool sizes. Whether it's round, kidney, triangular, wood, resin, fiberglass, or vinyl, the Zima Pro can handle any shape or size.
Cordless operation via battery
Another special feature is that there is no cable to the edge of the pool. This allows the Zima Pro to dive deep into any pool and thoroughly clean corners, floors and walls without a cable getting in the way. A powerful 10.000 mAh battery makes it possible, which lasts up to 3,5 hours at a time and covers a cleaning area of ​​more than 465 square meters.
However, it is not possible without a cable. The battery floats on the water surface like a buoy and supplies the pool cleaning robot with electricity.
cleaning modes
In order to meet the individual needs of a pool, there are several cleaning modes to choose from. With manual mode, hard-to-reach dirt spots and areas that require special attention can be cleaned in a targeted manner. Wall cleaning mode is ideal for stubborn dirt on the waterline.
With its powerful 250 watts of power and a 180 μm fine filter system, it takes on any dirt. No matter if leaves, stones or algae.
Zima app
The pool robot is controlled via the Zima app. This allows you to keep an eye on the cleaning progress and the battery level. The pool robot can be brought to the surface with just a tap of the finger, without having to climb into the water yourself. Another plus: When the battery level is below 10%, the Zima Pro automatically parks against the pool wall so that it can be easily taken out of the water.
About Degrii
Degrii was founded in 2015 by a team of inventors and has been involved in the development of smart home appliances ever since. The company can now draw on extensive know-how from over 145 of its own patents and thus advance the development of smart household appliances. Distribution takes place in more than 42 countries, spread over 6 continents.
The latest product is the Degrii Zima Pro, which the company presented at CES 2023 and crowdfunded with more than 473.000 euros.
Specifications
General
Brand: Degrii
Model: Zima Pro
Type: Pool robot / pool cleaner
Parameter
Power: 250 Watt
Engine: triple drive
Operating mode: path planning
Ideal pool size: 465 m²
Cleaning coverage: floor, wall, waterline
Runtime: 1,5 hrs (Fast), 2,5 hrs (Standard), 3,5 hrs (Extended)
Battery: 10.000 mAhCharging time: 5-6 hours
Filter: 180 μm fine filter 6,5 liters
Control: App (WiFi & Bluetooth)
Cable: Wireless
Degrii Zima Pro reviews
English review
Degrii Zima Pro: A powerful and intelligent cordless pool cleaner with Ultrasonic radars
The Zima Pro robotic pool cleaner