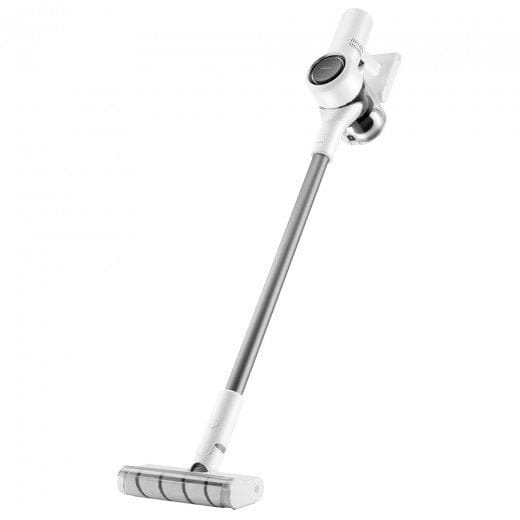 Dreame V10 cordless vacuum cleaner for € 199
With this Edwaybuy Offer you can buy the Dreame V10 Cordless vacuum cleaner for only 199 € instead of 249 € The dispatch takes place directly from the German warehouse within 2-5 working days. There are no additional costs for this item.
Dreame V10 product details
Powerful and efficient
The Dreame V10 uses the new, brushless Space 3.0 motor with 100.000 rpm. Despite the same speed as the previous model, the engine of the V10 is 16 percent more powerful and achieves a suction power of 22.000 Pa. Effective real-time cooling prevents the motor and battery pack from overheating.
At the same time, power consumption is kept low, resulting in run times of more than 60 minutes (standard mode). A total of three suction modes are available. In addition to the standard mode already mentioned, there is also a medium level with a running time of 28 minutes and a maximum level with 10 minutes of suction pleasure. The cordless vacuum cleaner is charged using the wall bracket supplied.
Five-stage filtration system
Dirt and dust is captured by the motorized brush head of the main brush and passed through a five-stage filter system. A HEPA class H12 filter prevents 99,9% of the fine dust from being released into the air. Coarse dirt is then passed on to the removable and washable 0,5 liter dust container. Dreame has also taken care of noise reduction. Noise-reducing materials should make the V10 quieter.
Brushes and accessories
The cordless vacuum cleaner is supplied with 4 brushes and nozzles, a suction pipe and a flexible extension hose. Additional accessories for the Dreame V10 are available from shops such as Aliexpress. Rollers and filters cost between € 10 and € 30.
Dreame V10 specifications
General
Brand: Dreame (Xiaomi)
Type: cordless vacuum cleaner
Model: V10
Details
Charging time: 3-4 hours
Power: 140 Watt
Suction power: 22.000 Pa
Volume (dBA): ≤85
Dust container: 0.5 liter
Filters: HEPA five-filter system
height and weight
Weight: 3.5kg
Size (L x W x H): 14 x 28 x 23 cm
Dreame V10 reviews
Dreame V10 Mistral vs Dreame V9 test ► Inexpensive Xiaomi cordless vacuum cleaner makes Dyson V11 competition!
user reviews
Dreame V10
Overall rating:
(1 reviews)
Write a Review
I got the Dreame V10 because the Dyson was too expensive for me. It was delivered in 4 days. Commissioning is understandable and easy. In everyday use, I don't want to imagine the V10 without it. Simply very practical to use, easy to handle and it absorbs dirt very well. Clear purchase recommendation from meier side.
Dreame V10 price comparison
Price too high? Use our price alarm clock!
Prices last updated on: 13. August 2020 13: 59