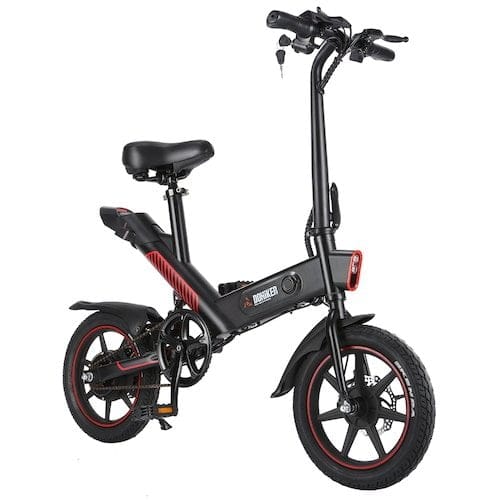 DOHIKER Y1 e-bike for € 458
With this Gearbest Offer you can buy the DOHIKER Y1 Electric bike for only 458 € instead of 519 € The dispatch takes place directly from the German warehouse within 2-5 working days. There are no additional costs for this item.
DOHIKER Y1 product details
There is a new China E-Bike again! The DOHIKER Y1 is a foldable electric bike, with which you can cause quite a stir at the campsite, for example. On compact 120 x 22 x 68 cm folded, the e-bike can be stowed in pretty much any trunk. The electric bike can also be conveniently placed in the corner at work, in the office. With a Weight of 21 kg it is also not a heavyweight and can be carried over short distances. The maximum load capacity of the DOHIKER Y1 is included 120 kg. In comparison, this is a maximum of 100 kg for many other e-bikes.
The DOHIKER Y1 is powered by a 350 Watt electric motor, which in turn by a 10AH 36V battery is powered. The battery is not removable, but is firmly integrated into the central pole. The range varies depending on the driving mode between 34-35 kilometers (Pure Electric) and 50-60 kilometers (Pedelec). In addition to the two electric riding modes, the bike can be driven purely by pedal force. The maximum speed is 25 kilometers per hour. The battery is fully charged within 5-6 hours.
The bike becomes central via one shock absorber sprung. This makes the DOHIKER Y1 suitable for short trips over uneven terrain. Even wetness doesn't bother the bike, because after the Degree of protection IP54 the electric bike is at least protected against rain. Allow a short braking distance disc brakeswhich are located here on the front and rear wheels. An illuminated brake light indicates the braking process. One LED headlights underneath the handlebars also makes night trips possible. For one Burglar DOHIKER also took care of it. The e-bike can only be started with the right key!
Specifications
General
Brand: DOHIKER
Model: Y1
Type: E-Bike / Pedelec / electric bike
Leistung: 350W
Battery: 10AH / 36V
Parameter
Range: 35-45 km (electric) to 50-60 km (pedelec)
Speed: 25 km / h
Incline: up to 15 °
Load capacity: max. 120kg
Dimensions
Weight: 21 kg
Size (unfolded): 120 x 49 x 105 cm
Size (folded): 120 x 22 x 68 cm
What's in the box
Includes: 1 x e-bike, 1x tool, 1 x English user manual
DOHIKER Y1 reviews
No test available yet!
User Reviews
DOHIKER Y1 price comparison
Current prices
Price too high? Use our price alarm clock!
Prices last updated on: 27. October 2020 03: 45