Niubility B14 product details
And the China E-Bike greets you every day. Today we present you the Niubility B14, which comes with a cool look. The foldable electric bike not only looks chic, it also has a lot to offer in terms of drive. Instead of the usual 250 watt motor, the Niubility B14 is equipped with a slightly more powerful 400 watt electric motor. The battery is also tough with 15Ah 48V. One battery charge is sufficient to cover 65 km (electric mode) to 100 km (pedelec). The battery can be charged for 7-8 hours. Three gears bring the e-bike to a top speed of 25 km / h.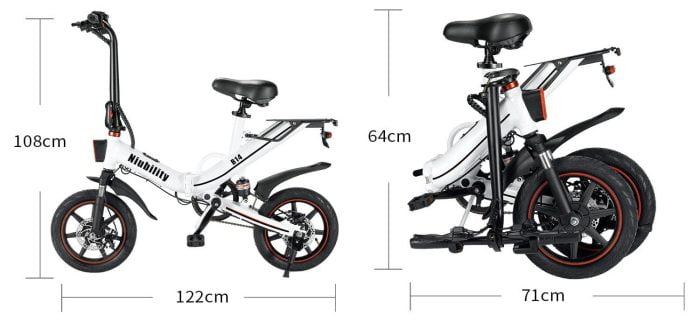 Niubility B14 is the perfect camping bike. The e-bike can be folded at two points to a compact 71 x 37 x 64 cm and is particularly easy to transport. A special feature is the already integrated luggage rack. The massive aluminum frame is suitable for people up to 120kg and is protected against rain in accordance with IP54. The air-filled 14 inch tires are ideal for paved roads, but the Niubility B14 also masters uneven terrain thanks to its KeZhen 880b suspension.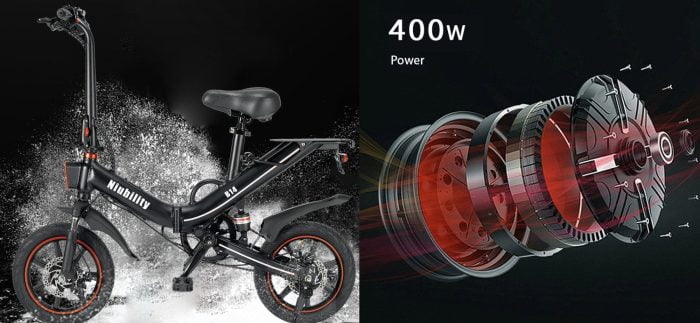 An app turns the smartphone into a smart bike computer, with which the electric bike can be comprehensively managed, monitored and locked (Smart Lock). Of course there is an additional speedometer on the front of the handlebar. A bright LED headlight, a brake light and projectors increase driving safety. Disc brakes on the front and rear wheels ensure a particularly short braking distance.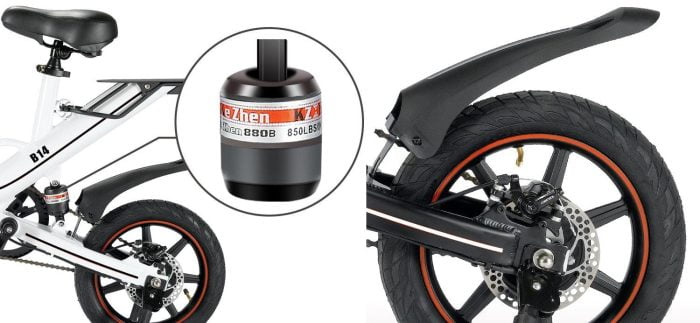 Specifications
General
Brand: Niubility
Style: B14
Type: E-Bike / Pedelec / electric bike
Leistung: 400W
Battery: 15Ah / 48V
Parameter
Range: 65 km (electric) to 100 km (pedelec)
Speed: 25 km / h
Incline: up to 25 °
Load capacity: max. 120kg
Dimensions
Weight: 21.5 kg
Size (unfolded): 122 x 49 x 108 cm
Size (folded): 71 x 37 x 64 cm
What's in the box
Contains: 1 x e-bike, 1x charger, 1x tool, 1 x English user manual
Niubility B14 reviews
German review
The perfect folding bike? Niubility E14 Electric Bike Review | Venix
English review
Shenzhen E-Bike Test Drive- Niubility B14
User Reviews