Cube Thinker i35 Notebook - 3K Display and Core M3-7Y30
The Cube i35 Thinker notebook is currently one of the most powerful Chinese laptops on the market. In addition to a powerful Intel Core M3-7Y30 processor and a memory that is impressive, Cube uses a high-resolution 3K IPS display. All information about the notebook you will find attached.
Overview
Display
Type: IPS
Diagonal: 13.5 inches
Resolution: 3000 x 2000
Performance
CPU: Intel Core m3-7Y30, 2,6 GHz
GPU: Intel HD Graphics 615
RAM: 8GB DDR3 RAM
Internal memory: 256GB M.2 SSD
Connections
1x USB Type-C
2x USB 3.0
1x headphone jack
Accumulator
5000mAh
other
WiFi: 802.11 a / b / g / n / ac
Bluetooth: BT 4.0
Cube Thinker i35 notebook
Processor and memory
The Cube Thinker is not a notebook for the tight budget. For this you get for about 550 € a notebook that has a lot to offer on the hardware side. The built-in Intel Core m3-7Y30 processor belongs to the current Kaby-Lake series, which was presented only in late August 2016. Although it is "only" a dual-core processor, this performance stands out noticeably from the models of the older Intel Atom and newer Celeron series. In the basic cycle, the processor clocks with 1.0 GHz and achieves a maximum clock rate of 2.6 GHz per core in the Turbo. Especially with single-threaded application, the CPU can score and even Hyper-Threading is supported. The "Thermal Design Power" (TDP) specifies Intel on 4.5W. In addition, the Cube i35 Thinker offers a very large, 8GB memory, The task of the internal memory takes over one 256GB large M.2 SSD.
The role of the GPU takes over the Intel HD 615 Graphicsthat has even grown to one or the other computer game. Games like Valves Dota 2 or CS: GO are quite fluently playable. Similarly, the GPU is able to decode H.265 and VP9 encoded video at hardware level.
Screen and camera
A highlight is that 13.5 inches large IPS touch display with high 3K (3000 x 2000 pixels) resolution, Whether one really needs such a high resolution with a small display diagonal is rather questionable. One should keep in mind that a higher resolution is also more power hungry. The display is completely laminated, ie IPS panel, touch screen and display glass are combined into one unit. As a result, more accurate inputs are possible, as well as the overall appearance is better in the foreground. It is also interesting that the display looks like a Surface Tablet with a stylus can be operated. There are even isolated hints in the net that the original Surface Pen can be used with the notebook.
Front is a 2 megapixel camera, which records videos with maximum 720p resolution. As with many other laptops and tablets from China, you should not put too high demands on the cameras of these devices. For video telephony, the camera of the Cube i35 Thinker should still be sufficient.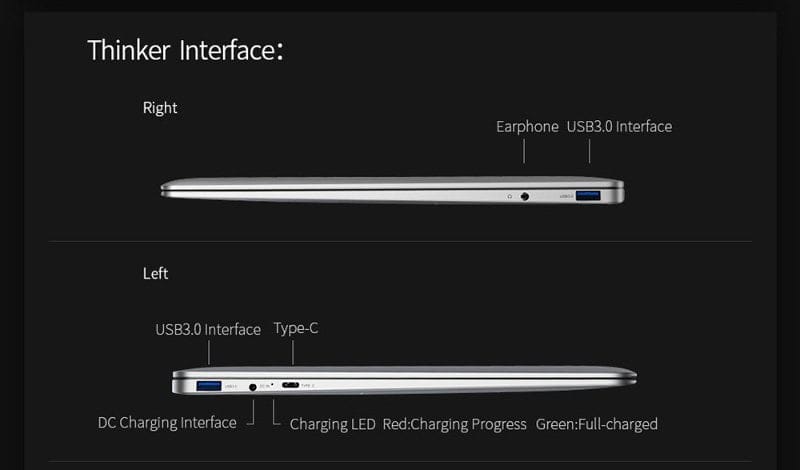 Connectivity, keyboard and battery
The connection options of the Cube Thinker amount to two USB 3.0 ports, one 3.5 mm headphone input and USB Type-C female, An HDMI socket is missing, instead an adapter can be used to tap the video signal via the USB Type-C socket. Within the wireless communication the notebook supports the WiFi protocols 802.11 a / b / g / n / ac, In addition, can be over Bluetooth 4.0 Pair devices and transfer files. The Keyboard of the laptop comes in American layout. A backlight is not available. touchpad below the keyboard recognizes different gestures and even includes one Fingerprint scanner to safely unlock the device. The capacity of the battery is Cube 5.000 mAh on. The effective running time should be at an average 6 hours.
As soon as our test copy has arrived, the detailed test report follows!
Price Comparison
Price too high? Use our price alarm clock!
Prices last updated on: April 5st, 2020 14:04