BEZIOR XF200 product details
Sale
If you want to buy the BEZIOR XF200, you should take a look at the current 3-in-1 offer. So there is the e-bike, including the electric tire pump from Xiaomi and the matching luggage rack for 1450 euros. This saves about 80 euros compared to the individual purchase!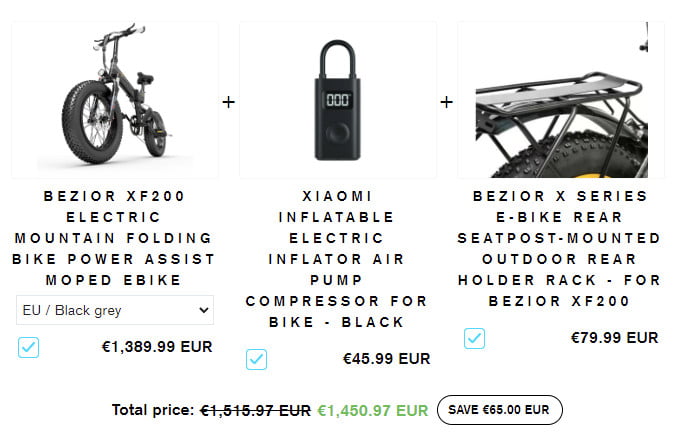 The BEZIOR XF200 is an e-mountain bike that falls into the category of fat bikes due to its large 20 inch tires with a width of 4 cm. The e-bike is suitable for riders between 165 and 190 cm and a weight of up to 200 kg. The frame is made of aluminum and has a folding mechanism in the middle. This allows the 177 x 120 x 90-100 cm e-bike to be folded to a transportable size of 163 x 28 x 83 cm and transported in the trunk of standard car classes without any problems.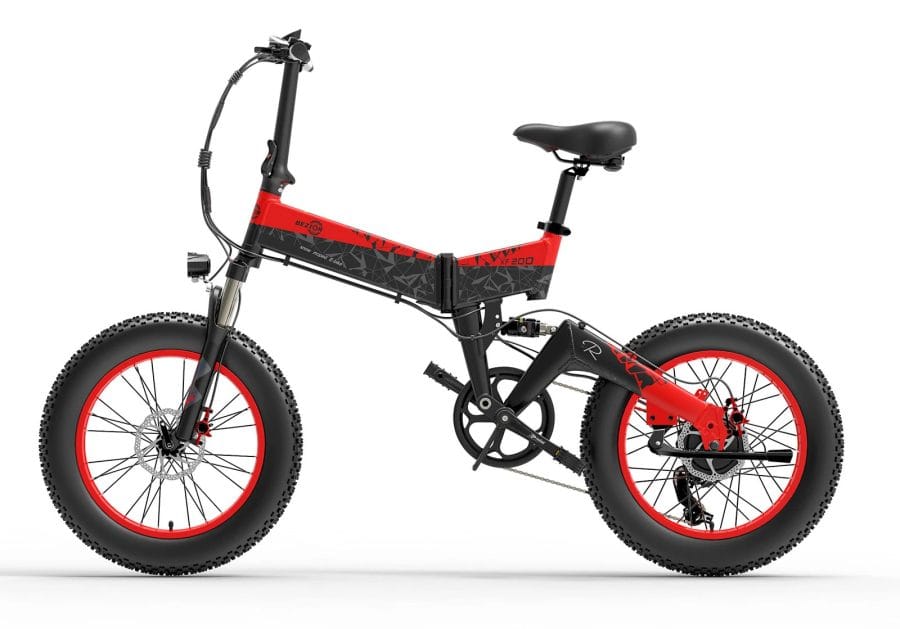 A highlight is the 1000W hub motor in the rear wheel, which allows the e-bike to accelerate up to 25 km/h and master inclines of up to 35°. However, you should be aware that such a powerful e-bike is not approved for use on public roads in most countries!
A shock absorber on the rear wheel and a spring-loaded fork help to keep contact with the ground even on rough paths.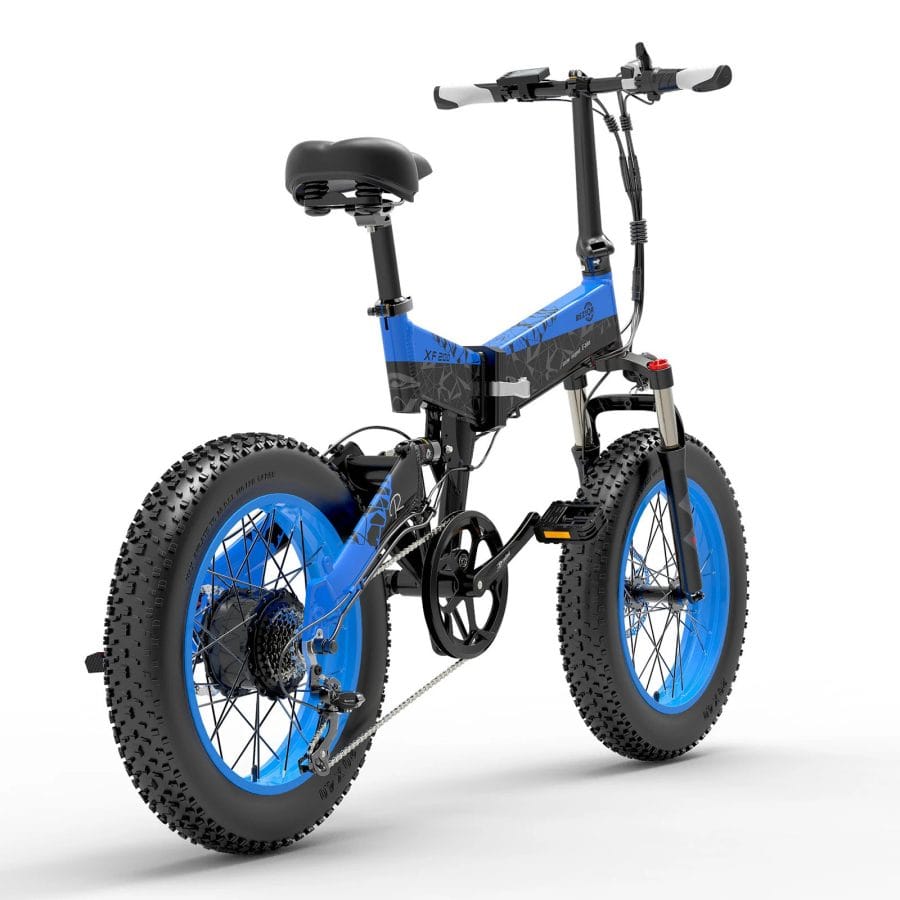 Paired with a 48V 15AH battery, the theoretically possible range is up to 130 km in pedelec mode. In purely electric mode, the e-bike can be operated using a throttle. The maximum range is given as 50 km.
Experience has shown that the actual range is significantly lower, so that a range of less than 100 km should be assumed here. The removable battery is safely stowed inside the center pole. It takes 6-7 hours to fully charge the battery.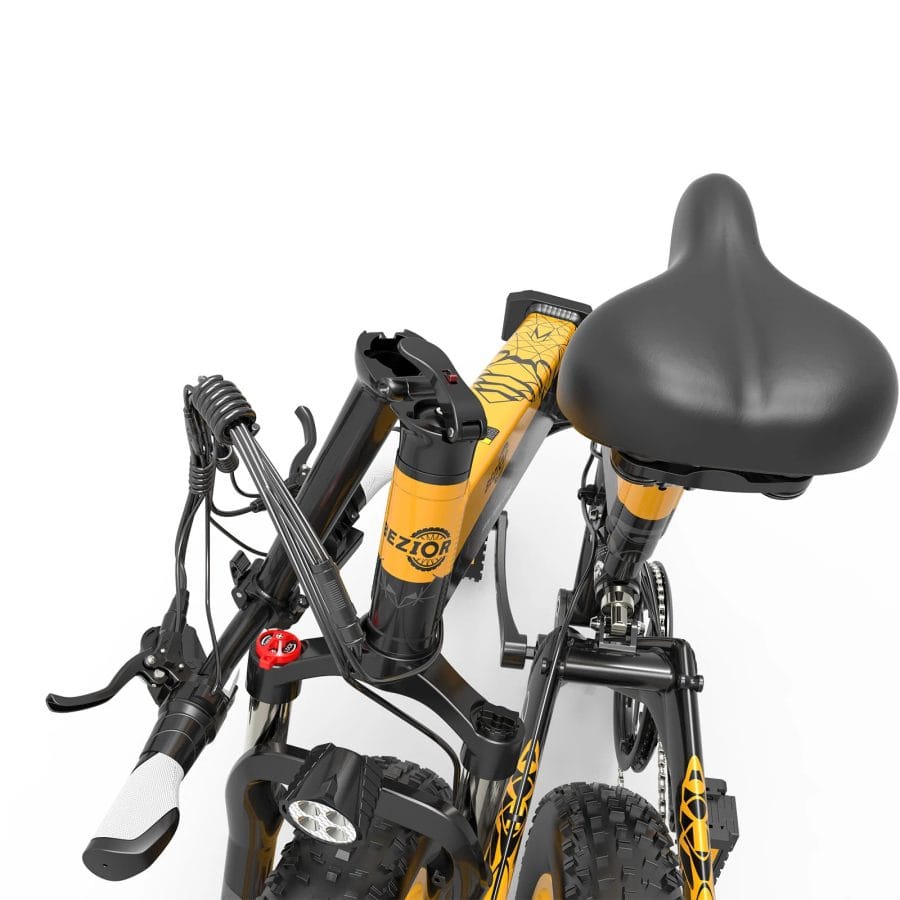 Other notable features of the BEZIOR XF200 are hydraulic disc brakes, a chainring with 52 teeth and a Shimano TZ20 7-speed gear system with Shimano SL-TX50-7R shifter.
Specifications
General
Brand: BEZIOR
Model: XF200
Type: E-Bike / Pedelec / electric bike
Leistung: 1000W
Battery: 15AH / 48V
Parameter
Range: 50 km (electric) to 130 km (pedelec)
Speed: 25 km / h
Incline: up to 35 °
Load capacity: max. 200kg
Dimensions
Weight: 27 kg
Size (unfolded): 177 x 120 x 90-100 cm
Size (folded): 163 x 28 x 83 cm
What's in the box
Includes: 1 x e-bike, 1x tool, 1 x English user manual
BEZIOR XF200 reviews
German review
Bezior XF200 1000W 15AH E-Bike Fatbike Pedelec 20 inch Folding Bike 20 inch
Portuguese review
Bezior XF200 ⚡ - A melhor review da eBike Todo Terreno !! (motor 1000w)
User Reviews