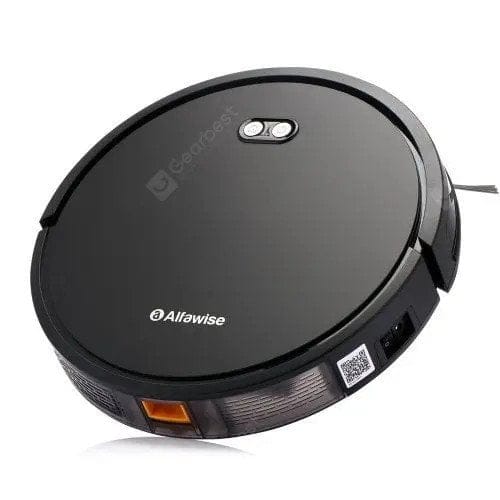 Alfawise V8S Max vacuum robot for € 168
With this Gearbest Offer you can buy the Alfawise V8S Max Robot vacuum for only 168 € instead of 186 € to buy! The dispatch takes place directly via priority line within 10-14 working days. There are no additional costs for this item.
Alfawise V8S Max product details
Vacuum robot with UV disinfection
There is a new, interesting household product from the Gearbest house brand "Alfawise". The Alfawise V8S Max is an inexpensive vacuum robot with additional wiping function and UV disinfection. You heard that right. There is a UV lamp under the robot vacuum UVC range (optimal 253.7nm wavelength) makes microorganisms harmless. How well this works is of course difficult to understand. However, it is a fact that UVC light has a particularly germicidal effect on bacteria, viruses, yeast and mold.
Wipe function with 3 levels of water delivery
Modern vacuum robots can usually not only vacuum, but also wipe. The Alfawise V8S Max can also be equipped with an additional water tank. The volume of the water tank is 350ml. That of the dust container is somewhat larger with 600ml. The water delivery can be controlled in 3 stages. The vacuum robot has one for this electronic water pump installed. So that no water stains remain after the end of cleaning, the water dispensing stops at the same time. The microfiber cleaning cloth is removable and is therefore easy to clean.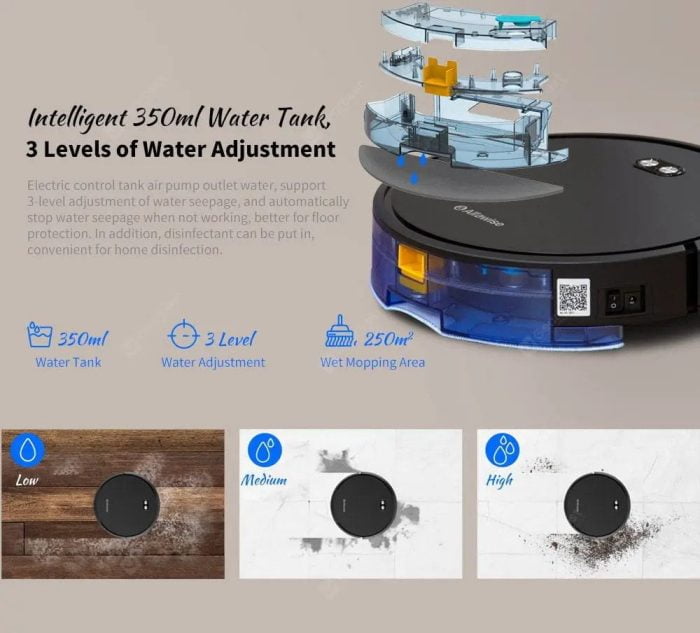 Gyroscope navigation
The Alfawise V8S Max robot vacuum uses one to orientate itself in the room Gyroscope navigation. The robot vacuum cleaner is able to remember its cleaning route and track it efficiently. The robot vacuum does not create a complex room map. This would require an LDS system, which can usually only be found in higher-priced models. The robot vacuum still recognizes obstacles. There are several on the sides and below infrared sensorsthat prevent collisions and crashes.
Spaces that should not be used by the robot vacuum can be accessed via Virtual Wall (magnetic tape) exclude from the cleaning route. Unfortunately, the magnetic tape is not included in the scope of delivery and must be purchased separately. The V8S Max robot vacuum runs over heels up to a height of 1.8cm.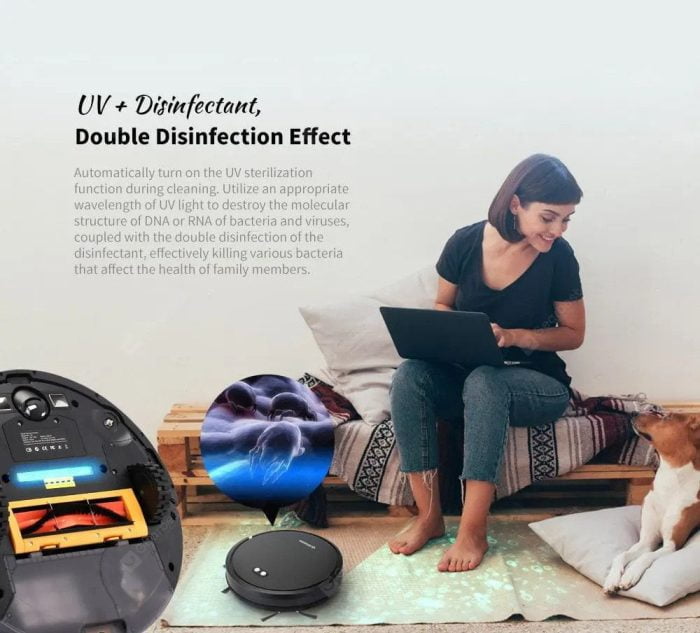 1800 Pa and 3 cleaning modes
The suction gives Alfawise 1800 Pa at. The suction power can be adjusted in 3 levels. At full suction power it is noise ungefähr 65 dB. At the same time can 3 cleaning modes to get voted. Mode 1 combines vacuuming and wiping. Mode 2 is a pure suction mode and mode 3 is a pure wipe mode. The capacity of the battery is 2600 mAh. That is enough to clean a 150 m² area with just one battery charge. The Alfawise V8S Max automatically finds the way back to the charging station.
App and Alexa control
The vacuum robot can be conveniently App (weback) control and manage. In addition, voice control via Alexa and Google Home supported. If you prefer to be more pragmatic, you can use the included scope of delivery Remote Control fall back on.
Specifications
data
Brand: Alfawise
Model: V8S Max
Type: robot vacuum
Suction power: 1800 Pa
Wipe: Yes, water pump
Navigation: gyroscope
Virtual Wall: yes
Volume: 65 dB
Battery: 2600 mAh
App: Yes
Special feature: UV disinfection
Dimensions
Weight: 2.7kg
Size: 33 x 33 x 7.6 cm
Alfawise V8S Max reviews
How to Kill Viruses with Upgrade Alfawise V8S Max Vacuum Cleaner + UV Sterilization?
user reviews
Alfawise V8S Max price comparison
Current prices
Price too high? Use our price alarm clock!
Prices last updated on: 11. August 2020 15: 00