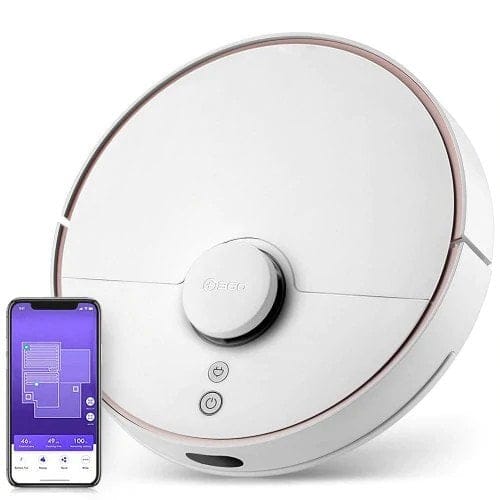 360 S7 vacuum robot for 337 €
With this coupon you can join Gearbest is 360 S7 suction robot for only 337 € instead of 364 € to buy! Shipping is free of charge from the European warehouse. There are no additional costs for this item.
360 S7 product details
Extensive sensor technology
As a top model, the 360 S7 is a sophisticated one Laser distance sensor (LDS) fitted. This scans the environment with up to 20.000 revolutions per minute and created in combination with the SLAM algorithm a detailed room map. With the aid of the created room map, the vacuum robot moves without collision in the room. Additional sensors on the sides and bottom prevent collisions and crashes. Paragraphs mastered the vacuum robot with a maximum height of 2 cm.
App with smart room layout
The 360 S7 can be controlled with ease via app. At the same time, the app serves to display the room map. Individual rooms can be marked by marking on the map cleaning zones to be grouped. If you want the vacuum robot to avoid a certain area, it can be blocked in no time. Vice versa, areas can be defined which the robotic vacuum cleaner should take care of.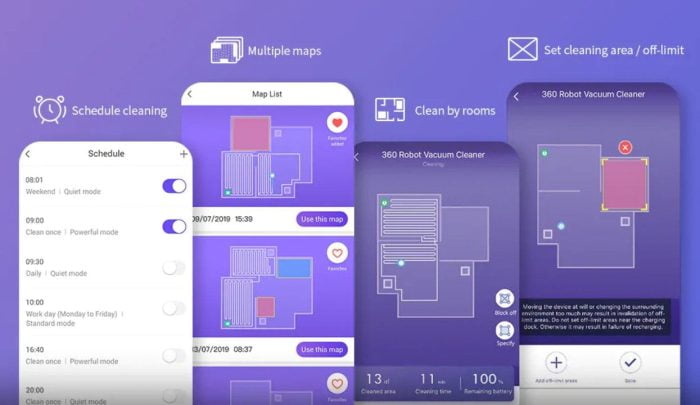 The app also offers more features and settings. On schedule makes it possible to send the vacuum robot completely autonomously on its cleaning route. The suction power can also be adjusted by pressing a button. The Return-to-Home Function directs the 360 S7 exactly to the charging station.
Vacuum robot with mop
The 360 S7 is not only suitable for sucking, but can also be used as a mop. For this purpose, a water tank with cleaning cloth can be attached to the bottom of the vacuum robot. The water tank has a capacity of 150 ml. Water is discharged particularly sparingly through a filter system.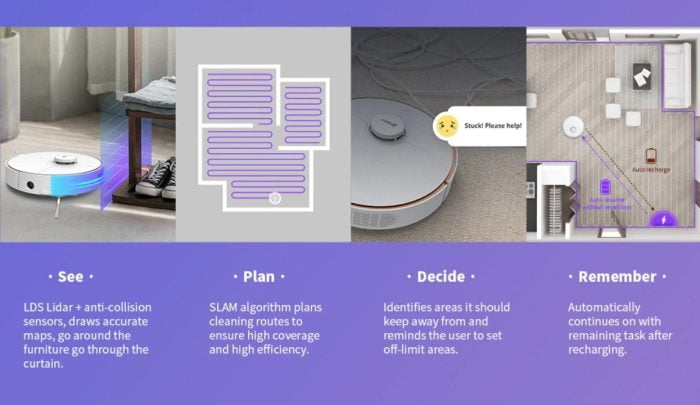 Long runtime and low volume
Depending on the cleaning modes, the battery will last approximately 110 Minutes through, which in turn up to 100 m² cleaning area equivalent. According to various reviews, the duration is in the reduced-performance "Silent Mode" about 110 minutes, in "Standard Mode" around 80 minutes and in "Power Mode" short 50 minutes. The volume reaches approximately 2000 dB at maximum 65 Pa suction power.
Specifications
data
Brand: 360
Model: S7
Type: Suction robot with LDS
Cleaning modes: SLAM
Cleaning area (sqm): 80-100 m²
Floor types: carpets, tiles, wood up to 20 mm
Dust container volume: 570 ml
Water tank: 150 ml
Volume (dB): ≤65dB
Energy intake: 22,8W
Charging time: 3 hours
Operating time (hours): 50 - 120 minutes, depending on the mode
Dimensions
Weight: 3,8 kg
Package weight: 6,6500 kg
Size: 35,00 x 35,00 x 10,00 cm
360 S7 reviews
360 S7 Suction Robot Test ► The new 360 S7 in Review vs. Roborock & 360 S6
user reviews
360 S7
Overall rating:
(1 reviews)
Write a Review
What can I say? The part is just great. I always let him run when I go out of the house. After about an hour he is finished with a whole floor. Sure, he does not come in every corner, but it's enough to grab the big vacuum cleaner just once a week.
360 S7 price comparison
Price too high? Use our price alarm clock!
Prices last updated on: April 5st, 2020 14:01