Xiaomi Redmi Note 4 / 4X - info, price and availability
Xiaomi has done it again and released an "improved" model of the popular Xiaomi Redmi Note 4. The smartphone, which comes in the name of "Xiaomi Redmi Note 4X", shows in comparison to the basic model no noteworthy innovations and rather promotes the versions confusion. Everything you need to know about the smartphone, we have compiled in this post!
Overview
Processor and memory
CPU: Qualcomm Snapdragon 625
GPU: Adreno 506
RAM: 3GB / 4GB
Internal memory: 32GB / 264GB
Memory extension: Yes, until 128GB
Display
Display diagonal: 5.5 inches
Display resolution: 1920 x 1080 pixels
Display Type: IPS
Luminance: 450 nit
Contrast Ratio: 1.000: 1
NTSC color space: 72%
cameras
Main Camera: 13 Megapixel
* Aperture f / 2.0
* PDAF
* Dual LED flash
Front camera: 5 megapixel
wireless
WiFi: 802.11a / b / g / n
Bluetooth: 4.2
Navigation: GPS / A-GPS / GLONASS / Beidou
sensors
* Brightness sensor
* Accelerometer
*Gyroscope
* Hall encoder
* Proximity Sensor
* Infrared sensor
Mobile
SIM: Dual SIM
SIM type: Nano + Micro
networks:
2G: GSM B2/B3/B5/B8
3G: WCDMA B1/B2/B5/B8
4G: FDD-LTE B1/B3/B5/B7/B8
Accumulator
Capacity: 4.100 mAh
other
Fingerprint scanner: Yes
Operating System: MIUI 8 (Android 6)
Size: 15.10 x 7.16 x 0.85 cm
Weight: 165g
Xiaomi Redmi Note 4 / 4X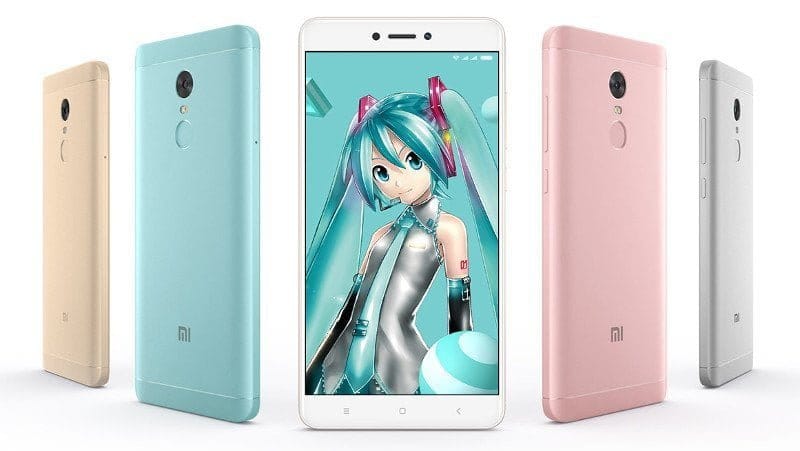 Update (May 2017)
The Xiaomi Redmi Note 4 with LTE Band 20 is available now! Thus, the smartphone can be extensively used in the German LTE mobile network. Attention, the "International" model does not offer LTE band 20! Only the installed ROM has been extended by several languages! Enclosed you will find vouchers for Note 4 and Note 4X International and for Note 4 Global with LTE Band 20.
Processor and memory
With the "X" as an addition, one could almost think that this smartphone is a much faster model, with new hardware. In reality, the addition is of no importance. The built-in processor is - just like in the Redmi Note 4 (International) - one Qualcomm Snapdragon 625, The storage equipment also remains unchanged 3GB and 32GB or 4GB and 64GB, The counterpart for the Chinese market with the MediaTek Helio X20 processor will still be available. Only in the supported network frequencies there are a few things to consider. Usually Xiaomi smartphones do not support all LTE frequencies used in Germany. Also the Redmi Note 4X is coming without LTE band 20 out. At the same time, however, it also became one special model of the Note 4 announcedincluding, among others LTE band 20 supported!
Here is some more information about the processor itself. The Qualcomm Snapdragon 625 is a middle class introduced at the beginning of 2016 Octa-core processorwhose cores clock with a maximum of 2 GHz. In combination with the Adreno 506 processor graphics The system-on-chip delivers enough power for everyday applications and smaller games. The internal memory can be with a MicroSD memory card expand to more 128GB.
Display and camera
The display with a diagonal of 5.5 Inch resolves in Full HD (1920 x 1080) and thus achieves a point density of 403 PPI. The luminance the manufacturer states 450 threadand Contrast ratio with 1000: 1 and the NTSC color space with 72% on. Individual color adjustments can be made via the display settings.
The main camera of the Xiaomi Redmi Note 4X releases 13 Megapixel and puts on an 5-layer lens and a f / 2.0 aperture. A PDAF (autofocus) is available and improved nighttime photography is ensured by a dual LED flash. The front camera solve with 5 Megapixel and also relies on an f / 2.0 aperture.
other
Other features are one backside fingerprint scanner, which unlocks the smartphone faster and easier. GPS, A-GPS, GLONASS and Beidou are supported for navigation. The sensory equipment includes an accelerometer, a proximity sensor, a gyroscope, a brightness sensor, a Hall sender and an infrared sensor. Dual-band WiFi is available and also device is supported in the current version 4.2. Interesting is also the integrated 4.100 mAh large batterywhich ensures long-lasting maturities.
Price and availability
The Xiaomi Redmi Note 4X was released in February and is 2017 priced at about 160 €, The smartphone is available in total 5 different colors (Black, Silver, Pink, Light Green and Champagne). The so-called Hatsune Miku Limited Edition is available in the color Light Green and also includes a powerbank and a back case with Hatsune Miku print.
Price too high? Use our price alarm clock!
Prices last updated on: April 5st, 2020 17:02
Price too high? Use our price alarm clock!
Prices last updated on: April 5st, 2020 17:02
* The prices refer to the Xiaomi Redmi Note 4 Global.