Xiaomi MITU "Building Blocks" DIY robot
Just before Christmas, Xiaomi surprises with a new gadget that will be of interest to the nerds among us. The so-called MITU Building Blocks robot is a smart toy with an intelligent core. What is meant by this, more in this post!
Overview
Xiaomi MITU "Building Blocks" robot
CPU: ARM Cortex M3
Type: 32bit
Clock rate: 108MHz
Memory: 32MB Flash
WiFi: Supported
Bluetooth: Supported
Gyroscope: integrated
Ultrasonic Sensor: Supported (not included)
Infrared Sensor: Supported (not included)
RGB sensor: Supported (not included)
USB: 4x USB Type-C
Engine: available
Battery: 1700mAh
Operation: App (Android 4.3 + / IOS 6.0 +)
Size: 380 * 320 * 95 mm
Xiaomi MITU "Building Blocks" robot

Overall 978 parts
If you like LEGO or Fischertechnik, you too will Xiaomi MITU robot to like. With a total of Share 978 you can give free rein to build your imagination. If you prefer to assemble the parts according to your plan, Xiaomi will deliver for you 3 building proposals, which is a conventional robot, a raptor and an airplane. Although the Xiaomi MITU can not fly, it does allow for the heart of the MITU ARM Cortex M3, quite interesting and at the same time smart functions.
control
The Xiaomi robot is controlled and programmed via the Mi Home app, which we already know from other Xiaomi products. This app is available for both Android and iOS devices. The Xiaomi MITU can be controlled on the one hand via the so-called "Joystick mode" in which the control takes place by means of two virtual joysticks, which appear on the display. Alternatively, there is also one Control by tilting the smartphone or tablets. However, the prerequisite is that the control unit also has a gyroscope. Another option is the "Path Mode"in which an individually defined route is traveled. All movements are compensated by the integrated gyroscope in the robot, so that an upright driving of the MITU is possible. The motors are two brushless motors running at a maximum of 170 revolutions per minute.

Programming
Programming skills are not required for the Xiaomi MITU. After this modular Individual functions and sensors can be activated or deactivated, connected in series or configured. Programming is done directly via the Mi Home app and is over Bluetooth or WiFi synchronized with the robot. This is for this 32MB large flash memory available.
Sensors and power supply
In addition to the already integrated gyroscope, other sensors can be connected to the Xiaomi MITU. Among other things an infrared sensor, an ultrasonic sensor and an RGB color sensor be available after the launch. The robot is connected to connect the sensors 4 USB Type-C sockets fitted. Which other sensors are compatible and from when they will be available, is not yet known. Power is supplied by a large 1.700mAh battery. Xiaomi promises terms of up to 12 hours.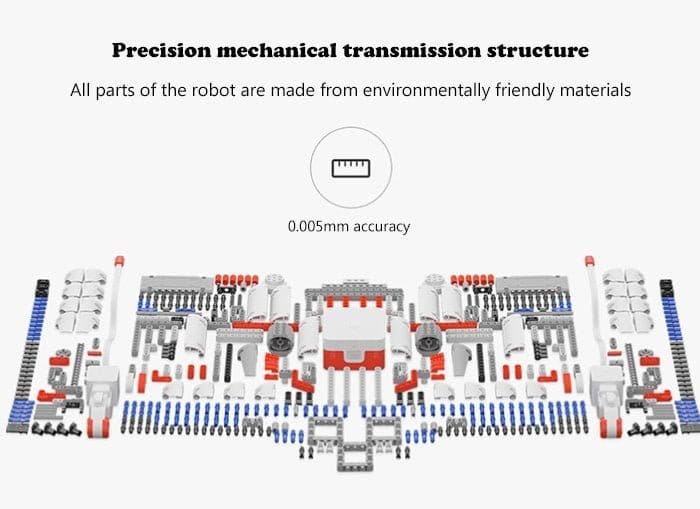 Product page of the manufacturer: www.mi.com/toyblock
Price and availability
The Xiaomi "Building Blocks" MITU robot is available now. The EIA is 499 Yuan, which is approximately 69 €. Relevant import shops such as Gearbest have already listed the robot. The import price is about 70 €.
Price too high? Use our price alarm clock!
Prices last updated on: April 6st, 2020 02:02