Xiaomi MIJIA Car DVR - High Resolution Dash Cam
Almost a year after the release of the first Xiaomi Dash Cam, which was created in collaboration with the former subsidiary Yi Technology, Xiaomi once again released a camera for the car. What's new in the Xiaomi Car DVR under the MIJIA product line and how it differs from the older Xiaoyi Dash Cam, more on this post!
Overview
DSP and image sensor
DSP: MSTAR MSC8328P
CMOS: Sony IMX322
Sensor Size: 1 / 2.9 inches
Pixel size: 2.8 μm
Aperture: f / 1.8
Field of view 160 °
Resolution: 2.19 megapixels
Video resolution: 1080p
Video Compression: H.264
Display
Display Type: TFT LCD
Display diagonal: 3 inches
Display resolution: HD
connectivity
WiFi: 802.11b / g / n
App: Android and iOS
power supply
USB: Yes
Car: Yes
Battery: 240 mAh
other
Microphone: Yes
Speaker: Yes
Memory: MicroSD
ADAS: No.
measurements and weight
Size: 87.5 53 x x 18 mm
Weight: 90g
Xiaomi MIJIA Car DVR - Car Camera
DSP and image sensor
The internal hardware of the MIJIA Dash Cam is based on a combination of MSTAR MSC8328P image processor and a Sony IMX323 CMOS. The image sensor resolves natively with 2.19 megapixels and the sensor size is 1 / 2.9 inches. In order to produce detailed and noise-free video recordings even in low light conditions or at night, Xiaomi relies on a large f / 1.8 aperture. Videos are recorded with maximum 1920 x 1080 pixels and can be looped to a MicroSD memory card. Voice recordings are recorded synchronously via an additionally integrated microphone. The video compression is done according to the standard H.264. The recording format is MP4.
WiFi and App
An integrated WiFi module allows the Xiaomi car camera to set up its own WLAN. Supported are the WiFi standards 802.11b / g / n. With the matching Xiaomi app can be accessed directly to the camera. In addition to live image output, archived video can be downloaded to your smartphone or tablet. A driver assistance system (ADAS) is missing. GPS is not supported.
Display and power supply
The back of the Dash Cam has a TFT LCD display with a diagonal of 3 inches and an HD resolution. Operation is via capacitive buttons below the display. The Dash Cam can be operated with a car USB charger (5V 2A). Such is included. The permanently installed 240 mAh battery is only for backup. For example, when the MIJIA Dash Cam is woken up by the G-Sensor while parked and without a car power source, the battery enables the camera to record a short clip of the event.
Notice: The menu of Xiaomi Dash Cam is completely in Chinese! Enclosed you will find a translation of the individual menu items. It is not excluded that there will soon be a patch that extends the menu by several languages.
Summary
The new Xiaomi MIJI car camera presents itself as a simple dash cam with comparatively few additional functions. Above all, a driver assistance system and the possibility of GPS recording would have been desirable functions. Whether the camera also achieves the promised recording quality in low light conditions will only become apparent after the first test reports have been published.
Product page of the manufacturer: mi.com/mj-carcorder/
Compare
Xiaomi MIJIA DVR - Xiaoyi DVR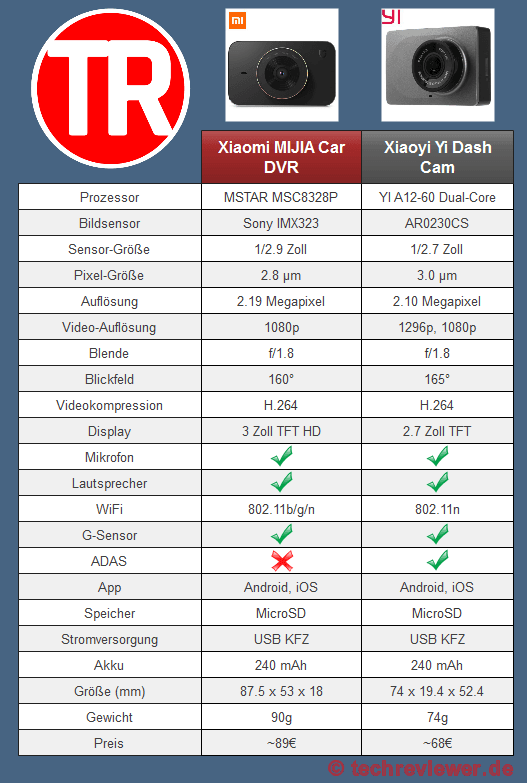 Price Comparison
Price too high? Use our price alarm clock!
Prices last updated on: April 5st, 2020 14:04