Xiaomi Mi Note 10 (Pro) - All information about the smartphone
After yesterday's China launch of the Xiaomi Mi CC9 Pro, Xiaomi presented the Xiaomi Mi Note 10 and Note 10 Pro a day later. The new Mi Note 10 Series is the first smartphone series with a Penta camera system. 5 image sensors catapult the handheld into one of the best camera smartphones of its time. The cost point is also surprising. Although the Mi Note 10 Series itself depends on flagships like the Galaxy Note 10+ in terms of camera quality, the retail price starts at a moderate € 545 or € 649 (pro).
Overview
Processor and memory
CPU: Qualcomm Snapdragon 730G
GPU: Adreno 618
RAM: 6GB / 8GB (Pro) (LPDDR4x)
Internal Memory: 128GB / 256GB (Pro) (UFS2.1)
Memory extension: no
Display
Display Type: Curved AMOLED
Display diagonal: 6.47 inches
Display resolution: FHD +
Screen Protector: Corning Gorilla Glass 5
Multitouch: 10 fingers
cameras
main camera
* 108 MP Samsung S5KHMX
* f / 1.7 aperture
* 0.8μm pixel size
* Laser autofocus
* Optical Image Stabilization (OIS)
* 2x LED flash
Telecamera (1)
* 12 MP Samsung S5K2L7
* 2x optical zoom
* f / 2.0 aperture
Telecamera (2)
* 5 MP OmniVision OV08A10
* 5x optical zoom
* f / 2.0 aperture
* Optical Image Stabilization (OIS)
Ultra wide angle camera
* 20 MP Sony IMX350
* f / 2.2 aperture
* 117 ° wide angle
Macro sensor
* 2 MP
* f / 2.4 aperture
* 1.5cm Shots
front camera
* 32 MP
Mesh
Dual SIM: Yes
SIM size: Nano SIM
LTE: Global
wireless
WiFi: 802.11 a / b / g / n / ac
Bluetooth: 5.0
GPS: Yes
sensors
* Näherungs- / ambient light sensor
* Accelerometer / gyro
* Magnetometer
* NFC
*Infrared
Accumulator
Battery: 5.260 mAh
Quick charge function: Power Delivery 30W
Qi store: no
Connection: USB-C
other
Operating system: Android 9 (MIUI 11)
Size: 157.8 74.2 x x 9.67 mm
Weight: 208g
Xiaomi Mi Note 10 (Pro)
? Exclusive offer
The official retail price of the Mi Note 10 is 545 € for the standard model and 649 € for the Pro model. With the coupon provided to us, you can buy the smartphone reduced at Gearbest for 450 €. The dispatch takes place within 48 hours after receipt of payment. You can find all further information below in the coupon box or at the end of the article in the price comparison!
100 € GearBest Coupon - Xiaomi Mi Note 10
With this GearBest coupon you can buy the new Xiaomi Mi Note 10 smartphone for just 450 €.
Design
The case of the Mi Note 10 consists of a high quality Aluminum frame and a particularly scratch-resistant Corning Gorilla Glass 5 front and back, With dimensions of 157.8 x 74.2 x 9.7 mm the smartphone is comparatively compact despite the 6.47 inch display. The weight, however, is stately 208g, which is mainly due to the large 5260 mAh battery. The smartphone is in the colors Midnight Black, Glacier White and Aurora Green erhältlich.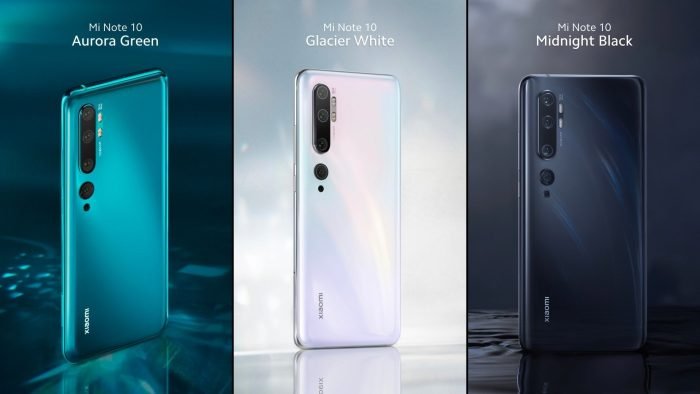 Display
Xiaomi starts on 6.47 inches AMOLED display with high resolution 2340 1080 x pixels Resolution. When Curved display The screen goes curved towards the edges in the case frame. A small Notch surrounds the front camera at the top edge of the display. Thanks to the energy-saving AMOLED technology, it is possible the display "Always-On" to use. Notifications and other information can be read without having to switch on the smartphone directly from the screen.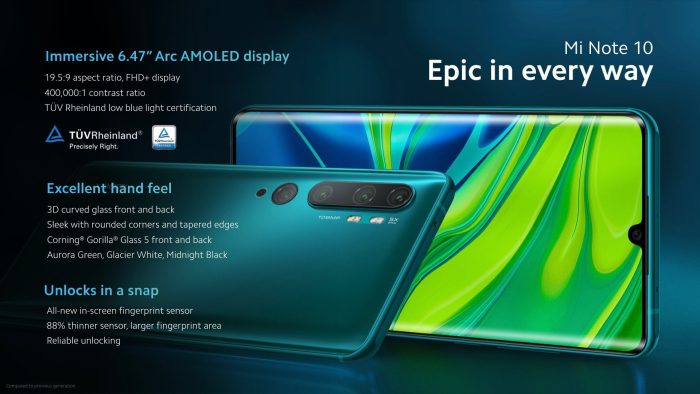 The display is with a Luminance of 600 cd / m² above average light, so that a good readability is guaranteed in strong light. Of the DCI-P3 color space is covered and HDR10 Ready supported. Hides under the display In-display fingerprint scanner for secure unlocking.
Performance
The smartphone is powered by a Qualcomm Snapdragon 730G driven. The Octa-Core system-on-chip places itself in the upper middle class in terms of performance. The total 8 cores are divided into 2 Cortex-A76 and 6 Cortex-A55 cores. Liquid gaming guarantees the Adreno GPU 618, The memory of Mi Note 10 is divided into one 6GB LPDDR4X Memory and one 128GB UFS2.1 data store.
Only the Xiaomi Mi Note 10 Pro comes with 8GB RAM and 256GB data storage. A memory expansion is not supported! By the way, that used Operating system MIUI 11 is based on Android 9. An update to Android 10 has already been announced by Xiaomi.
camera
The main focus of Mi Note 10 is clearly on the new "Penta-camera", Whole 5 sensors are located vertically on the back of the smartphone. The sensors are subdivided into:
main camera with 108 MP Samsung S5KHMX Image Sensor with f / 1.7 Aperture, 0.8μm Pixel Size, Laser Autofocus and Optical Image Stabilization (OIS),
Telephoto camera (1) with 12 MP Samsung S5K2L7 image sensor for 2x optical zoom and f / 2.0 aperture,
Telephoto camera (2) with 5 MP OmniVision (OV08A10) image sensor for 5x optical zoom, f / 2.0 aperture and Optical Image Stabilization (OIS),
Ultra wide angle camera with 20 MP Sony IMX350 image sensor, a f / 2.2 aperture and a 117 ° wide-angle,
Macro sensor with 2 MP and a f / 2.4 aperture
The 108 MP sensor was developed in cooperation between Xiaomi and Samsung. Photos can be up to 12.032 x 9.024 pixel resolution be included. RAW images are still possible with 27 MP. The improved "Night Mode 2.0" Pixel-Binning merges 4 pixels, allowing you to take reduced-noise photos with stately 27 MP. Two of the sensors are with one optical image stabilizer fitted. The result is wobble-free, pin-sharp images with an above-average level of detail.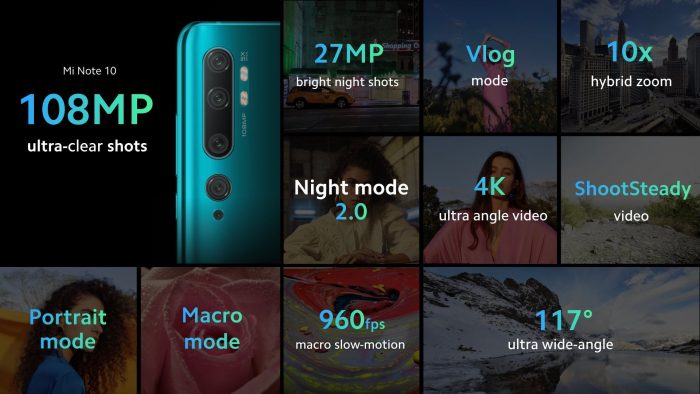 Nearly lossless zooming is possible with the Mi Note 10 with up to 10 magnification (hybrid zoom) possible! One digital zoom enlarges the image area even by 50 times! Other highlights of the camera are 1.5 cm macro shots, 960 FPS Slow-Mo Video mode, a new one Vlog mode with cinematic overlays, as well as a 4K ultra-wide-angle mode. front camera records with up to 32 MP.
connectivity
In contrast to the Chinese counterpart, the Mi 9CC Pro, the Note 10 supports the world's most popular mobile radio frequencies. In Germany, the smartphone is fully in the LTE network available. One Dual-SIM slot is available. Other connection features are Dual AC WiFi, Bluetooth 5.0 and NFC for contactless payment. The sensors include a proximity sensor, a brightness sensor, an acceleration sensor, a gyroscope, an e-compass and an infrared transmitter. To navigate is understood the smartphone with GPS, Galileo and GLONASS, Friends of Headphone jack also come at their expense. That is the Mi Note 10 namely available! Hi-Res audio ensures the best possible reproduction quality.
Accumulator
Another, especially noteworthy feature is the battery with high 5260 mAh Capacity. With normal use, a runtime of 2 days + should be achievable. By his 30 watt quick charge function the smartphone can be almost completely charged within an hour. Unfortunately, Qi loading is not supported.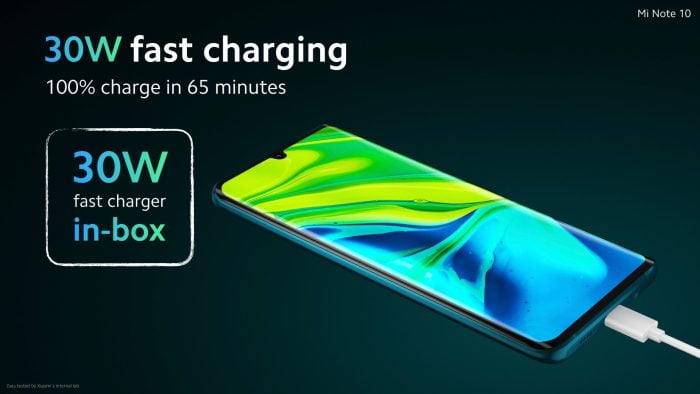 First impression of the Xiaomi Mi Note 10
Xiaomi surprises us with a mid-range smartphone that even takes on the big ones in terms of the camera. in the DxO Camera Test The Mi Note 10 places itself just behind the Huawei P30 Pro on 2 of the Smartphone Camera Charts. If you rely on the test results of DxO-Mark, the Mi Note 10 would even put the much more expensive Galaxy Note 10 + in your pocket.
A bitter aftertaste gives the current price. Despite decent camera equipment, the Mi Note 10 by the Snapdragon 730G remains merely a mid-range smartphone. Comparing the price with the identical Xiaomi Mi 9CC Pro, which is in China from 2.800 Yuan, so converted 350 € appears, suggests Xiaomi for the European interested parties whopping 200 € on the Chinese selling price on it! A detailed Review to Mi Note 10 will follow soon. A test copy is already on the way to us!
Price Comparison
Current prices
Price too high? Use our price alarm clock!
Prices last updated on: 18. September 2020 07: 42