Tronsmart Bang MAX product details
The brand new Tronsmart Bang MAX brings the beat to every party - a speaker that leaves nothing to be desired.
A sound giant in a compact format
Prepare yourself for a top-class sound experience! The Tronsmart Bang MAX scores with a grandiose sound quality, thanks to the proven SoundPulse™ technology. Two 35-watt woofers, dual tweeter and mid-tweeter combine here to create a harmonious concert that will spoil your ears with a full 130 watts.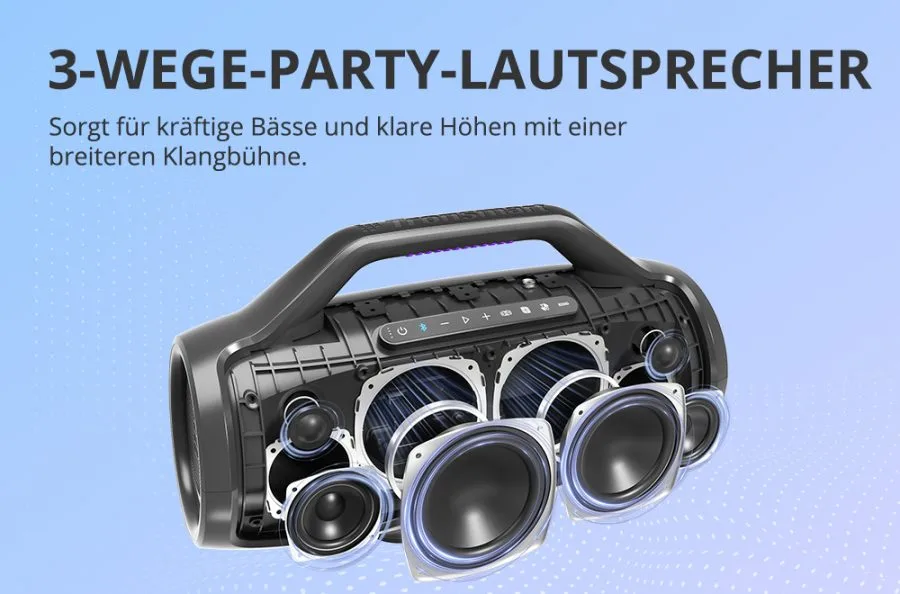 Whether via Bluetooth, Aux-In, USB or memory card - the Bang MAX plays your favorite hits in every imaginable way.
Karaoke party deluxe
But the Bang MAX is not only a highlight for music fans. Karaoke lovers will also get their money's worth. Thanks to the two microphone inputs, every party turns into a rousing karaoke session - a guarantee of fun for young and old.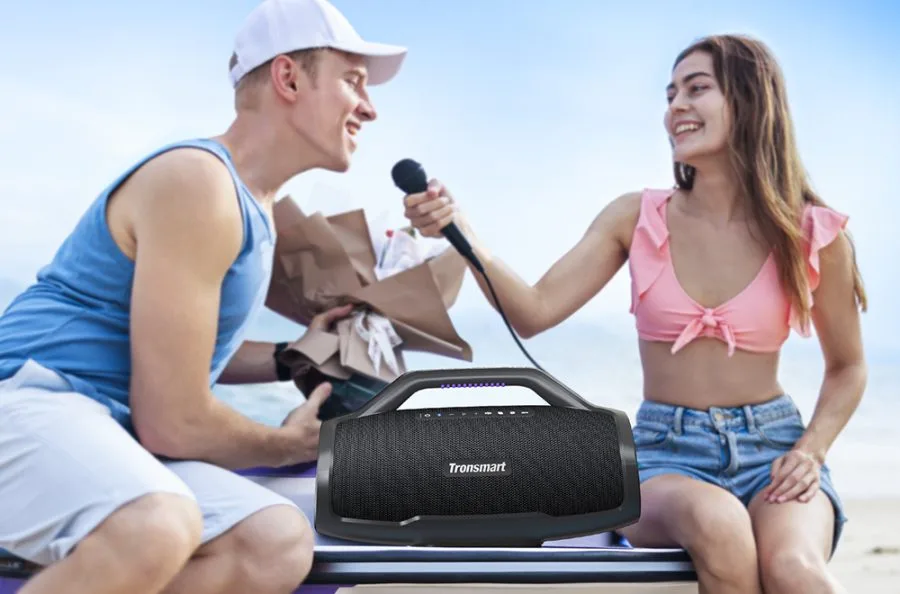 Simple operation and smart extras
Thanks to the innovative TuneConn™ technology, you can connect up to 100 Bang MAX speakers and thus ensure an unforgettable stereo experience. The Tronsmart app enables intuitive control of the equalizer settings and the integrated party lighting, which can be staged perfectly to the rhythm of the music. This creates a festival atmosphere, even in a small circle.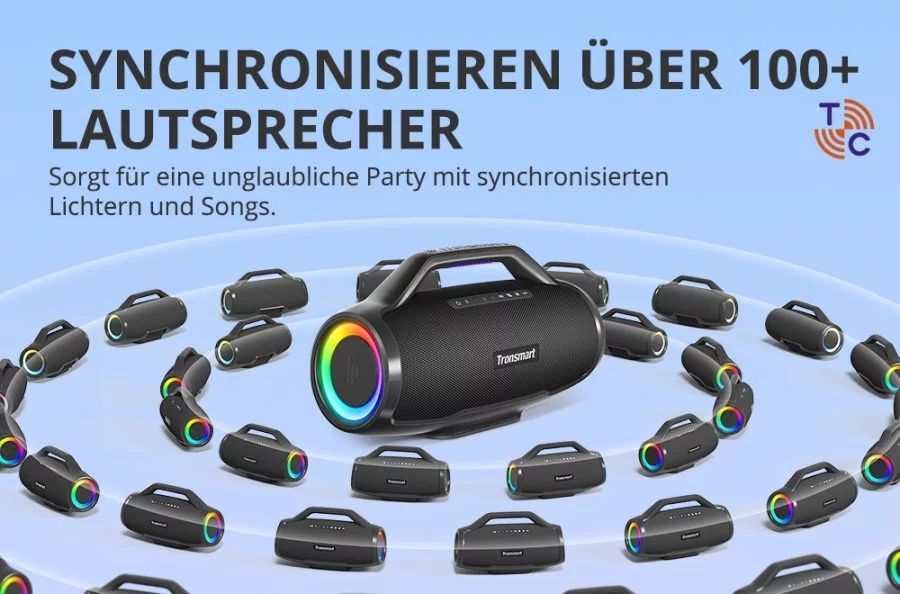 Your robust party companion
With a weight of almost 6 kilograms and an impressive length of 47 centimetres, the Bang MAX is no lightweight, but thanks to the practical carrying handle it can be easily taken to any event. The powerful 18000 mAh battery not only ensures up to 24 hours of uninterrupted music enjoyment, but also acts as a power bank for your smartphones.
The package is rounded off by the IPX6 protection, which makes the speaker the ideal companion for trips to the beach or lake - without worrying about water damage.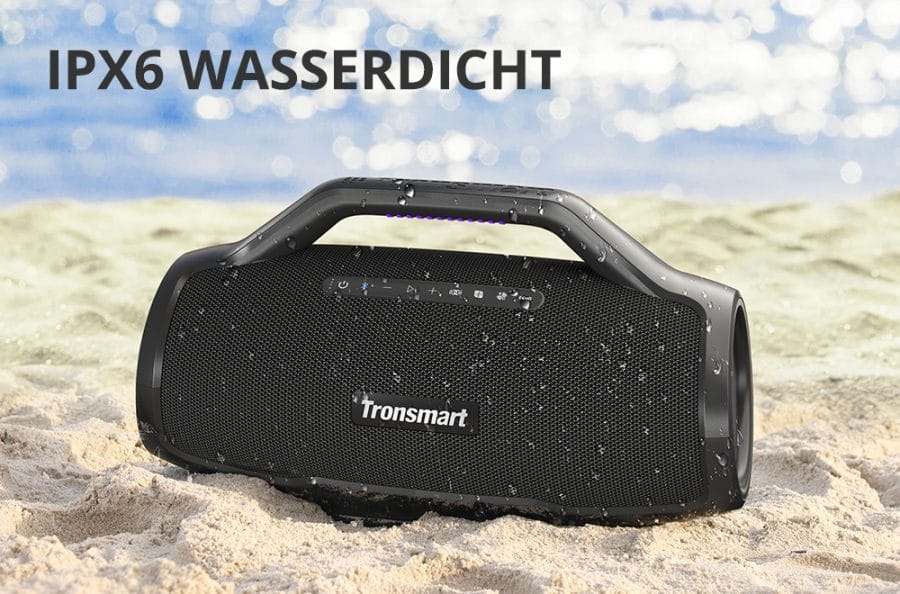 With the Tronsmart Bang MAX you are prepared for every party - a loudspeaker that raises the bar in terms of sound and equipment.
Compare
We have summarized the essential comparative data of the various Tronsmart Bang models for you in the following table.
Model
Tronsmart Bang MAX
Tronsmart Bang SE
Tronsmart Bang Mini
Tronsmart Bang
LED Lights
Side
Front + Side
Side
Front + Side
Mutli speaker
TuneConn(Up to 100+ speakers)+TWS
TWS
TWS
TuneConn (Up to 100 speakers)
driver
2 x tweeters

2 x mid-tweeters

2 x woofers

2x full range
2x tweeters & 2x woofers
2x tweeters & 2x mid-woofers
Klang
deep bass
Bright
deep bass
Balance
Performance
130
40
50
60
App
Ja
No
No
Ja
IP rating
IPX6
IPX6
IPX6
IPX6
Size
47 x 19,9 x 26 cm
29,8 x 16,45 x 11,88 cm
30,2 x 12,5 x 17,3 cm
36,1*18,34*15,03cm
Weight
5,98 kg
2,16 kg
2,37 kg
3,08 kg
Price
209 Euro (RRP)
76 Euro (RRP)
85 Euro (RRP)
114 Euro (RRP)
Tronsmart Bang MAX reviews
German review
TRONSMART BANG MAX Review | Reviews | sound check. A BOOMBOX competitor? Bluetooth speaker review.
English review
Tronsmart Bang Max Review: Sub $200 Boombox That Will Shake Your Car Windows! (extreme bass)
Tronsmart Bang MAX vs JBL Boombox 3
Tronsmart Bang MAX vs. JBL Boombox 3 - Indoor sound comparison. Bluetooth speakers. Battery Powered