From now on, Goboo also sells headphones from 1MORE! The company specializing in headphones has already produced headphones for Xiaomi and is an integral part of the Xiaomi ecosystem.

Goboo already has the 1MORE ComfoBuds Pro for 59,99 euros instead of 79 euros. On the promo page there are also other 99MORE headphones, greatly reduced, such as the highly acclaimed 1MORE ComfoBuds Z, the 1MORE ColorBuds 1 or, if you prefer wired, the 2MORE Quad Driver in-ear headphones.
1MORE ComfoBuds Pro product details
The 1MORE ComfoBuds Pro are true wireless in-ear headphones that, according to various media, come very close to the comfort and sound of the well-known Apple AirPods Pro. Equipped with a dynamic 13,4 mm driver on both sides, the ComfoBuds Pro deliver a balanced sound at HiFi level. Active Noise Canceling (ANC) reduces background noise to a minimum without affecting the sound. How strong the ANC is can be adjusted.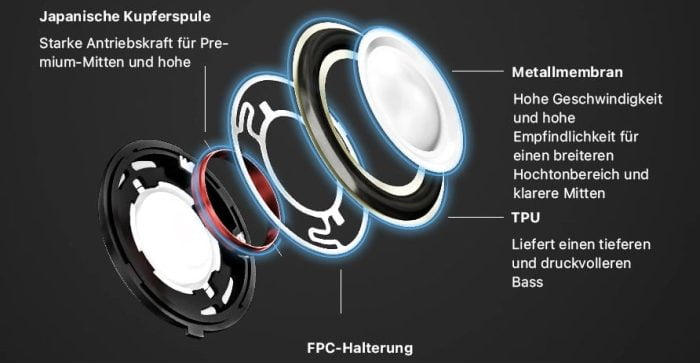 An important detail of the 1MORE ComfoBuds Pro, which cannot be clearly recognized at first glance, are the functional differences depending on the color. Aurora Blue is a special edition, so to speak, which, in contrast to the other colors, is equipped with a stronger ANC and provides the wearer with 22 preprogrammed equalizers. The ComfoBuds Pro are connected via Bluetooth. The current Bluetooth 5.0 standard ensures a stable range. 1MORE uses AAC for the codec.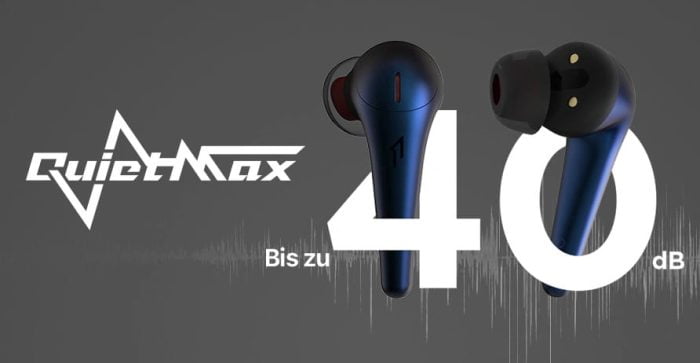 A total of 6 microphones enable clear conversation quality when making calls. Sweat or rain cannot harm the earbuds thanks to the IPX4 protection. The music playback can be conveniently controlled using gestures. The running time varies depending on whether ANC is switched on or off. With the ANC switched on, the running time is approximately 6 hours. Switched off can take up to 8 hours. The fully charged charging case charges the 1MORE ComfoBuds Pro three times. Fast charging is supported. Just 15 minutes in the charging case equals 2 hours of running time.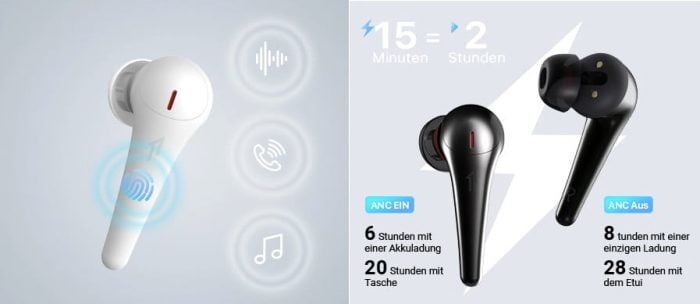 Specifications
data
Brand: 1MORE
Model: ComfoBuds Pro
Type: TWS in-ear headphones
Driver: Dynamic 13,4mm
Impedance: 32 Ω
Bluetooth: 5.0
Range: 10 meters
Codec: AAC
Protocols: HFP / A2DP / AVRCP
ANC: Yeah
Microphones: 6
Battery life (with ANC): 6 hours
Battery life (without ANC): 8 hours
Battery Earbud: 50 mAh
Earbud charging time: 1 hour
Battery case: 450 mAh
Case charging time: 2 hours
Dimensions
Earbud size: 42 x 23,95 x 20,93 mm
Weight earbud: 5,2g
Case size: 80 x 37,5 x 30 mm
Case weight: 40g
1MORE ComfoBuds Pro reviews
German test report
Test: better than the AirPods Pro? 1MORE ComfoBuds Pro ANC headphones for under € 100
English test report
SO GOOD! 😍 1MORE ComfoBuds Pro True Wireless
User Reviews
1MORE ComfoBuds Pro price comparison