Teclast TBook 16 Power - Fast Dual OS Tablet
In mid-November, the Chinese tablet manufacturer "Teclast" released the Teclast TBook 16 Power. Although visually there are no differences to the predecessor model, the TBook 16S, quite a lot has changed regarding the hardware equipment. How the new Teclast TBook 16 Power is equipped and what expectations are placed on the tablet, you can read in this post!
Overview
OS:
* Android 6.0
* Windows 10
CPU: Intel Atom X7-Z8750
* Basic clock: 1.6 GHz
* Burst frequency: 2.56 GHz
RAM: 8GB
Internal memory: 64GB eMMC
Memory extension: Yes
Display diagonal: 11.6 inches
Display resolution: 1920 x 1080 pixels
Display Type: IPS
Main Camera: 5 Megapixel
Front camera: 2 megapixel
Bluetooth: 4.0
WiFi: 802.11b / g / n
Battery: 8500 mAh
connectors:
1x USB 3.0
1x USB Type-C
1x Micro HDMI
1x 3.5mm headphone jack
Teclast TBook 16 Power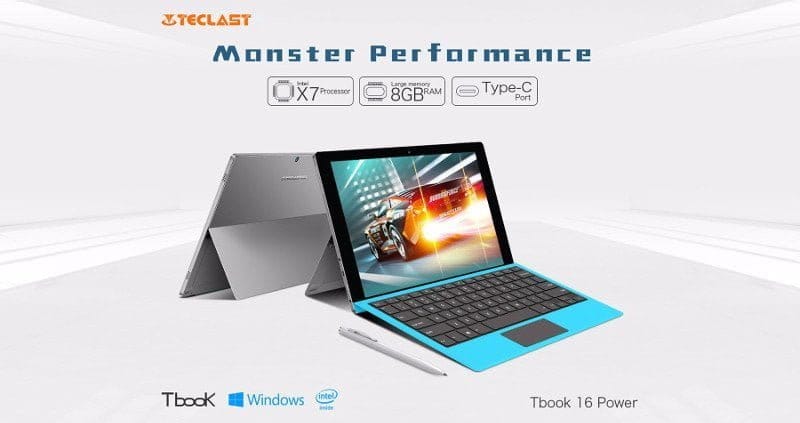 High quality design
With a price of almost 300 €, the Teclast TBook 16 Power belongs to the higher priced tablets from China. Accordingly, one expects a high-quality workmanship and an appealing design. To live up to expectations, the entire 30.30 x 17.95 x 1.00 cm tablet consists of a CNC milled aluminum housing and achieves a weight of moderate 897g. A special feature is the fold-out stand on the back of the housing. This allows the TBook 16 Power to be used upright without a shell. In combination with the matching keyboard, the tablet can thus also be used as a notebook.

High-performance hardware
Teclast uses in the TBook 16 Power the currently most powerful Intel "Cherry Trail" Atom processor called Intel Atom X7-Z8750. Overall, this processor is slower than a Core M processor, which is mainly used in netbooks, but also in tablets (see Cube i7 BookHowever, the Intel Atom X7-Z8750 is also characterized by a lower power consumption and waste heat (thermal throttling excluded). Interestingly, Teclast has integrated a massive amount of 8GB memory. A smooth operation of Windows 10 or Android 6 is nothing in the way with this configuration. Even one or the other Windows Game can be played smoothly with this tablet. Current and older source engine titles can be played with appropriate settings quite with average 25 pictures-per-second. However, the main focus should be put on everyday office activities and common tablet applications.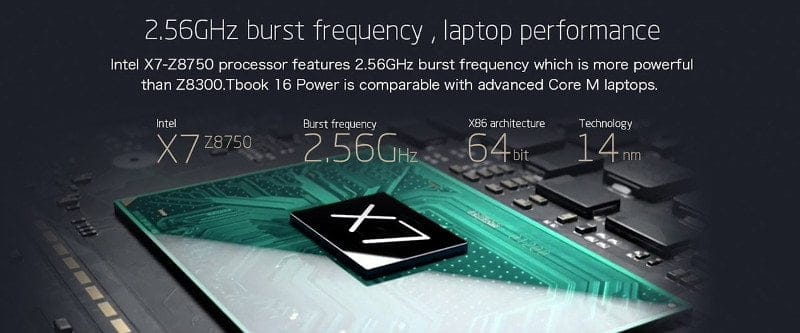 Dual OS
An interesting feature is the ability to boot two operating systems on the tablet. In addition to Windows 10, Android 6 is preinstalled and can be selected as OS before starting the tablet. This results in completely new possibilities. If you prefer in the best couch Potato manner on the way, for the Android is recommended. If you want to switch to the workstation, you simply boot Windows 10. All applications and other files have a total of 64GB eMMC memory available. If this memory is too low, you can extend the internal memory by adding a MicroSD memory card with additional 128GB.
High-resolution display and camera
Like the TBook 16S, the Teclast TBook 16 Power uses an 10.6 inch full HD (1920 x 1080) IPS display. Although Teclast does not specify the exact name of the display, it can be assumed that the panel of the predecessor was probably adopted. Isolated reviews in the WWW confirm this assumption. Above all, the maximum display brightness, which is comparatively low, is criticized. The viewing angle stability and the depiction of the colors were rated on average a lot. The touch screen used also supports input through an active stylus. This pen (~ 17 €) is not included, but must be purchased separately. The same applies to the docking keyboard (~ 35 €).
On the front and back there is a camera. The main camera on the back uses an 5 megapixel sensor, the front camera uses an 2 megapixel sensor. Both cameras are much more than a nice addition, as they are suitable for fantastic image or video recordings. Nonetheless, both cameras are suitable for video telephony!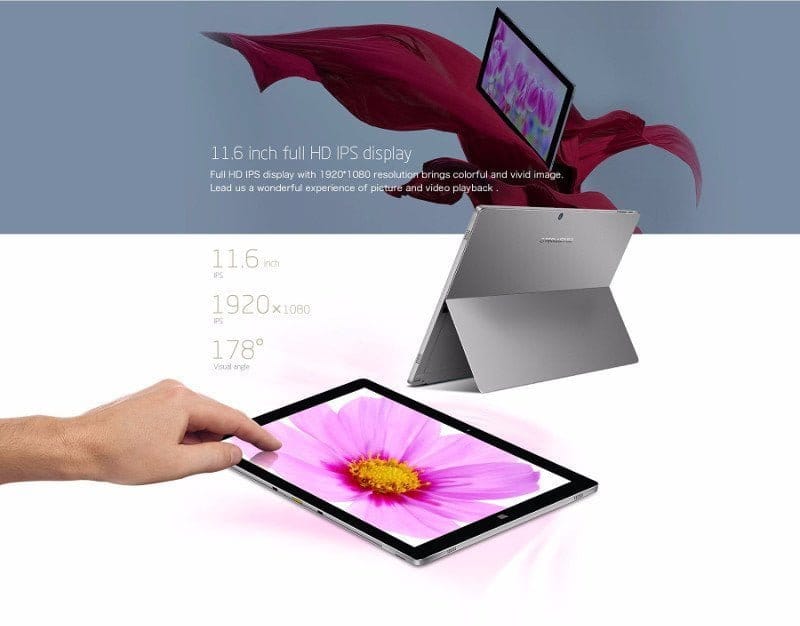 Connectivity and battery
The connectivity of the Teclast TBook 16 Power is a USB Type-C female connector, a conventional USB Type-A 3.0 female connector, a Micro-HDMI-Out, a 3.5mm headphone jack and of course a DC jack to charge the tablet. Wireless transmission is possible via WiFi (802.11b / g / n) and Bluetooth 4.0. The battery has a capacity of 8.500 mAh. The running time ranges from about 5 to 7 hours, depending on which operating system you are currently using and how the tablet is used.
Price and availability
Current prices
Price too high? Use our price alarm clock!
Prices last updated on: April 5st, 2020 02:02