Overview
Specifications
CLEANING
Suction force: up to 5500 Pa
Suction power: Quiet, Normal, Turbo, Max
Volume: Less than 67dB
Container: 350 ml dust + 200 ml water (installed)
Wiper system: VibraRise
Wipe Intensity: Soft, Medium, Intense
Navigate
Mapping: High Precision Mapping
Object Recognition: Reactive Tech
Room card: Yes (4 floors)
Room layout: yes
Restricted zones: yes
Virtual Wall: yes
connectivity
App: Roborock app
Connection: WiFi 2.4 GHz
Alexa: Yes
Google Home: Yes
Siri: Yeah
Battery
Capacity: 5200 mAh
Duration: until. 180 mins
Charging time: 4 hours
Suction station
Extraction power: Unknown
Bag Type: Disposable
Bag Size: 3L
Mop cleaning: water
Mop drying: hot air
Height Weight
Size: 35 x 35,3 x 9,65 cm
Weight: 4,7 kg
What's in the box
1x vacuum robot
1x cleaning station
1x wiper pad
2x dust bags
1x cleaning tool
1x power cable
1x manual
Review: Roborock S7 Max Ultra
News update
The Roborock S7 Max Ultra is currently available on Amazon at the best price! With sale and shipping through Amazon, the vacuum robot currently only costs 949 euros instead of 1.199 euros RRP.
Things are heating up in the Roborock product jungle. The company decided without further ado to release another model in the S7 series with the Roborock S1.199 Max Ultra (RRP 7 euros). At the same time, this creates a lot of confusion. After all, with the Roborock S7 MaxV Ultra (1.399 euros RRP) and the Roborock S7 Pro Ultra (1.199 euros RRP), there are already two very similar models from last year.
In terms of features and performance, the new Roborock S7 Max Ultra is on par with last year's model, the Roborock S7 MaxV Ultra, but places below the current top model Roborock S8 Pro Ultra (1.499 euros RRP) .
The differences are in the details: For example, the S7 Max Ultra does not have the RGB camera of the S7 MaxV Ultra, which transmits a live image to the smartphone. In return, it offers higher suction power - specifically 5500 Pa compared to the 5100 Pa of the S7 MaxV Ultra - and integrates hot air drying for the wipes directly in the station.
Here is a comparison between all current Roborock models:
| | | | | |
| --- | --- | --- | --- | --- |
| feature | Roborock S8 Pro Ultra | Roborock S7 Max Ultra | Roborock S7 Max V Ultra | Roborock S7 Pro Ultra |
| suction | 6000 Pa | 5500 Pa | 5100 Pa | 5100 Pa |
| floor brush | Two rubber rollers | Simple rubber roller | Simple rubber roller | Simple rubber roller |
| dust container | 350ml | 350ml | 400ml | 400ml |
| water tank | 200ml | 200ml | 200ml (removable) | 200ml (removable) |
| Floor brush lifting function | Ja | No | No | No |
| wiping function | VibraRise 2.0 | VibraRise | VibraRise (removable) | VibraRise |
| obstacle detection | Responsive 3D | Reactive Tech | Reactive AI 2.0 | - |
| mop drying | Integrated | Integrated | Optionally available | Optionally available |
Roborock S7 Max Ultra: design and finish
The Roborock S7 Max Ultra is sturdy and compact enough to handle the challenges of daily house cleaning. The design of the vacuum robot is mostly unspectacular. It is available in the colors white and black. This makes it suitable for different furnishing styles.
The vacuum robot itself has a diameter of 35,3 centimeters. Typically, there is a LIDAR tower at the top, which is responsible for mapping and navigation. Thanks to its total height of 9,65 centimetres, it can easily vacuum and wipe under most furniture.
The vacuum robot hides a 350 milliliter dust container under its lid, which it automatically empties into the disposable dust bag of the cleaning station after each cleaning process. This is an important difference to the classic Roborock S7, whose suction station could also be operated without a bag. However, this is no longer possible for the S7 Max Ultra and S7 MaxV Ultra models. The bags cost between 1 and 2 euros. On average, you change the bag every six weeks.
The Roborock S7 Max Ultra uses the so-called VibraRise system for wiping. This is a vibrating wiping plate that is automatically raised by 5 millimeters at carpet edges, so that simultaneous vacuuming and wiping is possible. Neither the mop plate nor the water tank can be removed. Both are permanently installed.
The vacuum robot automatically fills up with fresh water by using the Ultra Dock cleaning station. The station is equipped with a 3 liter fresh water tank for this purpose.
In addition, the station has a 2,5 liter waste water tank, into which the waste water is directed after cleaning the station and the mop. After cleaning is complete, the mop is dried with hot air. You don't have to buy a separate drying module, which saves costs (approx. 70 euros) and effort.
In terms of build quality, the Roborock S7 Max Ultra upholds the manufacturer's high standards. Its solid construction and precise workmanship ensure that it can withstand intensive use. The scope of delivery is a bit sparse as usual and offers no other parts apart from a replacement dust bag. It is best to order more wipes at the same time!
Roborock S7 Max Ultra: Setup and App Usage
Setting up the Roborock S7 Max Ultra is a breeze thanks to the detailed instructions in the Roborock app. As soon as the vacuum robot is connected to the power supply and the app is downloaded, the application guides you through the setup process step by step. No questions remain unanswered. Each setup step is carefully explained and the most important functions of the vacuum robot are presented in detail.
The Roborock app itself is clearly structured and intuitively designed. All functions and settings are easily accessible, which makes using the vacuum robot easy.
With the quick mapping feature, users can create a space map in minutes. Up to four such room cards can be saved at the same time, which makes it easier to use the vacuum robot in multi-storey apartments or houses. The Roborock S7 Max Ultra independently recognizes the appropriate room card for the floor.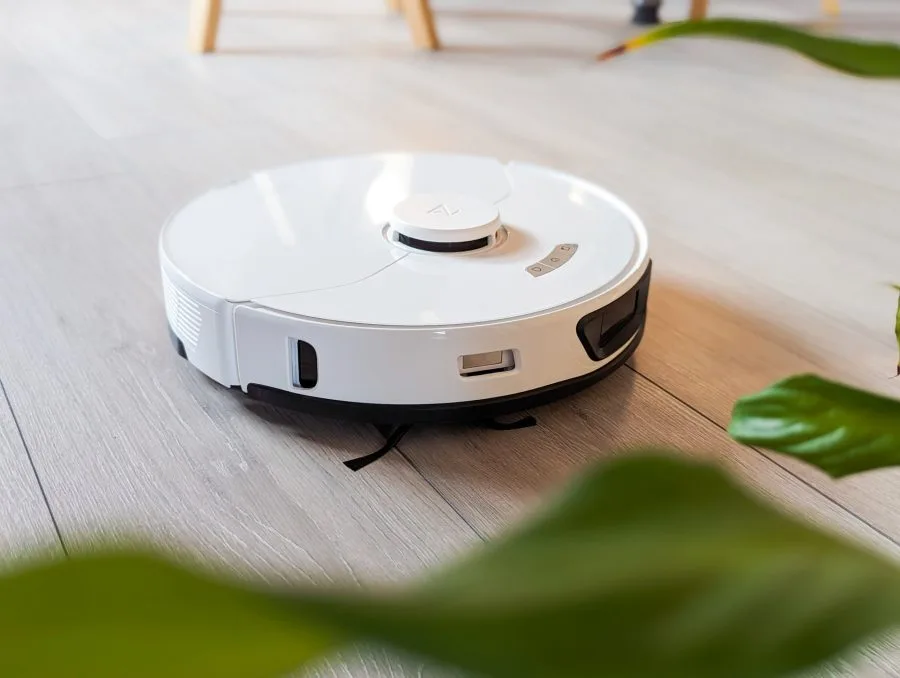 If changes are required to a created room map, these can easily be made later. In edit mode, rooms can be merged, split and renamed. In addition, restricted zones can be defined in which the vacuum robot should not clean.
Whether vacuuming and wiping, just vacuuming or just wiping - the Roborock S7 Max Ultra is able to clean all rooms, individual rooms or specific zones. The suction power can be adjusted in four stages and the wiping intensity in three stages. All of these settings can be set individually according to cleaning schedules.
Roborock S7 Max Ultra: practical test
In my practical tests, the Roborock S7 Max Ultra impressively demonstrated its impressive suction power of 5500 Pa. He has shown he can handle all types of household dirt. Whether it's animal hair on high-pile carpets or small stones and stubborn dust on tiles, parquet or carpets - the vacuum robot masters its tasks reliably.
In a specific test where I spread 100 grams of household dirt on tiles and carpets, it picked up 96 grams from the tiles and 93 grams from the carpets. Despite the slightly higher suction power, there is no significant difference to the Roborock S7 MaxV Ultra, which delivers very similar results.
To clean corners and edges, the Roborock S7 Max Ultra uses a fast rotating side brush with fine bristles. It sweeps the dirt to the central main brush. However, even this robot vacuum does not get enough into difficult corners, so that dirt occasionally gets stuck deep in the corner.
This main brush consists of a rubber roller without bristles, which makes it particularly easy to maintain. Hardly a hair got tangled in it after a week of daily use.
A small disadvantage of this brush is that it occasionally squeaks when the fins touch the floor - including a bit of a racetrack feeling during the cleaning pass. The double brush technology of the latest Roborock S8 would be even more efficient, but this technology has so far only been reserved for the top model.
Thanks to its Reactive Tech Obstacle Avoidance, the Roborock S7 Max Ultra can avoid most obstacles. Compared to the camera-based Reactive AI 2.0 of the Roborock S7 MaxV Ultra, however, this technology works a little less precisely with smaller obstacles. He mercilessly dragged around cables and flat toys in the test.
However, the vacuum robot recognizes larger obstacles from a height of three centimeters very well and avoids them precisely. His navigational skills seem goal-oriented, so he never got lost on his daily cleaning run.
The S7 Max Ultra's VibraRise mopping module presses firmly on the floor and removes fine dust particles with 3000 vibrations per minute. Despite its mopping function, the vacuum robot, like most of its kind, is less suitable for stubborn stains.
Water stains in the bathroom or dried, sticky stains are difficult to remove. However, this is not a specific weakness of this model, but a general limitation of vacuum robots with a mop plate. Vacuum robots with rotating mops are usually better suited for wiping jobs.
Despite everything, the S7 Max Ultra is ideal for wiping the apartment every day and removing fine dust. Thanks to its VibraRise ability to automatically raise the mop on carpets, it can vacuum and wipe at the same time without the need for manual intervention.
After completing the cleaning work, the Roborock S7 Max Ultra will automatically return to the base station and perform a self-cleaning there. He empties his dust container, washes the mop with fresh water and then dries it with warm air for about three hours to prevent odor build-up. The dock also cleans itself and quickly removes any dirt that falls off the mop.
The battery performance of the vacuum robot is remarkable. It cleans my 80 square meter apartment in one go without any problems and in the end even has 67 percent of the battery charge left. In a single family home, it could therefore clean several floors with a single charge.
Should the battery run out during the cleaning process, the Roborock S7 Max Ultra has enough intelligence to return to the charging station on its own, charge itself and then continue cleaning right where it left off.
A full charge cycle took about four hours in my tests. This may seem long at first glance, but it is an acceptable loading time for a vacuum robot, so there is hardly any downtime. Some comparable models charge for more than six hours!
Would you like to exchange ideas with other Roborock users?
join ours Roborock Community on Facebook at. More than 17.000 other Roborock fans are waiting for you!
Price Comparison