Roborock S6 Pure - Now Available!
CES 2020 is in full swing. Also present this year is the Chinese robot vacuum manufacturer Roborock, which has introduced the Roborock S6 Pure, a new vacuum robot with LDS navigation. The vacuum robot should be available for € 499 from the second quarter of 2.
Roborock S6 Pure
Update 14. October 2020
It is Amazon Prime Day and also the Roborock S6 Pure is available at the offer price of 439,99 Euros. The only requirement is an active Prime membership.
Update 21. April 2020
After a long wait, the Roborock S6 Pure is now available. Amazon has the vacuum robot for 499,99 Euros listed. The delivery takes place via Amazon Prime directly from Germany.
Roborock S6 Pure | Smarter cleaning
The new launch of another Roborock vacuum robot comes as a complete surprise. After the manufacturer has already expanded its S5 range, the top S6 model with the S6 Pure has a little brother. A look at the data sheet and the targeted one Price of 499 € reveal that the S6 Pure is a bit stripped down version of the Roborock S6 .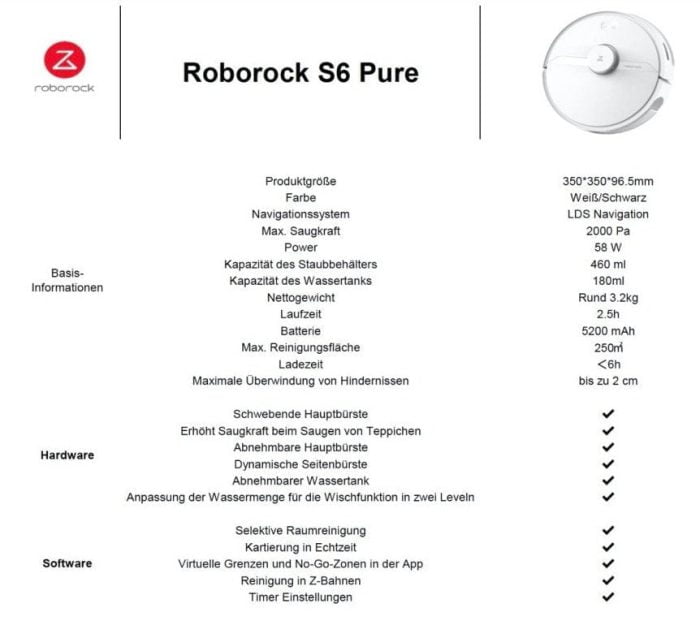 Some sensors are dispensed with, the electric water pump newly introduced in the S5 Max is missing and the dust container holds 20 ml less dirt. Instead, the water tank has a capacity of 180 ml instead of 160 ml. The suction power that Roborock specifies at 2000 Pa is identical. Also on board is the usual precise laser navigation with room map creation and selective room division. A test of the Roborock S6 Pure will follow as soon as the vacuum robot is available!
Further information on the Roborock S6 Series at: de.roborock.com/pages/roborock-s6