Robo Rock H7
With only a few visual differences, the new Roborock H7 is largely based on the Robo Rock H6. Nonetheless, Roborock emphasizes that it has responded to consumer wishes and made some improvements. Richard Chang, CEO from Roborock:
"We are proud to have brought the first cordless handheld vacuum cleaner with an integrated LiPO battery to Germany, because it offers unique advantages for the cleaning experience: low weight, long running times and an exceptional battery life. With the new Roborock H7, we have built on exactly these advantages of the Roborock H6 and at the same time responded to the wishes of consumers. This includes, for example, the suction power, charging time, easier maintenance and the uncomplicated storage of accessories.
Roborock H7 vs Roborock H6
| | | |
| --- | --- | --- |
| Model | Robo Rock H7 | Robo Rock H6 |
| suction | 480W / 160AW | 420W / 150AW |
| Runtime | 90 Minutes | 90 Minutes |
| charging time | 2.5h | 4h |
| dust container | 500ml | 400ml |
| Display | 1,3 inch OLED | 1,3 inch OLED |
| suction levels | Three | Three |
| Size: | 110,0 x 21,5 x 11,0 cm | 110,0 x 21,5 x 11,0 cm |
| Weight | 1,46 kg | 1,4 kg |
| Price | 399 € RRP | 270€ |
Higher suction power, more volume, less loading time
One of the major upgrades concerns the pillar performance, which Roborock has further optimized. This has been increased from 420W to 480W or 150AW to 160AW (AirWatt). Roborock thus promises a more powerful deep cleaning, whereby dirt can be effortlessly removed from floors, carpets, mattresses, sofas, tricky corners and car interiors.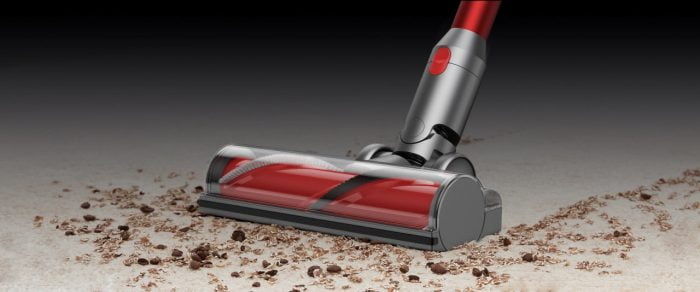 The capacity of the dust container has been increased from 400 ml to 500 ml so that the container does not have to be emptied as often. To the delight of allergy sufferers, dirt can also be fed directly into a dust bag. Two bags are included. The magnetic "MagBase" holder allows you to stow accessories directly on the charging station.
Reducing the loading time is also essential. Instead of 4 hours, the new Roborock H7 can be fully charged in just 2.5 hours. The maximum runtime in ECO mode remains unchanged at 90 minutes. At the medium level, 45 minutes are achieved and at the highest level the running time has been reduced from 10 minutes to 8 minutes.
Source: press release / Roborock H7 product page
Price and availability
The Roborock H7 is starting in Germany the 02. June (8 a.m.) at an RRP of 399 Euros to be available. The product is available for launch on Ebay and Geekbuying.