Blackview BV7000 Pro - Compact Outdoor Smartphone
Blackview is one of the few smartphone manufacturers to produce not only conventional consumer smartphones but also more specialized outdoor smartphones and rugged phones. At least since the very successful Blackview BV6000 we know that Blackview in the rugged phone scene has rank and name. With the Blackview BV7000 Pro a successor has appeared, who has some surprises in store.
Overview
Processor and memory
CPU: MediaTek MTK6750T
GPU: Small T860 MP2
RAM: 4GB
Internal memory: 64GB
Memory extension: Yes
Display
Display Type: IPS
Display diagonal: 5 inches
Display resolution: 1920 x 1080 pixels
Display glass: Corning Gorilla Glass 3
cameras
Main Camera: 13 Megapixel
* Aperture f / 2.0
* Autofocus
* LED flash
Front camera: 8 megapixel
wireless
WiFi: 802.11a / b / g / n /
Bluetooth: 4.0
Navigation: GPS / GLONASS
sensors
* Brightness sensor
* Accelerometer
*Gyroscope
* E-Compass
* Proximity Sensor
* G-Sensor
Mobile
SIM: Dual SIM
SIM type: Micro
2G: GSM 850/900/1800/1900MHz
3G: 900 WCDMA / 2100MHz
4G: FDD-LTE 800/900/1800/2100/2600MHz
Accumulator
Capacity: 3.500 mAh
Quick batch: no
other
NFC: No.
Fingerprint scanner: Yes
Operating system: Android 6
Size: 15.3 x 7.89 x 1.26 cm
Weight: 230g
Blackview BV7000 Pro
The Blackview BV7000 Pro we skipped and now a test report to the successor, the Blackview BV8000 Pro released. Click on the button to get to the test!
Processor and memory
The processor used in the Blackview BV7000 Pro is a MediaTek MTK6750T, Unlike the MTK6755 (Helio P10), which is still in the Blackview BV6000 Was used, it is a minor downgrade. The MTK6750T is also on the ARM big.LITTLE architecture with 4 + 4 Cortex-A53 processor cores, but the cores clock with maximum 1.5 or 1.0 GHz. In everyday life, this difference in performance will be only slightly noticeable. Only in Bechmark tests will the MTK6755 score higher. The graphics performance provides a Mali T860 MP2 GPU, Not too demanding games are thus fluently playable.
The storage equipment can come up with a 4GB large memory and a 64GB large internal memory let see. If the internal memory is not sufficient, you can do this by means of a MicroSD memory card expand.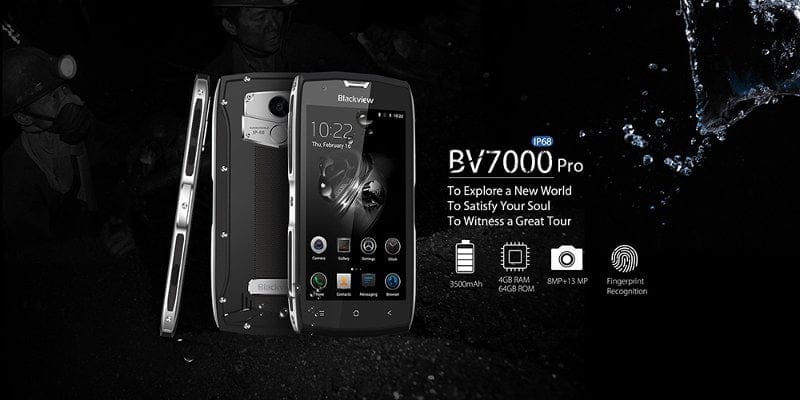 Display and camera
The display of type IPS has a Diagonal of 5 inches and dissolves in Full-HD (1920 x 1080) on. With the resulting density of 440 PPI, the image is razor-sharp. As befits an outdoor or rugged phone, the display of the BV7000 Pro is protected by a branded display glass. The used Corning Gorilla Glass 3 convinced already with smartphones of other manufacturers by its high scratch resistance.
The main camera releases 13 Megapixel and puts on one f / 2.0 aperture, Autofocus and LED flash are available. Details of the image sensor used has not made the manufacturer yet. But it is obvious that Blackview has not deviated from its predecessor and has installed the same image sensor. The front camera releases with 8 Megapixel on. Also here are missing information about the image sensor.
connectivity
The Blackview BV7000 Pro is usable without restrictions in the German 2G, 3G and 4G network. All, in this country usual LTE tapes are supported. A Dual-SIM Function is available. In the WLAN, the smartphone understands with the WiFi standards 802.11a / b / g / n, Bluetooth is available with version 4.0. The sensory equipment is rather clear compared to other outdoor smartphones. In addition to the usual smartphone sensors, there is also an e-compass. A barometer is missing and also renounces the BV7000 Pro on NFC. Navigate can be over with the smartphone GPS and GLONASS, Beidou or the European satellite system are not available.
other
That with 1.26 cm extremely thin CNC machined metal housing is after the Degree of protection IP68 protected against dust and continuous submersion. On the back of the case is a Fingerprint scannerthat promises unlock times below 1 / 10 seconds. The battery capacity is 3.500 mAh. The smartphone is charged via a USB Type-C Rifle. USB OTG is supported.
Summary
Chunky outdoor smartphones were yesterday. Blackview shows the BV7000 Pro, an elegant rugged phone that looks damn thin with a thickness of just 1.26 cm. However, if you compare the BV6000's hardware with the BV7000 Pro's, it's a bit disappointing that Blackview has decided to downgrade and even omits some useful features like NFC or a barometer altogether. However, if you do not need these features, the Blackview BV7000 Pro offers an interesting combination of a conventional consumer smartphone and a genuine rugged phone.
Comparison of Blackview Outdoor Phones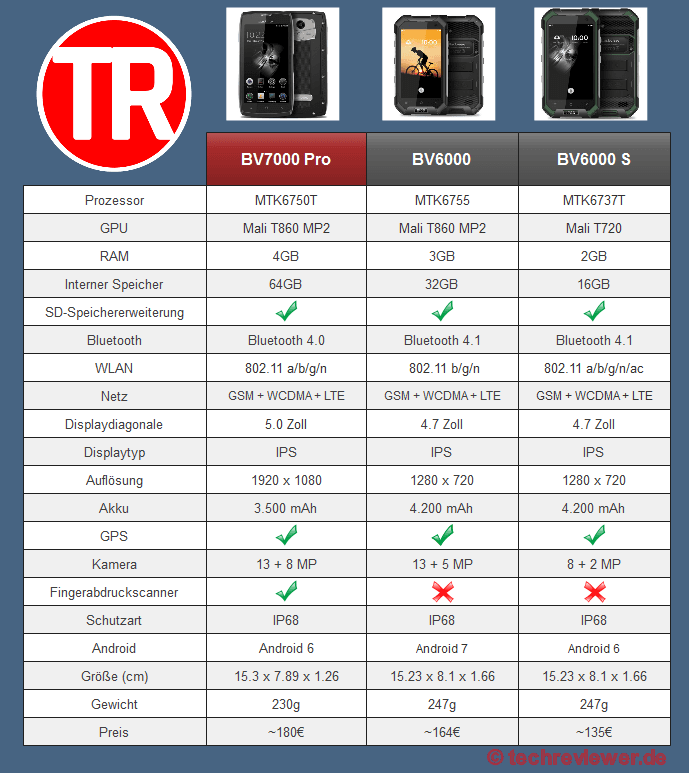 Price Comparison
Price too high? Use our price alarm clock!
Prices last updated on: 2. July 2020 08: 02