Zeblaze THOR - Sporty Smartwatch with AMOLED Display
After the very successful "Zeblaze Blitz", the smartwatch manufacturer "Zeblaze" releases the "Zeblaze THOR", a sporty smartwatch with telephony function, AMOLED display and other interesting features. What features these are and how to assess this smart wearable, more on this post.
Overview
Display
Display Type: Super AMOLED
Display diagonal: 1.4 inches
Display resolution: 400 x 400 pixels
Processor and memory
CPU: MTK6580
RAM: 1GB
Internal memory: 16GB
Memory extension: no
Mobile
GSM: 850 / 900 / 1800 / 1900MHz
WCDMA: 850 / 2100MHz
other
Bluetooth: 4.0
WiFi: 802.11 b / g / n
GPS: Yes
Pedometer: Yes
Heart Rate Monitor: Yes
OS: Android 5.1
Battery: 350mAh
Zeblaze THOR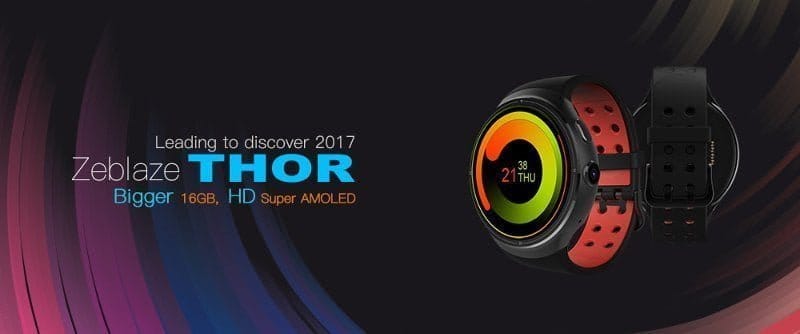 Sporty design
Already on the look of the Zeblaze THOR one recognizes that this Smartwatch above all at the athletic user directed. Compared to the predecessor, the Zeblaze Blitz is the overall design rounder and less edgy. The size adjustable bracelet consists breathable silicone and is by means of a Dornschließe closed. The watch case is made up for the most part Stainless Steel and measures 13 mm in thickness and 45 mm in diameter.
AMOLED display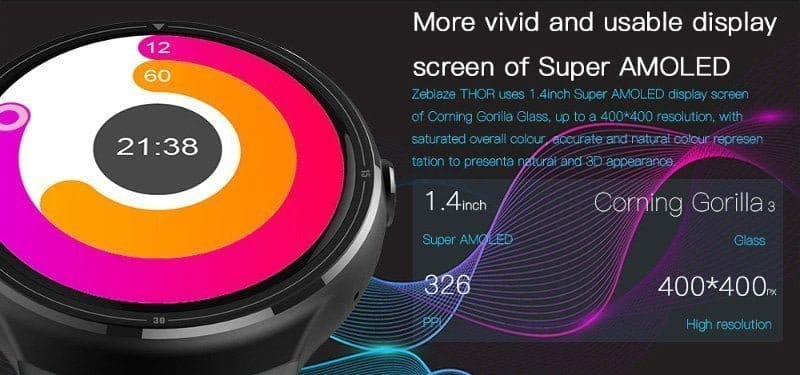 The circular display is of the type Super AMOLED and has one Diagonal of 1.4 inches, The resolution is included 400 400 x pixels, which achieves a dot density of 326 DPI. Individual pixels are no longer recognizable. Another advantage of an AMOLED panel is the especially rich colors, Due to the fact that the AMOLED display does not need any backlighting and every pixel lights up as needed, a special feature is possible precise black value be generated. The pixels are simply turned off in this case. Another advantage over a conventional LCD is the lower power consumption in high black displays. The display is protected by Corning Gorilla Glass 3which has already proven to be particularly impact-resistant and scratch-resistant in other devices.
MediaTek processor

On the hardware side, the Zeblaze THOR is equipped similar to a smartphone. The processor comes from MediaTek and bears the name "MTK6580", This processor has been used on the previous model and is a widely used system-on-chip in China smartwatches. The clock rate of the Quad-core processor is 1.4 GHz, In addition, the system is with a 1GB large memory and a 16GB internal memory fitted. A memory expansion option using an SD memory card is not supported.
Telephony, WiFi and GPS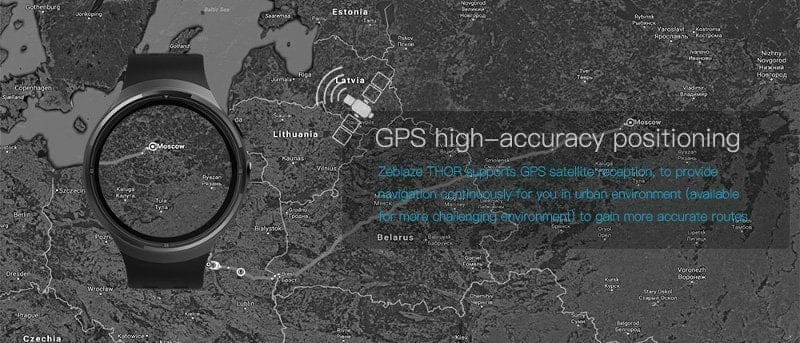 Even one SIM card can be inserted, which turns with the smartwatch in the 2G and 3G mobile network make phone calls. A microphone and a loudspeaker have the Zeblaze THOR firmly installed. Another feature is the WiFi Function. Connected to the Wi-Fi, you can browse the web like a smartphone and even apps on the Google Play Store download. The operating system is based on Android 5.1, so there are hardly any limits. If you want to navigate with the watch on your wrist, the Zeblaze Smartwatch offers an integrated GPS Compass Module. Google Maps is already pre-installed and can be used extensively.
Sport, camera and battery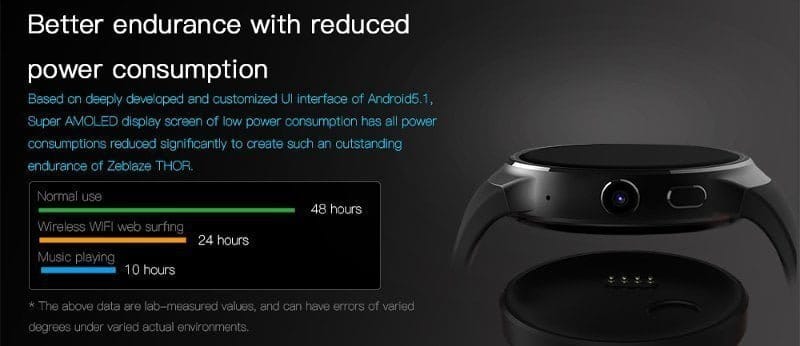 For sporting activities the Zeblaze has THOR several fitness apps preinstalled. In addition to one Pedometer there is also one Heart Rate Monitorwhich measures the heart rate by means of a photodiode and a green LED. Overall, 20 applications are preinstalled in different categories. Also different Watch Faces are already on the watch and can be changed via a quick selection. Alternatively, you can also load your own watchfaces directly on the clock. A rather unusual feature for smartwatches is a small one 2 megapixel camera on the edge of the case. This allows not only interpolated 5 megapixel images but also the recording of videos. The battery has a capacity of 350 mAh. Comparable systems have shown that one battery charge, depending on the intensity of use, is sufficient for one day of battery life.
Price Comparison
Price too high? Use our price alarm clock!
Prices last updated on: 10. July 2020 00: 09
* Prices refer to the Zeblaze THOR Pro