Teclast F6 Pro - All information about the notebook
The Teclast F6 Pro is one of the first notebooks of the manufacturer "Teclast", which became known by reasonably priced tablets from China. Already on the datasheet, the notebook makes a lot and offers, among other things, a fast Intel Core M3-7Y30 processor, full 8GB RAM and a FHD IPS display. In this post you will find all information about the Teclast F6 Pro!
Overview
Display
Resolution: 1920 x 1080
Diagonal: 13.3 inches
Flaps: 360 °
Touchscreen: Yes
Performance
CPU: Intel Core M3-7Y30
GPU: Intel HD Graphics 615
RAM: 8GB DDR3 RAM
Internal memory: 128GB SSD
Memory extension: M.2 SSD slot
Connections
1x USB Type-C
2x USB 3.0
1x Micro-USB
1x Micro HDMI
1x headphone jack
1x MicroSD storage slot
other
WiFi: Dual Band AC WiFi (2.4 + 5GHz)
Bluetooth: BT 4.0
Speaker: Yes
Fingerprint scanner: Yes
Camera: 2 megapixel
Battery: 5000 mAh
Size: 318 210 x x 15.3 mm
Weight: 1.38 kg
Teclast F6 Pro
Aluminum unibody and 360 flip screen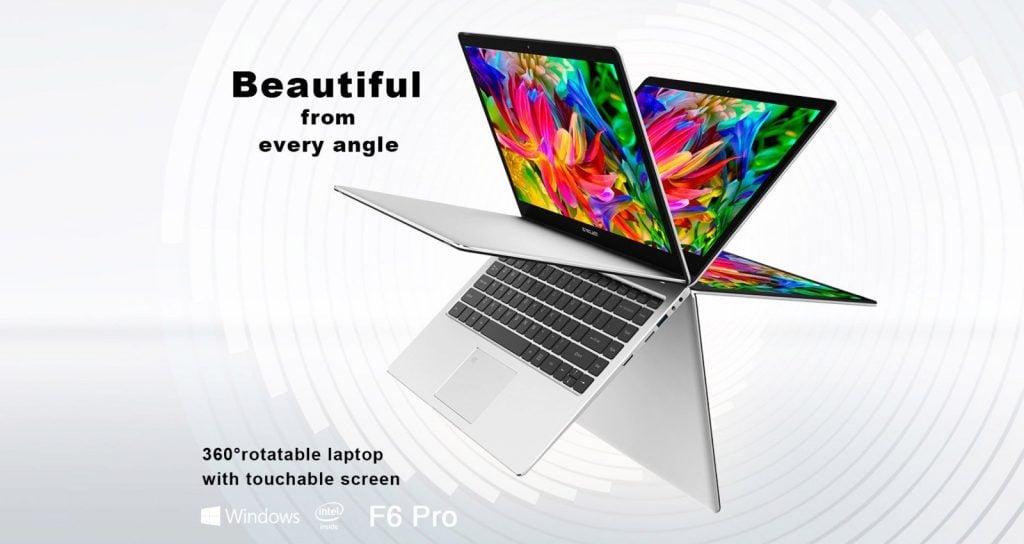 Aluminum unibody Housings are very much in vogue and like other manufacturers of inexpensive notebooks, Teclast also uses the F6 Pro on such a unibody aluminum housing. For a special optical touch, the matt, sandblasted surface of the housing. The Dimensions of the notebook 318 x 210 x 15,3 mm. Das Weight the manufacturer states 1.38 kg
Display is from Type IPS and solve one Diagonal of 13.3 inches with an 1920 1080 x pixels on. A special feature of the notebook is that the display is at Fold 360 ° leaves, so that the notebook can be converted into a tablet. On Touchscreen is available. An operation by means of Stylus is possible. Teclast offers these as a separate accessory.
Powerful hardware
The built-in processor is on Intel Core M3-7Y30who, among other things, also in the current Xiaomi Air 12 Notebook series is used. This passively cooled processor owns in total two processor cores (dual-core), based on the Kaby Lake architecture. The nuclei clock in Basic clock with 1.0 GHz and reach the turbo one maximum clock rate of 2.6 GHz, Hyper-Threading is supported. The processor graphics amounts to an Intel HD Graphics 615, which is mainly suitable for not too demanding and especially older games. The H.265 / HEVC and VP9 video compression standards can decode the Intel Core M3-7Y30 processor at the hardware level.
The memory of the Teclast F6 Pro notebook can also be seen. Satte 8GB DDR3 memory are available. For the internal data storage is a 128GB big SSD responsible. In addition, the memory can be over another M.2 SSD slot be extended. The performance of the Teclast F6 Pro will be comparable to similar notebooks. Notebooks with Intel Core M3-7Y30 processor are especially suitable for on the go and are up to most office work.
Connectivity, camera and battery
The connection options Lush and amount to two USB 3.0 sockets, a USB-C socket, a micro-USB socket with OTG support, a micro HDMI socket, a 3.5 mm audio output and a MicroSD memory card slot. The notebook is found wireless in the Dual band wifi (802.11b / g / n / ac). device is supported with version 4.0. touch ID Ensures that the Teclast F6 Pro can be locked and unlocked in the simplest way possible. A fingerprint scanner is located on the touchpad. Above the display is a 2 megapixel camera for video telephony. Dual microphones with noise reduction provide for improved voice recording. The capacity of the battery is 5000 mAh.
Price and availability
The Teclast F6 Pro is now available and priced 3099 Yuan, what in about 400 € equivalent. First online shops have already listed the notebook. Before buying one should absolutely note that the Keyboard has an English layout and only with this is available!
Price too high? Use our price alarm clock!
Prices last updated on: April 5st, 2020 05:01