YEPO 737S Laptop - 13.3 inch IPS screen
Overview
OS: Windows 10
CPU: Intel Cherry Trail Z8300
Core: 1.44-1.84GHz
Caching: 2MB
Electricity requirement: 2.2W
RAM: 4GB
RAM Type: DDR3L
HDD: 128GB EMMC
Display: 13.3 inches
Type: IPS
Resolution Full HD
WIFI: 802.11b / g / n
Bluetooth: 4.0
SD slot: Yes
Mini HDMI Slot: Yes
Headphone input: Yes
USB: Yes 2x USB 2.0
Battery: 8.000mAh
Runtime: 8 hours
1x laptop
1x charger
1x user manual
Under the name "YEPO 737S" In the middle of October 2016 an Ultrabook was released, which has tablet-like characteristics and reminds strongly of the design of the Macbook Air. Although the is Manufacturer "YEPO" Also in the field of China technology still largely unknown, but considering the Price of not even 200 € and the offered equipment can certainly convince the YEPO 737S laptop. In this post we took a closer look at the Ultrabook.
YEPO 737S Laptop
Processor and memory
Even with the hardware used, it is noticeable that the manufacturer mainly uses tablet components and has created a compact laptop from them. As a processor becomes one Intel Cherry Trail Z8300 used, which is also used in numerous China tablets. The clock rate of the Quad-core processor lies between 1.44 and 1.84GHz, With additional 4GB memory becomes a liquid Windows 10 Guaranteed experience. For games, this processor is rather less, which is why the YEPO laptop is aimed more at office users. By the with 128GB lush eMMC memory you will hardly need an additional memory extension, but the YEPO 737S has one Memory expansion option using an SD memory card, A drive does not own the laptop. Alternatively, you can connect an external drive via one of the USB 2.0 ports.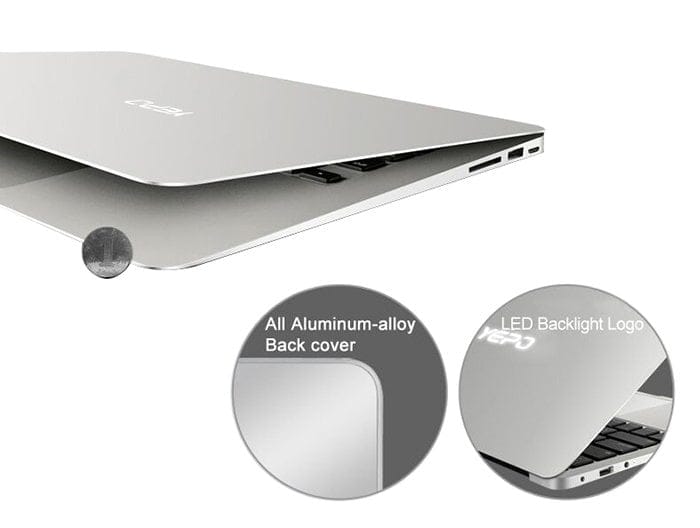 Screen and camera
The screen has a diagonal of 13.3 inches and resolves to Full HD (1920x1080p). The image format is 16: 9. The display technique is IPS (In-Plane Switching). It is also interesting that the display also responds to touch inputs and thus the laptop can be operated like a tablet. Above the display is an 0.3 megapixel camera. This is sufficient for video telephony and spontaneous selfies.
Connectivity, keyboard and battery
The connection options are two USB 2.0 ports, a mini HDMI jack, and a headphone input. A WiFi module is integrated and supports the standards 802.11b / g / n. Fast Bluetooth 4.0 lets you transfer and sync files. The keyboard of the laptop comes in English layout. A backlight is not available. Underneath the keyboard is a touch panel that controls the mouse and also recognizes various gestures. The capacity of the battery is rich 8.000mAh which can be reached a running time of 8 hours. The YEPO 737S laptop can be charged via a 5V DC power supply.