Galaxy Tab S9, Tab S9+ and Tab S9 Ultra
Samsung announced the launch of the Galaxy Tab S9 series at its Unpacked event in Korea. With the new models, Galaxy Tab S9, Tab S9+ and Tab S9 Ultra , Samsung once again proves its leading position in the field of premium Android tablets.
Dynamic AMOLED 2X display
The star of the series, the Galaxy Tab S9 Ultra. The tablet is equipped with a huge 14,6 inch Dynamic AMOLED 2X display that offers HDR10+ and a dynamic refresh rate of 60 to 120 Hz. With this, Samsung ensures an impressive mobile entertainment experience, regardless of whether users are playing games or watching videos.
The Galaxy Tab S9 and Tab S9+ models are now also based on an AMOLED 2X display, although the display diagonal is smaller at 11 inches and 12,4 inches respectively. In the Galaxy Tab S8 series, this display was reserved exclusively for the Ultra model.
With the advanced Vision Booster technology, the Galaxy Tab S9 series display can automatically adjust the brightness according to the light conditions, making it easier to use outdoors.
AKG sound system
20 percent larger quad speakers with AKG Sound System and high-quality Dolby Atmos ensure an immersive audio experience. The individually adjustable sound options ensure a tailor-made soundscape, whether in games, listening to music or making video calls.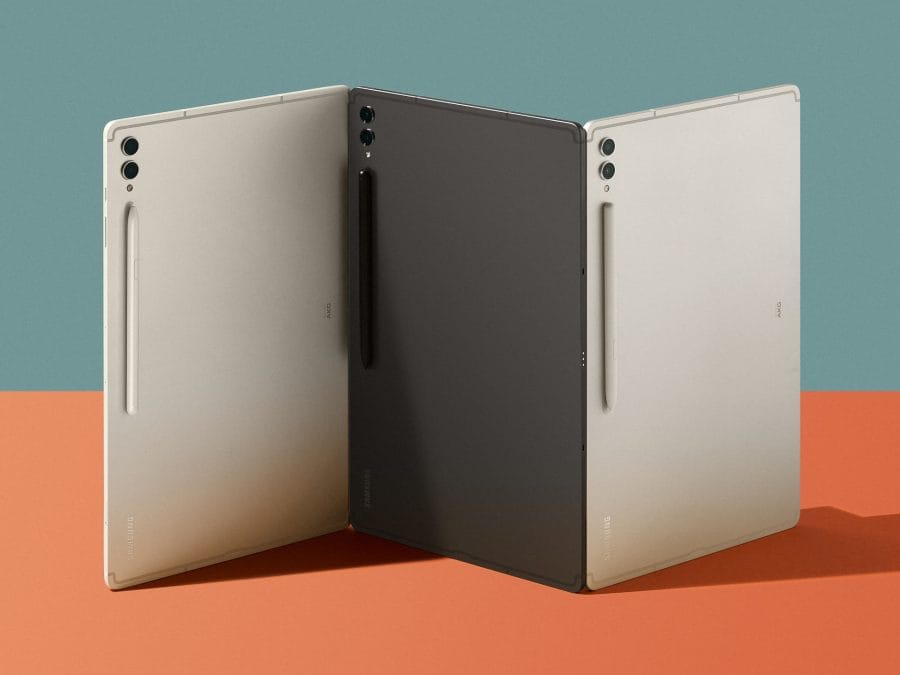 Snapdragon 8 Gen 2 (for Galaxy) processor
Each of the new Galaxy Tab S9 devices is powered by a Snapdragon 8 Gen 2 (for Galaxy) processor, the same powerful mobile processor powering the latest Samsung smartphones (Galaxy Fold5 and Galaxy Flip5) can be found.
Depending on the model, different storage options are available. The Galaxy Tab S9 Ultra is available with 12GB or 16GB RAM and 256GB, 512GB or 1TB internal memory, which can also be expanded with a microSD memory card.
The tablets are also well positioned in terms of connectivity. All models support the latest WiFi 6E and Bluetooth 5.3. The Galaxy Tab S9+ is the only device that also supports fast 5G mobile communications.
Just as with the display sizes, the three models differ in the size of the battery. The Tab S9 Ultra uses an 11,200 mAh battery, the Tab S9+ uses a 10,090 mAh battery, and the Tab S9 uses an 8,400 mAh battery.
Cameras
The Tab S9 Ultra has two 12 MP front cameras (integrated in a notch), while one 13 MP wide-angle and one 8 MP ultra-wide-angle camera can be found on the back. The Tab S9 Plus and Tab S9 come with a 12 MP front camera and a 13 MP rear camera.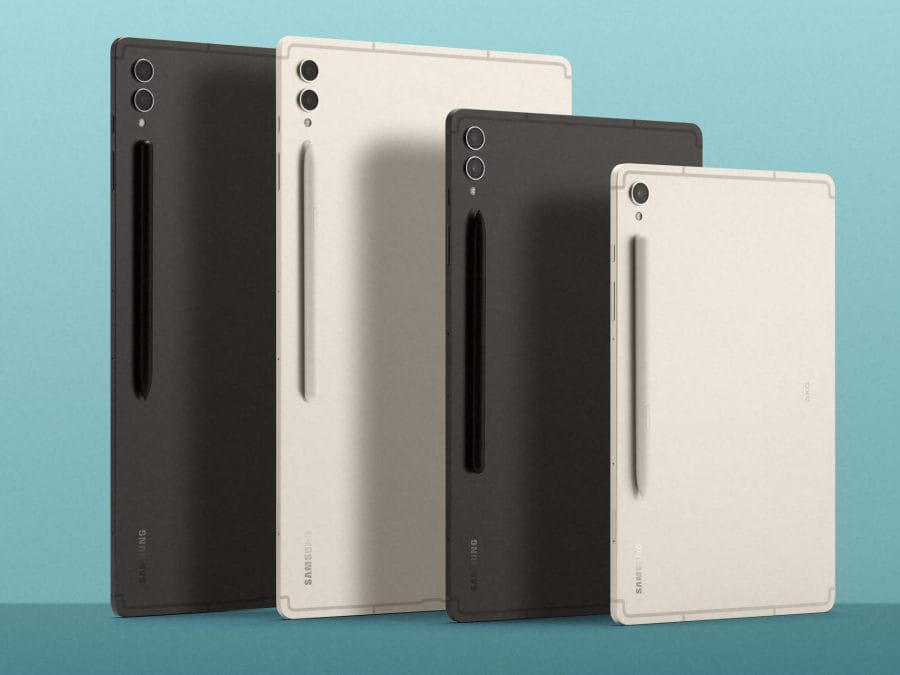 IP68 protection for the first time
For the first time, the new Galaxy Tab S series is also certified according to protection class IP68, so that the devices are dust and waterproof. This makes them reliable working tools, both indoors and outdoors.
Samsung's S Pen, which is also protected according to IP68, ensures a natural writing experience like on paper. The advanced charging function ensures that the S Pen is always charged, regardless of how it is placed on the holder.
software optimizations
Samsung has not only improved the hardware, but also optimized the One UI software to take full advantage of the large screen.
The multi-window view allows up to three apps to be displayed simultaneously on a split screen. With pop-up view, multiple apps can run simultaneously as floating windows while the home screen remains visible. Combining the tablet with the Book Cover's keyboard creates a desktop-like user experience in DeX mode.
Devices are supported and protected with four generations of One UI and Android OS upgrades and five years of security updates.
Price and availability
Samsung's Galaxy Tab S9 series is available for pre-order from July 26th to August 10th, 2023. When exchanging an old device, pre-orderers receive an additional exchange bonus of 100 euros and a purchase value of up to 630 euros. Without an old device, there is an immediate deduction of 50 euros.
Here is the detailed price list (RRP):
Galaxy Tab S9 5G (128GB): Beige, Graphite - 1.049,00 EUR
Galaxy Tab S9 5G (256GB): Beige, Graphite - 1.169,00 EUR
Galaxy Tab S9 Wifi (128GB): Beige, Graphite – 899,00 EUR
Galaxy Tab S9 Wifi (256GB): Beige, Graphite – 1.019,00 EUR
Galaxy Tab S9+ 5G (256GB): Beige, Graphite – 1.269,00 EUR
Galaxy Tab S9+ 5G (512GB): Beige, Graphite – 1.389,00 EUR
Galaxy Tab S9+ Wifi (256GB): Beige, Graphite – 1.119,00 EUR
Galaxy Tab S9+ Wifi (512GB): Beige, Graphite – 1.239,00 EUR
Galaxy Tab S9 Ultra 5G (256GB): Beige, Graphite - 1.489,00 EUR
Galaxy Tab S9 Ultra 5G (512GB): Beige, Graphite - 1.609,00 EUR
Galaxy Tab S9 Ultra 5G (1TB): Beige, Graphite - 1.909,00 EUR
Galaxy Tab S9 Ultra Wifi (256GB): Beige, Graphite - 1.339,00 EUR
Galaxy Tab S9 Ultra Wifi (512GB): Beige, Graphite - 1.459,00 EUR
Galaxy Tab S9 Ultra Wifi (1TB): Beige, Graphite - 1.759,00 EUR
Source: Press Release