Review
Mailbird Review - The best email program 2020 ?!
Whether professional or private, many users nowadays rely on multiple email accounts. Mail programs are the practical way to manage all accounts centrally. Mailbird is a particularly extensive mail program that also offers a modern and easy-to-use interface.
Over the course of several weeks and everyday use, I took a closer look at the application. More on this in this test.
Test: Mailbird
Update June 2020
Mailbird has released a major update that includes a new one Email tracking function implemented.
Has been in recent years Thunderbird my daily companion for emails. I managed more than 10 email accounts with it both privately and on business. Thunderbird is an excellent mail program, but something was missing. The design has not changed over the years and Thunderbird has also stopped working.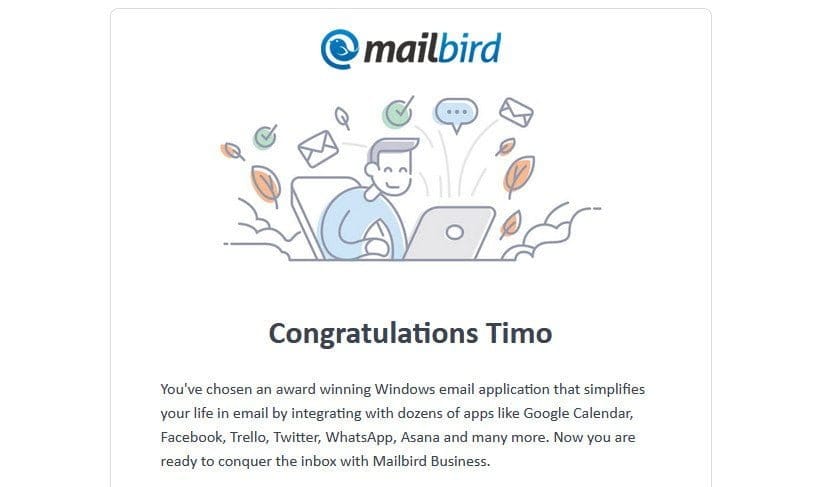 A change to Outlook was out of the question, why I tried Google, which application could meet my wishes. I was looking for a mail program that is particularly fast, looks good and can do more than just receive, send and manage mails.
I finally got up a few months ago Mailbird encountered. The Windows application is already there in development since 2012 and is still regularly updated by a small development team. They are a unique selling point numerous extensionsthat make Mailbird the perfect workspace.
Personal or business
To get straight to the point: Mailbird is not freeware! The application is available as a presonal and business version. The Personal license is in monthly Subscription model (2.92 euros / month) or as One-off payment (69 euros) available. The Business license is only available in Subscription model (4.08 euros / month). (As of June 2020)

Special functions, such as the connection with microsoft Exchange, or the LinkedIn search, are withheld from the personal version. How Mailbird Personal and Mailbird Business differ from each other is on the Developer's website listed in detail. The division is fair, without users of Mailbird Personal having to do without essential functions or functions that are important for consumers.
Simple decor
The application is set up in no time. The Windows client download (Yes, Mailbird is ONLY for Windows), follow the installation manager, then specify that Mailbird should be used as the primary mail program and the setup of the mail accounts can begin.
The import function, which allows you to Import email accounts from previously used mail programs. In my case, Mailbird recognized that I had previously used Thunderbird. Accounts and emails can be transferred at the push of a button. In addition to Thunderbird, Outlook and Windows Live Mail are also supported.
If you want to create a new account, Mailbird will guide you through the settings. Known Mail server the application automatically recognizes from the domain.
User Interface
There's one thing that bothered me a lot about Thunderbird. The order in which the mail accounts are listed cannot be changed easily! It's different with Mailbird. Accounts can be sorted in any order. At the same time, it is possible to have an individual account Colour assign. This provides a better overview, for example, the emails of all accounts in one shared inbox converge. Each account can also have one Icon / avatar be provided.
The appearance of the Mailbird interface can be customized. The inbox and the reading area can be aligned horizontally or vertically. Friends of dark colors get their money's worth, because besides that Light Theme stands up Dark theme to select. To give the surface a little more color, the background color can be adjusted, or you can replace the background completely with a background image.
Features and extensions
Going into all functions and extensions would go beyond the scope of this test report. As already mentioned, Mailbird has been in development since 2012 and is constantly being expanded with new functions. At the time of this test, Mailbird was in the middle of "12-week feature sprint". A new function every week!
Filter
Filters are a must for any mail program! Mailbird has implemented the function in a particularly user-friendly manner. Select the mail account, set the condition and action, done. The filter makes it possible to label, move, copy or delete mails according to certain rules.
Contacts
Mailbird has integrated a first-class contact manager. The structure and design are similar to the Google Contacts app. Via the contact manager Address books imported from Google, Outlook and Microsoft Exchange. Contacts can be edited, grouped and linked with each other via the manager.
Email tracking
In the extensive June update, Mailbird has one Email tracking function implemented. The shipment tracking works without an additional addon. There is a hidden one in the email Tracking url also sent. Depending on which mail program the recipient uses, he receives a message that a external content (Tracking url). If he refuses to load the external content, the sender receives no read confirmation. On acceptance, two green ticks in the email history confirm that the email has been read. At what time the mail was read is also visible.
Snooze
What was used very often in my daily work with Mailbird was the snooze function. The feature allows to postpone already received mails according to the schedule. When the time is reached, the mail appears again as unread in the mailbox.
Undo Send
Everybody knows it. You click on send and at the same time you notice that you forgot to add the attachment, misspelled the recipient's name or made a spelling mistake. In the Mailbird settings there is an option, one Transmission delay to activate. The delay can be set between 5 and 30 seconds. If you have already clicked Send, you can call the mail back in this time window.
Extensions
A special feature of Mailbird are the numerous extensions with which the range of functions can be adapted according to your own wishes. The mail program unites Microblogging services (e.g. Twitter and Weibo), Soziale Netzwerke (e.g. Facebook), Messenger (e.g. WhatsApp and WeChat), Cloud services (e.g. Dropbox) and Administrative services (e.g. Trello) in only one application.
The direct link between these services and Mailbird brings Benefits with yourself. For example, by integrating cloud services, files can be directly integrated as mail attachments using drag and drop. This makes Mailbird a comprehensive workspace for even more efficient work.

Final Words