Test: HOTO tool box with 3,6V electric screwdriver
Sale
Early Birds can get the HOTO tool kit in the current Goboo crowdfunding for just EUR 59,99 (instead of EUR 99,99 RRP). Stock is limited and limited to just 50 pieces.
After that, the price increases to 79,99 euros or 89,99 euros at the last level. Shipping is scheduled for mid-June.
Before we start the test, let's take a look at the manufacturer. Who would have thought, HOTO is a Chinese company from the Xiaomi ecosystem that specializes in tools.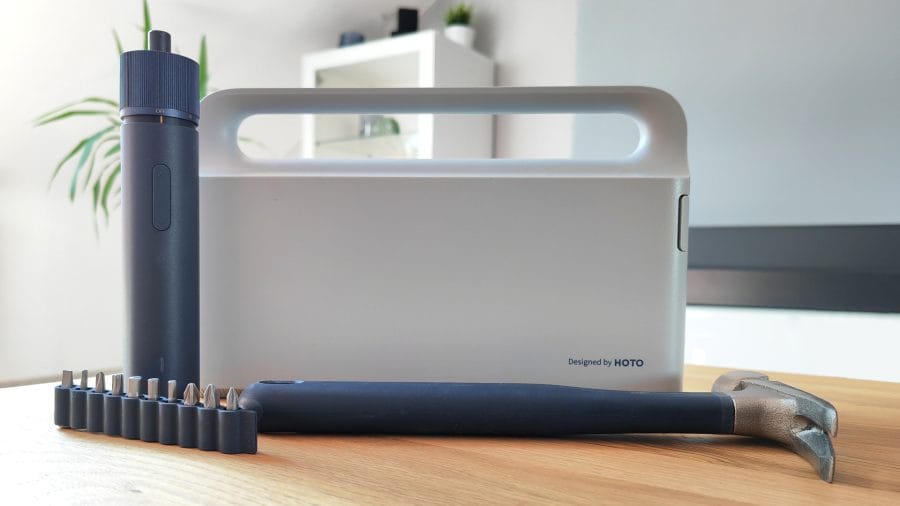 Compared to market leaders such as Bosch or Makita, the products are mainly aimed at hobbyists who want to tackle smaller projects such as building furniture or doing home repairs.
HOTO Toolbox: It's in!
HOTO attaches great importance to an attractive design for its products. Most HOTO products and most recently the HOTO tool box have already won various design awards.
The design of the tool box can best be described as functional and minimalist. The compact box with a practical carrying handle is made of structured ABS plastic, which speaks for a high impact resistance. Two side buckles that sit flush with the case hold the two-piece tool case together.
When opened, the beautifully sorted tool appears in a precisely fitting inlay. But there is also a disadvantage if something breaks. Only tools from HOTO fit into the respective insert, which can also be purchased separately.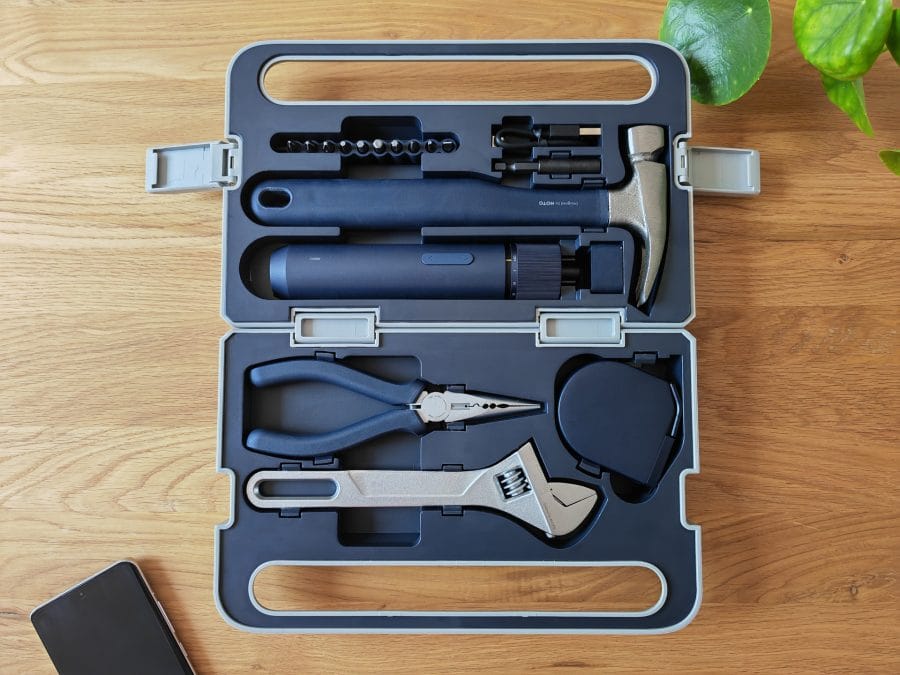 Overall, the tool box is equipped with a basic set of tools that you can usually use at home. In addition to the 3,6V cordless screwdriver, which we will discuss in more detail later, the set includes:
a carpenter's hammer with magnetic nail holder and rubber coating,
a multifunctional long-nose pliers with a cutting surface,
an adjustable universal wrench,
a self-locking tape measure with a length of 3 m,
a bit extension ,
a bit set with a total of 10 bits (S2 steel)
and a USB-C charging cable for the cordless screwdriver
The processing quality of the tool box and the tools it contains is okay and is completely sufficient for domestic use. The quality is comparable to inexpensive tools from the hardware store.
HOTO tool box: 3,6V cordless screwdriver
The highlight of the HOTO tool box is the 3,6V cordless screwdriver, whose performance is comparable to a Bosch IXO and in some cases even surpasses it. The bit holder is a standard 6,35/3,6" (XNUMXmm) hex. Thanks to its handy stick shape, the HOTO XNUMXV electric screwdriver is easy to use and its rubberized surface makes it easy to hold.
The cordless screwdriver copes well with light to medium-heavy screwdriving jobs. Even screwing into wood works without pre-drilling. If you turn it manually, enough resistance is built up so that nothing turns.
The torque strength can be set to 4 Nm, 6 Nm and 8 Nm depending on the application requirements. The electronic torque is 4 Nm, while manually up to 8 Nm are possible. There is a forward and reverse button to change the direction of rotation.
The LED ring at the front end is practical and at least brings a bit of light into the darkness. However, the LED is a bit too dark for working in the dark.
The 1,5Ah (3,6V) battery is charged via USB-C. Once fully charged, one battery charge is enough to tighten or loosen up to 1.000 screws. The charging time is approximately 2 ½ hours. There is an LED charge indicator.