Long-life LiFePo4 battery
A 3600Wh LiFePO3.840 battery works inside the FOSSiBOT F4. Known for its durability and performance, this type of battery is far superior to a lithium-ion battery. More than 6.500 charging cycles and a service life of over 10 years make it the endurance athlete among rechargeable batteries.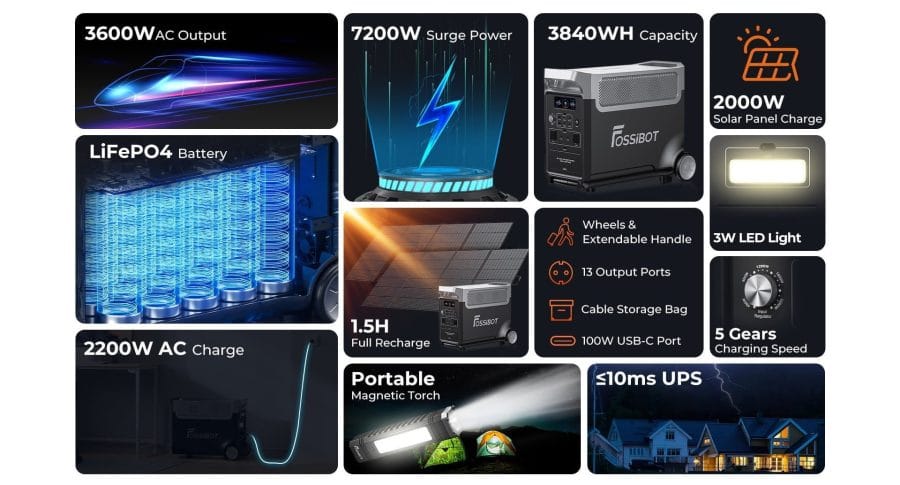 Intelligent battery management also ensures a consistently safe and stable power supply. But not all is sunshine. Unfortunately, the F3600 cannot be expanded, which can be seen as a disadvantage in the era of balcony power plants.
Flexible and fast charging
The F3600 promises high flexibility and speed when charging. Whether via alternating current, solar power, a generator or the car, this power station absorbs everything. With a combination of 2.200 watts of AC power and 2.000 watts of solar power, it can be fully charged in just 1,5 hours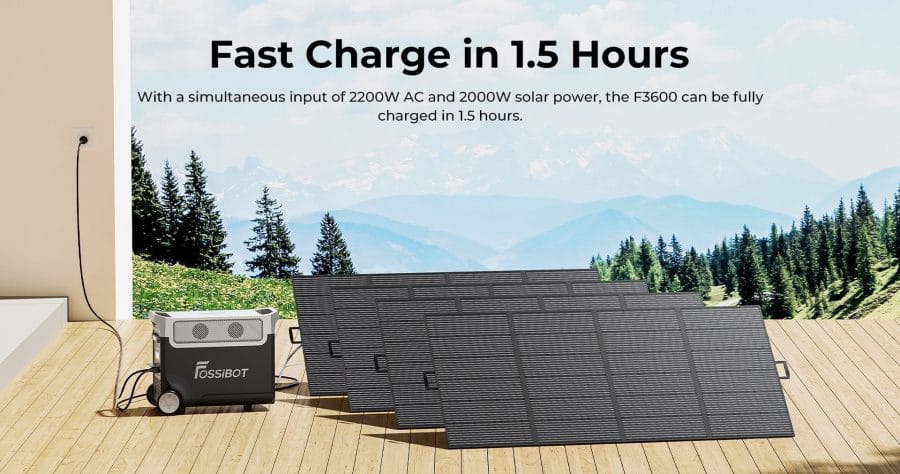 Four SP420 solar panels can be connected to the power station at the same time. Five selectable AC charging speed levels (400W, 800W, 1200W, 1600W and 2200W) adapt the charging process to the charging needs of the user while preserving the battery at the same time.
A useful pass-through feature allows the station to be charged and discharged simultaneously. This means that while it is being charged via solar cells, it can supply other devices with energy.
Diverse energy supply
The F3600 powers up to 13 devices simultaneously and has an impressive variety of connections: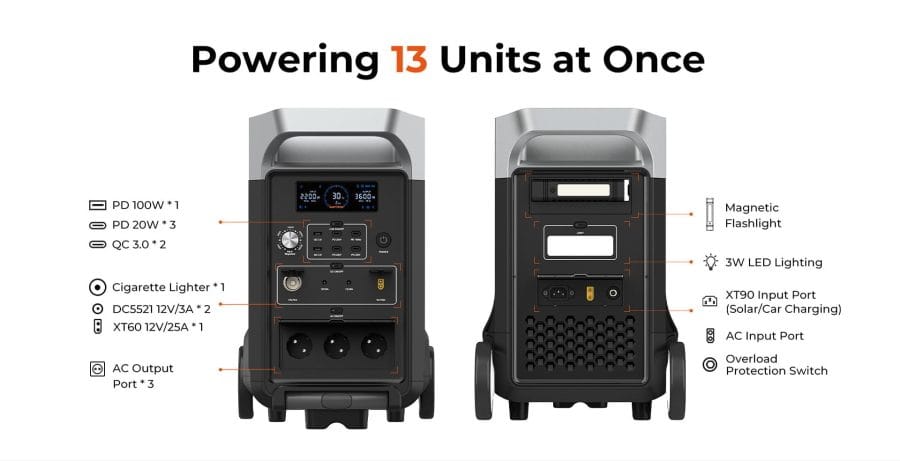 3x AC sockets with up to 3600 watts
1x 100 watt USB-C with Power Delivery
3x 20 watt USB-C with Power Delivery
2x 18 watt USB-A with Quick Charge 3.0
1x 12V cigarette lighter socket
1x 12V/25A XT-60
2x 12V/3A DC-5521
She doesn't stop at any challenge. Household appliances and high-performance construction equipment can be easily supplied with up to 3600 watts, with short-term peak power of up to 7200 watts.
Should the mains power fail, the F3600 will take over thanks to the uninterruptible power supply (UPS) , making it the ideal backup power source.
Here are some examples of how often devices are charged or how long they can be supplied with electricity:
Electric grill (1000 watts) - 3,3 hours
Cool box (260 watts) - 13,6 hours
Coffee maker (700 watts) – 4,4 hours
Fan (70 watts) - 46,6 hours
Smartphone (15 watts) – 217 charging
Lawn mower (1400 watts) - 2,3 hours
mobility and ease of use
The F3600 sets high standards in terms of mobility and user-friendliness. Equipped with slim wheels and an extendable handle, its handling is very reminiscent of that of a suitcase. However, one must note that despite its compact size of 60 x 32 x 47 centimeters, it weighs an impressive 41 kilograms.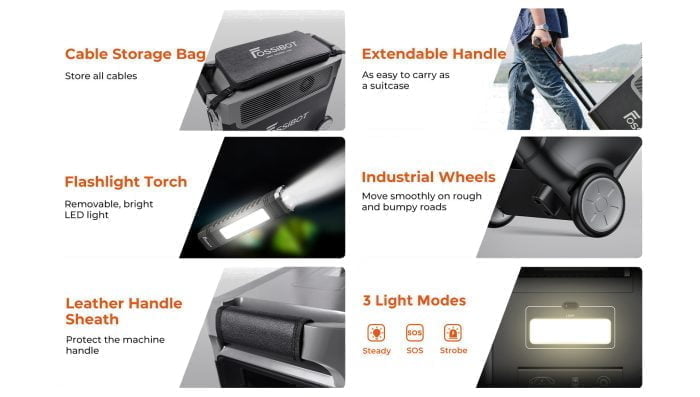 A detachable flashlight and a built-in LED light (3 watts) ideal for use in the dark, as well as an included cable pouch, complete the user-friendly package.
Price and availability
The FOSSiBOT F3600 is available now at a price of 1799,99 euros. Price-conscious customers can also benefit from the solar combination offers from the online retailer Geekbuying:
F3600 1799,99 euros with PayPal discount $500-$15 only 1785,97 euros
F3600 + 1x SP420 solar panel 2299,99 euros (code: FOF3600S1) with PayPal discount $500-$15 only 2285,97 euros
F3600 + 2x SP420 solar panel 2759,99 euros (code: FOF3600S2) with PayPal discount $500-$15 only 2745,97 euros
F3600 + 3x SP420 solar panel 3239,99 euros (code: FOF3600S3) with PayPal discount $500-$15 only 3225,97 euros
F3600 + 4x SP420 solar panel 3699,99 euros (code: FOF3600S4) with PayPal discount $500-$15 only 3685,97 euros
Source: Press Release