Asus ZenFone AR - Smartphone with Tango and Daydream
Only a few days ago, the Asus ZenFone AR was leaked because of a faux pas on the website of the processor manufacturer Qualcomm. Meanwhile, the blog post is back online and the Asus ZenFone AR was officially unveiled at CES 2017.
Overview
Display
Display Type: Super AMOLED
Display diagonal: 5.7 inches
Display resolution: WQHD (2560 x 1440)
Screen-to-Body: 79%
NTSC color space: 100%
Tru2life Technology
SoC
CPU: Qualcomm Snapdragon 821
Adreno GPU 530
memory
RAM: 6GB / 8GB
Internal memory: UFS 2.0 32GB / 64GB / 128GB / 256GB
Memory extension: Yes
cameras
Main Camera: 23 Megapixel Sony IMX318
* f / 2.0 aperture
* TriTech autofocus
* 4 axes OIS
* Dual-LED flash
Front camera: 8 megapixel
* f / 2.0 aperture
* Autofocus
* Dual-LED flash
TriCam ™ System for Tango
* Motion tracking camera
* Depth sensing camera with IR
wireless
WiFi: 802.11a / b / g / n / ac
* 5 Ghz 2x2 MIMO Support
* Wi-Fi Direct
Bluetooth: V 4.2 + A2DP + EDR
Accumulator
Capacity: 3300mAh
PowerDelivery: 2.0
Quick Charge: 3.0
other
Navigation: GPS / A-GPS / GLONASS / BDS
NFC: Yes
Fingerprint scanner: Yes
Speaker: 5 magnet speaker
USB: USB Type-C 2.0
Audio: 3.5mm headphone jack
Asus ZenFone AR
Augmented Reality and Virtual Reality In the coming years, more and more will find their way into our everyday lives. First VR headsets have already been released, and AR has also become popular at least since Microsoft HoloLens. With the Asus ZenFone AR, a smartphone has now been announced that combines VR and AG interesting.
Snapdragon 821 processor: powering the new ASUS ZenFone AR
Through the support of Google Tango The Asus ZenFone AR is one of the first "Tango-enabled" smartphones with powerful Qualcomm Snapdragon 821 processor. Google Tango is responsible for the AR part of the smartphone. Google Daydream again, which is also fully supported, takes care of the VR part.
Google Tango - Augmented Reality
Through Google Tango, the Asus ZenFone can influence our perception of reality. What we see, for example, through the camera of our smartphone, can be expanded computer-controlled. Computer-generated objects or information can be faded in, overlaid or even controlled in real time. To make Google Tango even possible, the smartphone requires a large number of sensors and additional camera units that are not found on a conventional smartphone. Overall, the Asus ZenFone has three cameras. In addition to a conventional main camera, which can also be used for image and video recordings, the smartphone also has a motion tracking camera and an infrared camera. Only through this combination of different cameras is it possible for Google Tango to capture the environment three-dimensionally and enable AR.
Google Daydream - Virtual Reality
Google Daydream has also been released with the release of the Google Pixel Phone. Also Daydream works only on a "Daydream-ready" device, which has to meet some requirements. One of the requirements is Android 7, as well as a compatible processor. With the Qualcomm Snapdragon 821 SoC, the Asus ZenFone AR has the same SoC as the Google Pixel, so Daydream is also supported.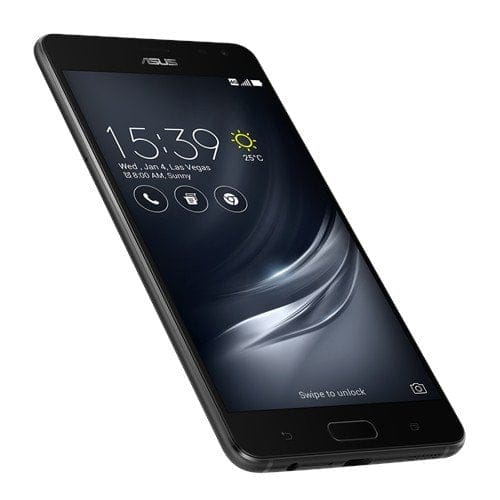 Hardware of the Asus ZenFone AR
5.7 Inch Super AMOLED
Not only the processor of the Asus ZenFone AR is impressive, but also the rest of the hardware equipment belongs to the high-end sector. The display uses a Super AMOLED panel with an 5.7 inch screen diagonal and a resolution of 2.560 x 1.440 pixels. The display is protected by scratch and impact resistant Corning Gorilla Glass 4.
Up to 8GB memory
For the best possible performance powerful 8GB memory provide. Optionally, the smartphone is also available with 6GB memory. The internal memory is a UFS 2.0 data memory with up to 256GB installed. An expansion of the memory by means of a MicroSD memory card is supported. Cooled the ZenFone AR by so-called "Vapor Cooling", which is why a longer VR + AR sessions should be nothing in the way.
23 Megapixel main camera
The main camera uses an 23 megapixel Sony IMX318 image sensor with a TriTech + autofocus system consisting of a Phase Detection AF, a Laser AF and a Continuous AF. In addition, the main camera features an f / 2.0 aperture, an 4 axis OIS and a dual LED flash. Of course, a front camera is also available. This resolves with maximum 8 megapixels, also has an autofocus and a dual LED flash.
Connectivity, battery and others
The Asus ZenFone AR is a dual-SIM smartphone and supports all wireless standards including the common frequency bands. Bluetooth 4.2 and WiFi 802.11a / b / g / n / ac are also supported. For satellite navigation GPS, A-GPS, GLONASS and BDS are available. For the best possible sound reproduction, an 5 magnetic loudspeaker is provided. An 3.5mm headphone jack is available. A fingerprint scanner is located below the display. The capacity of the non-removable battery is 3.300mAh. Power Charge and Quick Charge 3.0 are supported.
Source: https://www.asus.com
The Asus ZenFone AR will be delivered in the second quarter 2017. Asus has not yet made any pricing information.