Update 2021
The first heat wave of the year is in full swing and with the recent easing, you can enjoy more freedom outside. A gadget for the lake or the garden at home is the inflatable air couch, which with a little skill and without an air pump can be transformed into a chill-out place to lie down.
The gadget appeared in 2018. At that time, you were looked at quite obliquely when you waved the garbage bag-like sack in the wind. The parts are now even available from the discounter around the corner. We show you particularly inexpensive and unusual air sofas in this article.
Particularly inexpensive air sofas
There are always particularly inexpensive air sofas at the discounter or from the rest ramp. If you have to move quickly, there are also particularly inexpensive offers online here and there.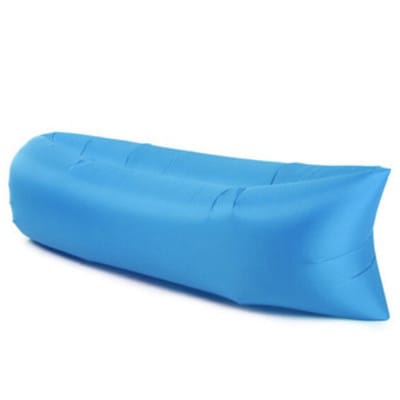 Aliexpress - standard model in 4 colors
The standard sofa with no frills and shipping from Europe is available from 13 euros.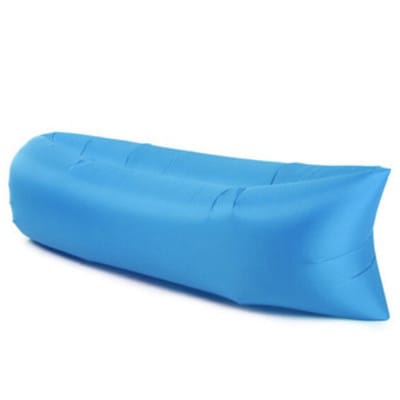 Amazon (Prime) - standard model in blue
Alternatively, there is the same model for 17 euros on Amazon.
Premium air sofas
If you spend a little more money, you get air couches that are stronger in terms of material and have smaller extras, such as side pockets or a neck support.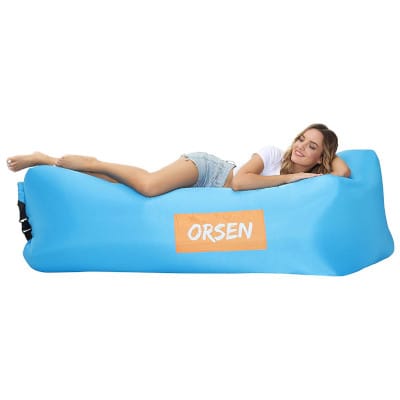 Amazon - orsen Air Lounger
Even back then, the Air Lounger from ORSEN was a very good and slightly more expensive model.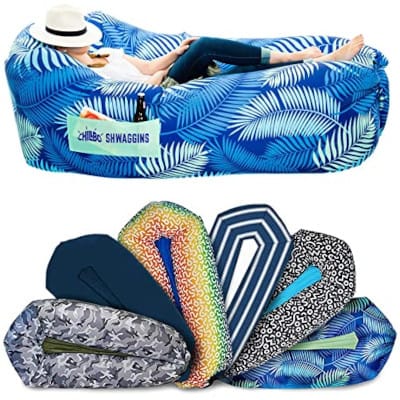 Amazon - Chillbo Shwaggins air couch
The inflatable couch by Chillbo is particularly unusual and colorful.
Unusual air sofas
Of course, there are also particularly unusual models that do not have the classic shape. Some of these models can even be used as a water hammock.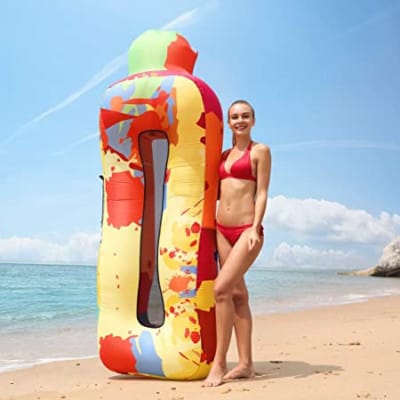 Amazon - BEAUTRIP Inflatable Couch
The air sofa from BEAUTRIP, which can even be used as a water lounger, is really unusual.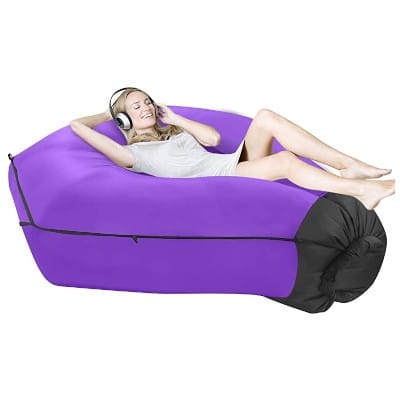 Amazon - SUPTEMPO Inflatable Couch
The SUPTEMPO air couch is a special shape and can also be used in water.
First impression of the air sofa
Most air sofas are supplied in compact nylon carrying bags, which are largely reminiscent of a sports bag from school. The laysack itself is folded up accordingly and can be transported to save space. Annoying baggage such as an air pump or rods is completely dispensed with.
The chill bag is made of the same nylon as the carry bag. The material is reinforced by additional, fine-meshed nylon threads and is therefore extremely hard-wearing. The principle of the air sofa is a two-chamber system that you have to fill with air one after the other. Inside each of the two chambers there is a plastic bag that catches and holds the air. Flexible metal rails hold the air in the sack by folding and rolling up accordingly. A plastic buckle serves as a hold.
Laysack | Air Sofa | Chillbag | Aircouch | Inflatable Beach Lounge in Review
Tips for filling
A manual is not included with most inflatable couches. Before you handle the chill bag you should look at a tutorial on the net, as the first attempts will end up in frustration. But if you get the hang of it, the Laysack is filled with air in a few seconds.
You should first fill each chamber individually. Running over the meadow to finally fill the bag is also not recommended. A chamber of the Laysack can already be filled by flat, sweeping and fast movements with 2-3 trains. Speed ​​is the be-all and end-all. The subsequent winding process additionally compresses the air so that you can lie comfortably on the sofa bed.
Comfort
The air sofa is to be aligned with the seam upwards. With too much air you are usually too unbalanced on the sofa, which leads to rapid loss of balance. Depending on your height and weight, you should decide for yourself, with which amount a pleasant feeling of lying is achieved. A feeling every moment to make the departure then you have guaranteed not! There will be no escape in the long run. You usually only have to refill after a good 3 hours.
Depending on which model you choose, the Airsofa is equipped with various additional functions. For example, there are loungers with side pockets where you can stow your smartphone or beverage. What to look for when buying in any case, is a sufficient mounting option. Especially when no one is lying on the chill bag, it can be blown away even on a gentle breeze. Therefore, different manufacturers deliver their product with additional loop and tent pegs.
Summary
The air couch is a real summer gadget. Both cheap and expensive models offer satisfactory lying comfort and usually only differ slightly in terms of processing quality and additional functions. The filling process, which is difficult at first glance, is easy after a few attempts. Overall, the air sofa, the air couch, the laysack or the chillbag, whatever you like to call the gadget, is an inexpensive and at the same time useful summer gadget for relaxing properly on the beach or swimming lake, for example.