Review
ZIDOO H6 Pro Review - Android TV Box
The ZIDOO H6 Pro streaming box is an mid-range Android 7.0 media player. As one of the few China TV boxes, the H6 Pro supports Netflix HD as well as Amazon Prime Video. In the test, we look at what the compact media player actually has on the box.
Overview
Processor and memory
CPU: Allwinner H6
GPU: Mali-T720 MP2
RAM: 2GB DDR4
Internal memory: 16GB eMMC
Connections
1x HDMI 2.0a Output (HDCP 2.2)
1x AV Out
1x Optical
2x USB 2.0 Type-A
1x USB 3.0 Type-A
1x RJ45 Ethernet (10 / 100 / 1000 Mbps)
1x MicroSD memory card slot
1x DC 5V
connectivity
WiFi: Dual Band AC (802.11a / b / g / n / ac)
Bluetooth: Standard 4.1
Video - Audio
Video resolution: to 4K @ 60fps
Frame rate switching: Yes
HDR: Yes
Video: ua
* H.264
* H.265 HEVC
* VP9
Audio: ua
* Dolby Digital
* Dolby Digital Plus
* Dolby TureHD
* DTS
* DTS HD
* DTS X
other
OS: Android 7.0
Kodi: Yes
Size: 105.6 105.6 x x 17.5 mm
1x ZIDOO H6 Pro
1x Power Supply (5V - 2A)
1x HDMI cable
1x remote control
1x user manual
First impression of the ZIDOO H6 Pro
The End 2017 released ZIDOO H6 Pro TV Box was one of the first steaming boxes with one Allwinner H6 system-on-chip, The on Android 7.0 Among other things, based media player supports the playback of high-resolution 4K video material, offers a fast USB 3.0 connection and is also well-networked, both wirelessly using dual-band AC WiFi and wired with Gigabit Ethernet.
Scope of delivery
The Scope of delivery includes everything needed to use the TV Box. Included are in addition to the media player nor a power adapter with EU plug adapter (5V - 2A), a HMDI cable, a remote control and a user guide and warranty information. The remote control also requires 2 AAA batteries, which are not included in the delivery.
Design and workmanship
Media Player
The ZIDOO H6 Pro streaming box comes with Dimensions of 105.6 x 105.6 x 17.5 mm extremely compact. The golden case frame and the case bottom are made of metal. The upper side of the case is made of glass and bears the manufacturer's logo in the middle. The box is constructed as follows:
front side There is a black-tinted window with an IR receiver behind. Right next to it, a status LED was placed. The left side of the case contains two USB Type-A 2.0 sockets with USB-OTG support, as well as a MicroSD memory card slot. On the right hand side is a USB Type-A 3.0 jack.
All further connection options are located on the back of the case. These include a RJ45 (Gigabit-LAN) socket, an HDMI 2.0a output (HDCP 2.2 compatible), an AV output and an optical audio output, as well as an 5V DC input.
The TV box can be opened by loosening 4 screws on the bottom of the housing. One of the screws is additionally provided with a warranty seal. Cooling takes place via a passive heat sink. For sufficient air supply provide several vents on the bottom. The quality of workmanship the ZIDOO H6 Pro Box is not objectionable and corresponds to the price.
Remote Control
The included remote control communicates via both Infrared, as well as over Bluetooth, The remote control is made of plastic, the buttons are made of rubber. Overall, the remote control is well made. The operating options are clear, but contain everything that is necessary for the operation of the TV box. Among other things, there is a circular control with center entry, three typical buttons for back, home and menu, as well as buttons for volume control. An advantage is the mouse button, which at the push of a button cursor on the screen, which is conveniently controlled by the control.
Hardware
The basis of the ZIDOO H6 Pro media player forms Allwinner H6 system-on-chip, This SoC was specially designed for set-top boxes and is made up of, among other things Quad-Core CPU (ARM Cortex-A53) with maximum 1.8 GHz clock rate and one Mali-T720 MP2 GPU zusammen.
The storage facilities amounts to one 2GB DDR4 memory and one 16GB eMMC flash memory, The memory can be extended via an external USB mass storage device or via microSD memory card. The wireless transmission is via Dual-band AC WiFi and Bluetooth 4.1, Wired is the transmission over a RJ45 Gigabit LAN socket possible.
User Interface
Setup Wizard
If you switch on the ZIDOO H6 Pro media player for the first time, you will be greeted by a multilingual user Setup wizard welcomed. This leads you through the basic settings, such as the connection of the Bluetooth remote control or the configuration of the WLAN. German is available as system language.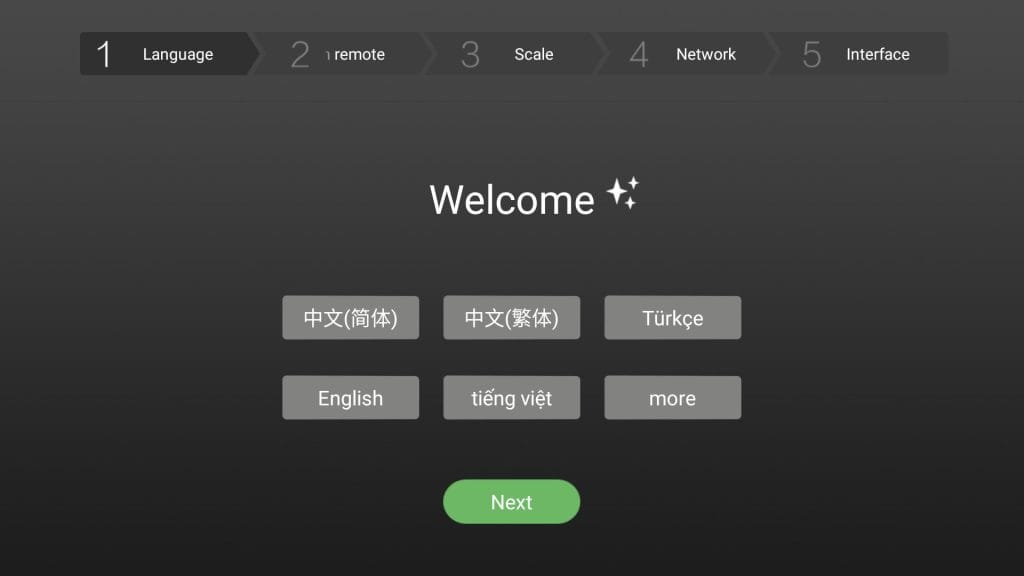 System
A booting takes about 15 seconds to complete. The user interface is based on Android 7.0 and was optically adapted according to the use as a media player. The Launcher used by ZIDOO is strongly inspired by the design of the Leanback Launcher and relies on a similar tile look. Access to apps and features is possible with just a few clicks.
The User Interface is clearly structured and overall easy to use. Improvement is the animation speed. Depending on how fast you navigate through the user interface, the animations are less fluid. A keyboard or an (Air) mouse facilitate the operation, but are not necessarily needed. If a button can not be clicked on, just click on the mouse function of the remote control to activate the virtual mouse pointer. Periphery can be connected via Bluetooth or USB. Unfortunately the TV Box does not support HDMI CEC. An overall operation with only one remote control (eg that of the display device) is therefore not possible.
Settings can be made both over the ZIDOO "Quick-Settings", as well as via the standard Android settings menu. Despite the German system language, the "Quick Settings" are only available in English. Here is an overview of the settings.
Network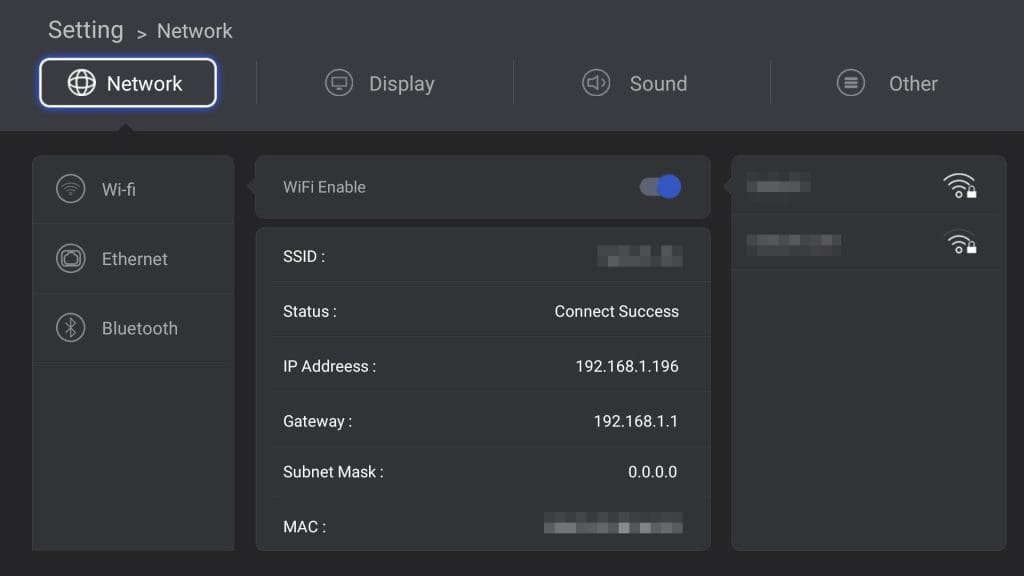 Wi-Fi (on / off status)
Ethernet (DHCP status)
Bluetooth (on / off status)
Display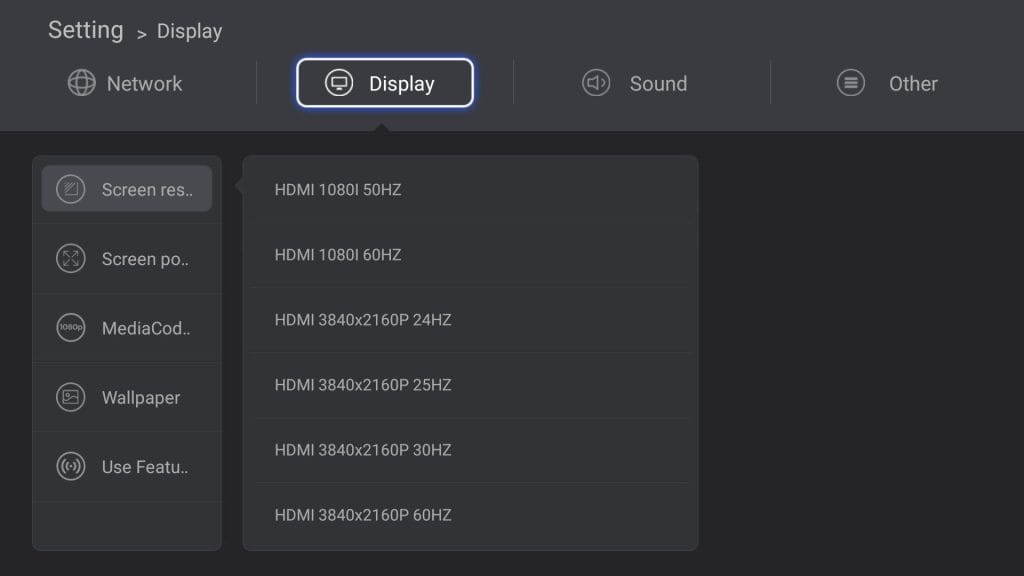 Screen Resolution (to 4K)
Screen Position (0 - 100%)
MediaCodec Framte Rate (On / Off)
Wallpaper
User Featured Data (On / Off)
Sound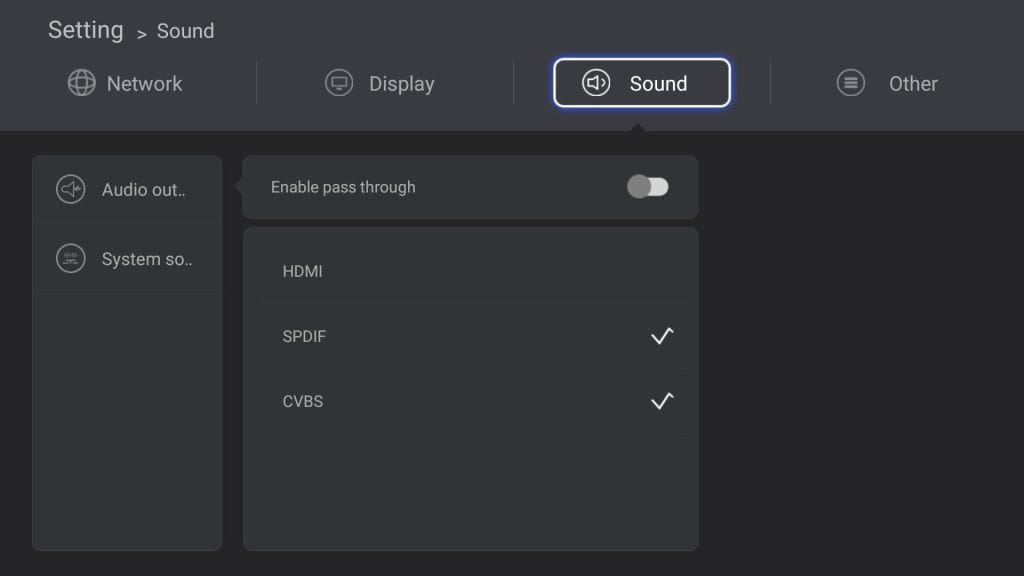 Audio Output (Enable Pass Through - HDMI / SPDIF / CVBS)
System Sound (On / Off)
Other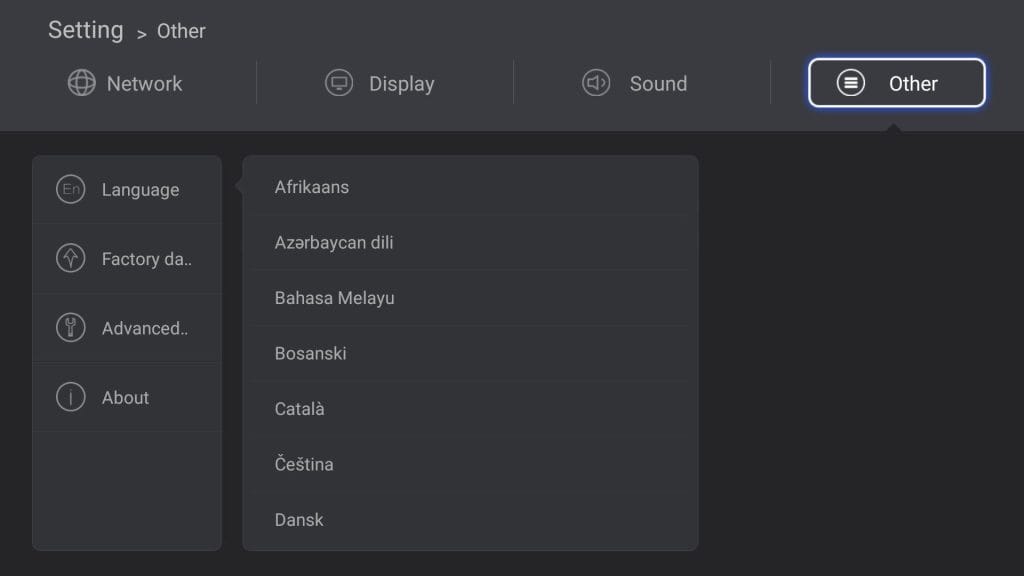 Language (including German)
Factory Data Reset
Advanced Settings
About
Apps and firmware
The Google Play Store and an App Installation Manager are already preinstalled. The app selection on the Play Stores is limited and includes, similar to an Android TV system, only apps that are tailored to the device type. Alternatively, APK apps can be installed through the App Installation Manager (Sideload).
Pre-installed are already useful apps, such as a file manager, a tool for garbage collection and a web browser. Special streaming apps, such as HappyCast, but also a wide video on demand offer, among others Netflix, Amazon Video, TED and Hulu are also on the box.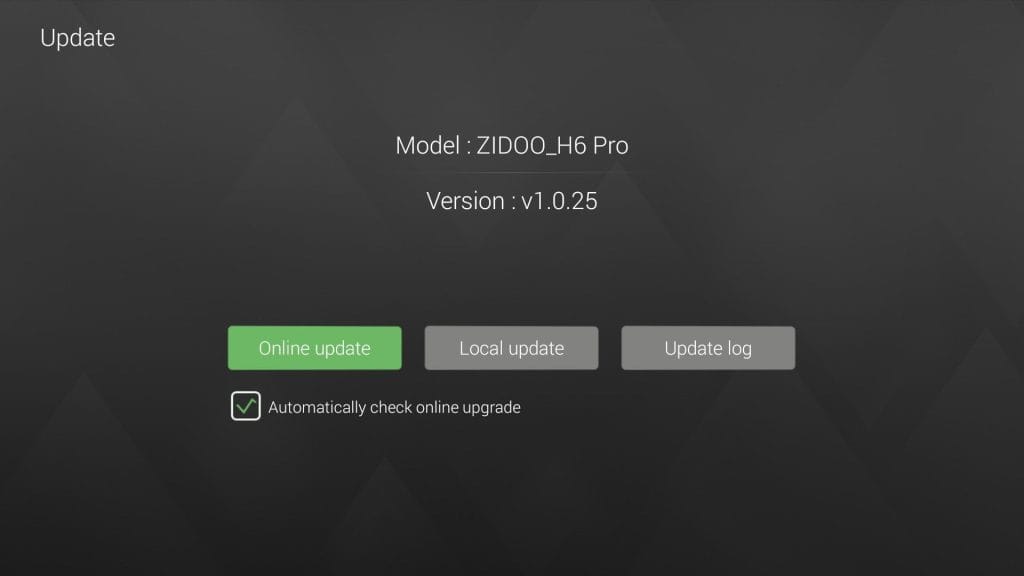 Firmware updates will Over-the-Air (OTA) receive. A return to a previous firmware is possible. A reset button is hidden in the AV socket. If this is pressed when the box is switched on, a factory reset is performed on the delivery firmware.
Media Center
The ZIDOO H6 Pro TV Box comes with a full-featured Media Center equipped, including one Videoplayer, one Music player and one picture viewer includes. Movies, music and others can be streamed via disk or over the network.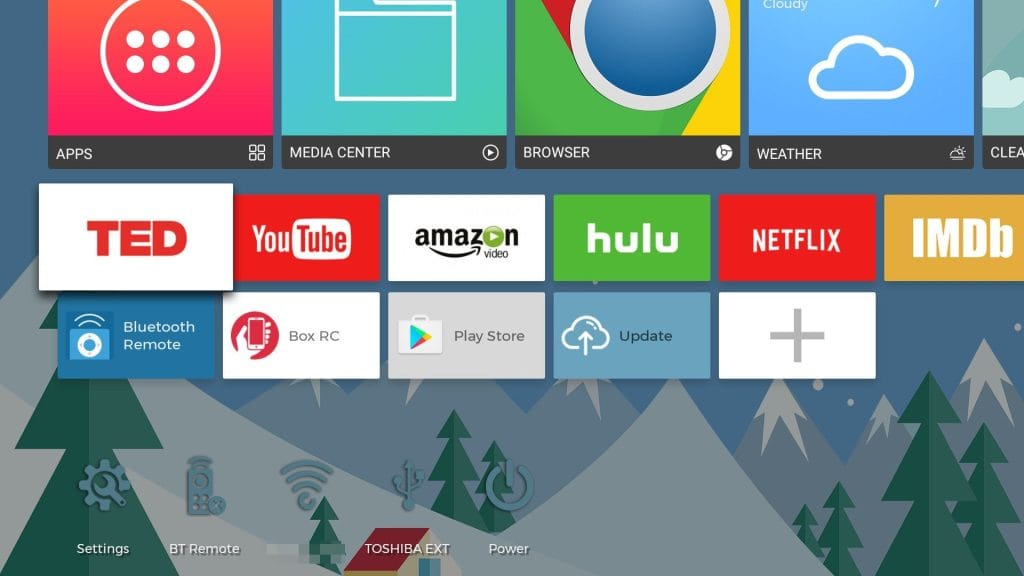 Network
For the wireless or wired network transmission stand the NFS and SMB protocol available, as well as movies and music via DLNA, MiraCast and AirPlay (HappyCast) be streamed. ZIDOO did not succeed in implementing the SMB and NFS protocols. A network memory access of the media player via SMB, as well as NFS, failed in the test with an "unknown error". The installation of Kodi, which SMB and NFS work well for, helps.
Another criticism is the incorrect implementation of HappyCast. The pre-installed app says goodbye a few seconds after launch with a crash. Again, you should switch to any third-party app. Hope that these errors will be eliminated in future updates, at least the last published beta updates.
Video Test
The following video sources tested the ZIDOO H6 Pro video player. Frame switching has been enabled for the test. The playback was due to lack of functioning NAS access, only via a USB 3.0 disk.
The playback on the native video player convinced. Videos, regardless of whether SD, HD, FHD or 4K, are played largely without image breaks and without image aberration. At the same time it is possible over the "SmartColor Engine" from different color profiles, as well as create your own profile with settings for brightness, contrast, saturation and the detail and noise level. Subtitles and soundtracks can be changed at the push of a button.
Audio Test
With Multi-channel audio the TV box gets along well. The common sound systems are recognized and the HDMI Pass Through works. Only DTS-HD and DTS: X have a fallback on DTS 5.1. Serious failures or asynchronism have not been noticed in the test. On Music playerBeing able to cope with various audio formats (MP3, FLAC etc) is included.
HDR, 3D and Frame Switching
The playback of High Dynamic Range (HDR) Content is fully supported. Switching between HDR and SDR is automatic. The HDR image quality leaves nothing to be desired. Grayscale or color space shifts do not occur.
The playback of 3D content is possible. However, the matching 3D playback mode must be set manually using the settings of the video player. The choices include 3D-MVC, SBS and TAB. Delays or other outliers do not occur during 3D playback. Via the settings menu of the video player 3D material can also be played in 2D (2D-SBS / 2D-TAB).
Another feature is the so-called "Frame switching", The refresh rate matches the ZIDOO H6 Pro according to the video material. The adaptation works reliably and even before the actual playback.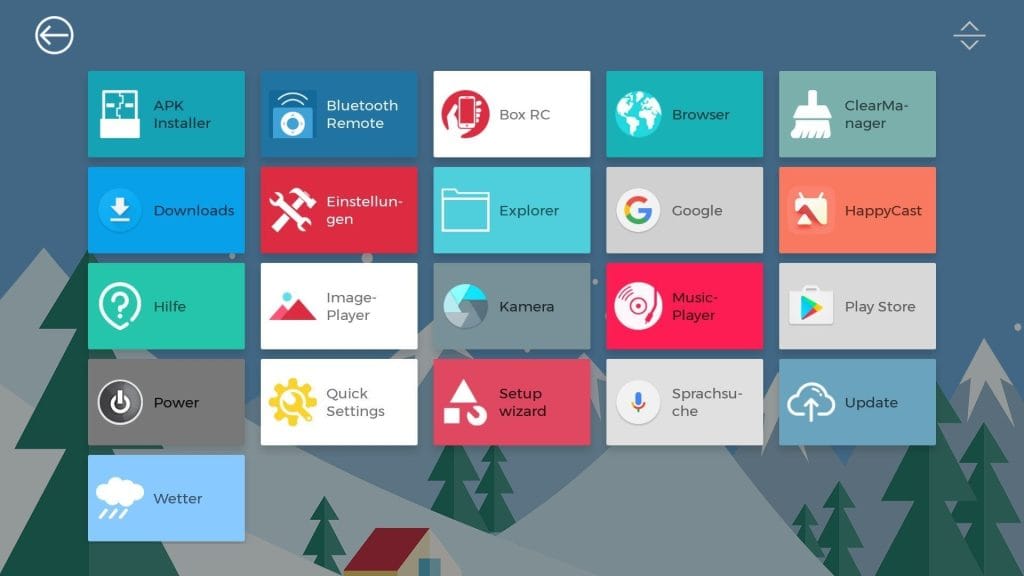 ISO playback
It is also possible Playback of ISO images, If a Blu-Ray image is in .ISO format, it can be played back directly from the video player. In contrast to ZIDOO X10 media player the manufacturer has no "playback with BD menu" integrated. A menu is not called before playback, and no chapter selection is possible. The test also showed that the media player does not play DVD images, but the .ISO playback is purely limited to Blu-ray images.
Netflix, YouTube and Co.
As one of the few China TV boxes, the ZIDOO H6 Pro Mediaplayer is capable Netflix and Amazon Prime Video in Full HD to stream. The required apps are already available as a shortcut on the system and can be downloaded with one click. A look at the DRM support reveals that the TV box Widevine L1 is licensed. However, other DRM licensing such as Microsoft Playready, Marlin or VCAS is missing.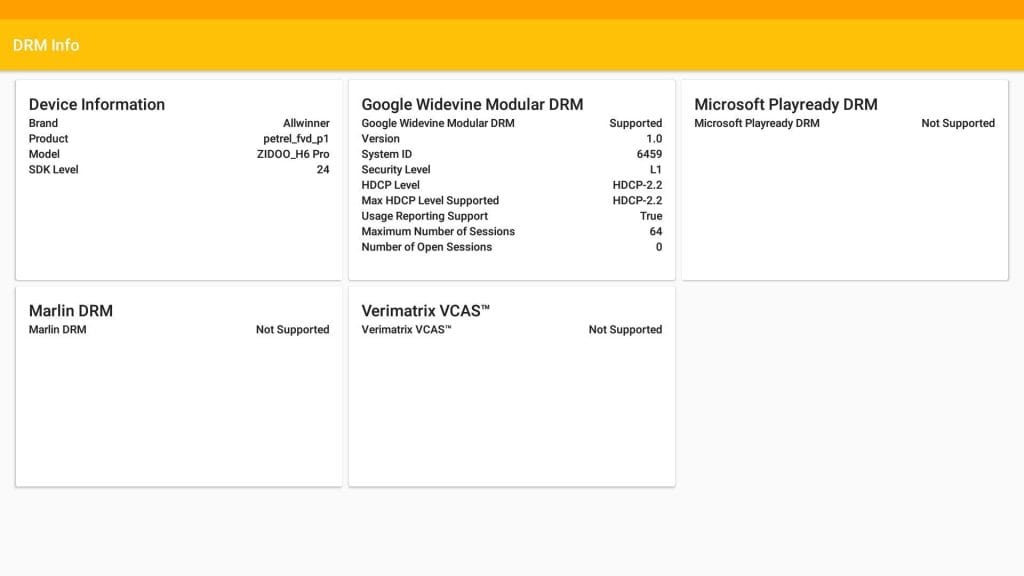 Both streaming through Netflix, as well as Amazon Video is no problem for the media player. The video transmission is smooth and without image errors. The likewise pre-installed YouTube app is limited to a maximum 2K resolution (1440p). Sky Go can be installed after the fact by Sideload.
Kodi
Kodi is not preinstalled, but in version 17.6 (Kyrpton) using the Google Play Store be downloaded. In contrast to the native video player, playback on the Kodi media player is disastrous. Hardly a title, no matter whether H.264, HEVC or VP9 coded, is fluently playable. In addition there are regular color errors, an artifact formation and sound dropouts. The automatic frame rate adjustment does not work in Kodi.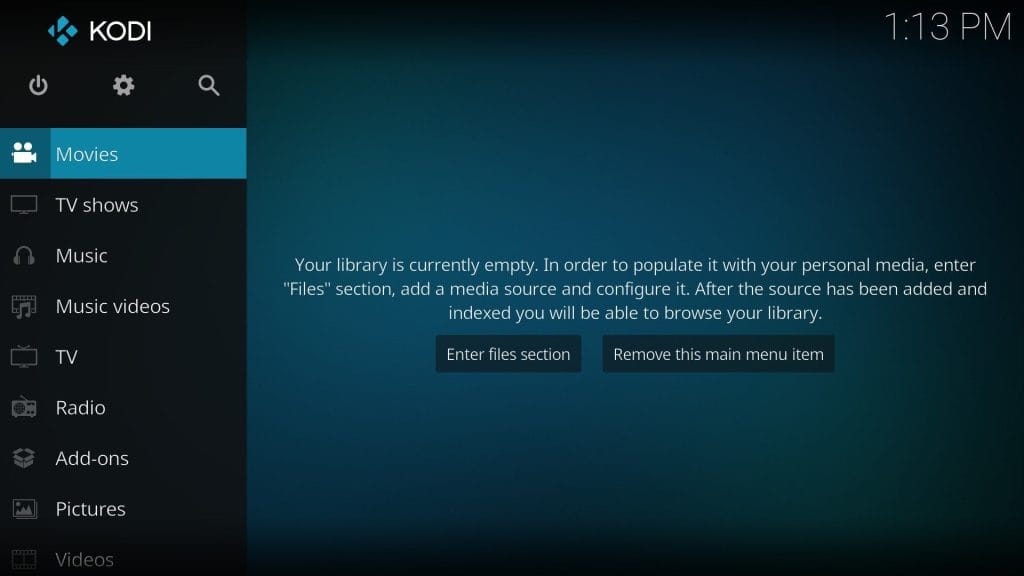 Gaming
As a gaming box, the ZIDOO H6 Pro media player can only be used to a limited extent. Just graphically demanding games such as Asphalt 8 are liquid playable only on low graphics settings. The connection of a Bluetooth game controller is possible. Alternatively, ZIDOO provides the app "Box RC" available, with which the smartphone can be converted into a game controller. An input lag does not occur.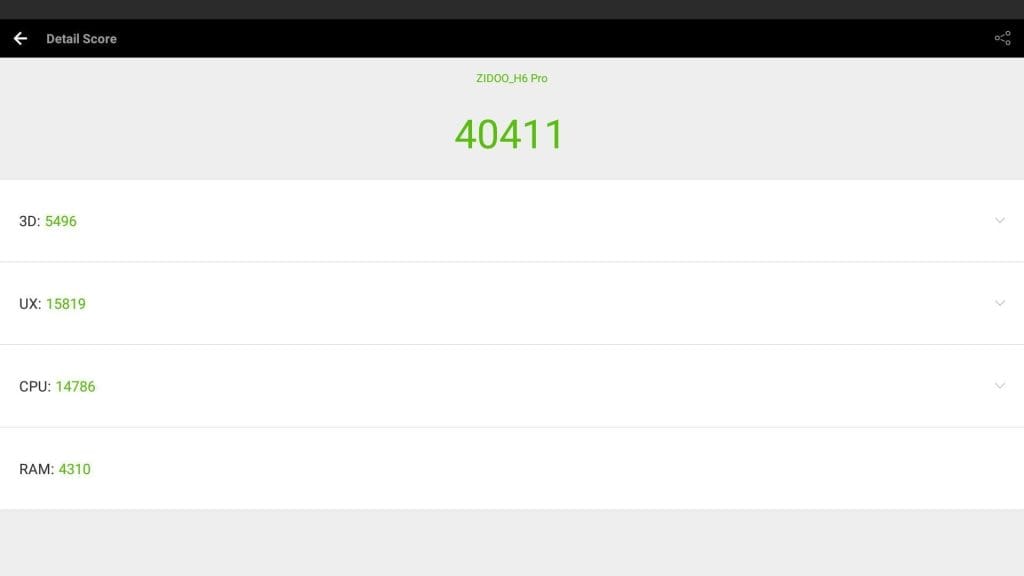 power consumption
Finally, let's talk about power consumption. Switched off is the power consumption of the media player at 0 watts. in the standby 3.5 watts are achieved. in the Idle The power consumption between 6.5 and 8.5 Watts depends on whether storage media is connected. During playback of 4K UHD media, consumption will increase to about 10 watts.
Price Comparison
Price too high? Use our price alarm clock!
Prices last updated on: February 23st, 2020 19:08
Final Words