Zhiyun Smooth X - Compact smartphone gimbal for vloggers
Attention friends of mechanical image stabilization! Zhiyun has launched a particularly handy smartphone gimbal. The Zhiyun Smooth X is foldable to a compact palm size and, in combination with the new ZY Cami app, is the ideal companion for on the go. The gimbal is now available at an affordable price of just under 60 euros.
Zhiyun Smooth X
Foldable design
No matter when and where, within easy reach and easy to use. That is exactly the idea behind the Smooth X. That foldable design makes this smartphone gimbal the perfect companion in everyday life and when traveling. Folded up, the Smooth X is hardly bigger than a smartphone and can therefore be easily carried in a backpack, in your pocket or in your hand. An integrated telescopic rod extends the gimbal additionally 26 cm and enables particularly interesting shooting perspectives.
Easy handling
The operation of the Smooth X is very easy. The gimbal is about 2 buttons and a joystick served. The joystick controls the movements (300 ° Pan and 285 ° Roll), one button changes the mode and another button starts the recording. A side Zoom Slider enables zooming without having to touch the smartphone display. The switch between Landscape and portrait mode is possible at the push of a button. This makes the Zhiyun Smooth X an ideal gadget for vloggers and streamers. By the way, the gimbal is loaded via USB-C. The Accumulator lasts about 4 hours.
ZY Cami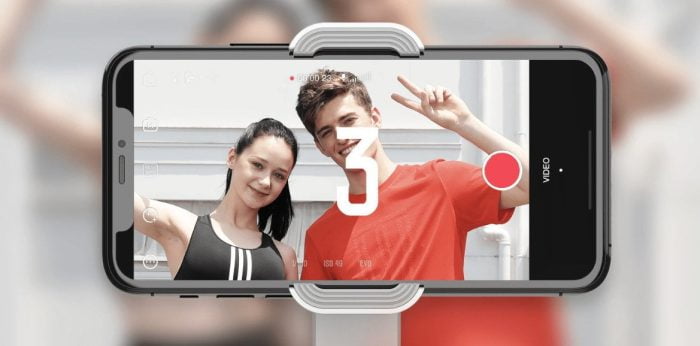 To match the Smooth X, Zhiyun has also launched a new app. ZY Cami is one Camera app, a smart Gimbal control and Editing program in one. The intelligent one object tracking keeps people and objects in focus. Simply mark the motif and the Smooth X will follow the movements without losing sight of the motif. Recordings can be made "handsfree" by gesture start. If you show a V-gesture in the camera, ZY Cami starts the video recording. The editing program included in the app gives the user numerous Cutting templates at hand. This includes various effects (time-lapse, slow-motion, transitions) and music.
Source: zhiyun-tech.com/smoothx/