YI Home Camera 3 - Introduced New Smart Home Camera!
YI Technology is adding a new surveillance camera to its Smart Home product line. Among other things, the YI Home Camera 3 comes with improved AI (Artificial Intelligence), which acts smarter and reduces false alarms.
Overview
Image sensor: Unknown
Image Processor: Unknown
Resolution: 1080p @ 20
Codec: Unknown
Field of view: 107 °
Memory: Unknown
Memory extension: Micro SD memory card
WiFi: 2.4GHz; 802.11 b / g / n
Encryption: WEP / WPA2
Night Vision: 8 IR LED 940nm
Speaker: 1W
Microphone: Yes
Size: 110 80 x x 34.5 mm
Weight: 120g
YI 3 Home Camera
Compact design
After only last year the YI 2 Home Camera Once again, YI Technology presents a new model of its smart surveillance solution this year. Compared to the previous year model is the YI 3 Home Camera a bit more compact and also a little smarter. The compact camera measures only 110 x 80 x 34.5 mm and weighs light 120g. Due to the lack of water resistance, the surveillance camera is exclusively for the interior designed.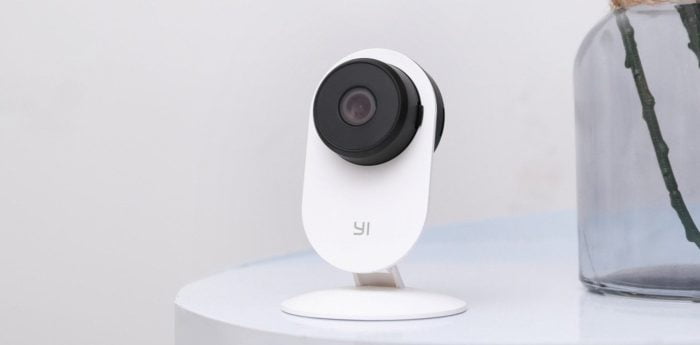 Smart AI, fewer false alarms
YI Technology has made the Home Camera 3 smarter. Core Algorithm Developer "Ron Fridental" comments: "Nobody wants to be flooded with useless notifications. With the latest AI features, our customers are able to receive only essential notifications. " Next CEO and Founder "Sean Da": "With our efforts to make smart home security accessible to all, YI Technology will continue to focus on delivering the best combination of quality and user experience through advanced AI integration and edge computing."

The YI Home Security Camera 3 takes at maximum 1080p Full HD video quality on. The new AI system Enables more intelligent human recognition and avoids false alarms through animals, light or deceptions. In addition to visual AI, YI Technology also uses advanced algorithms to detect sounds and people at a distance of about 4 meters. If a detection occurs, this is immediately identified and the user over the App notified.
Price and availability
The YI Home Camera 3 will be released at the end of February Retail price of 34,99 Euro (without Cloud Service) and 49,99 Euro (with 6 months YI Cloud Service) on Amazon Germany. With the Cloud Service, the image and video recordings are stored for 7 days.
About YI Technology:
YI Technology is a leading manufacturer of innovative imaging technologies and AI solutions. The team consists of industry-leading experts combined with decades of experience in image processing technology, algorithms, data analytics, cloud computing and mobile applications. YI uses the latest technologies to make everyday life safer, richer and more entertaining.
For more information, visit: yitechnology.com
Source: Press Release