Xiaomi Wireless Charge Bluetooth speaker presented!
Xiaomi presented another interesting gadget a few days ago. The Xiaomi Wireless Charge speaker is a stylish Bluetooth 5.0 speaker, combined with a wireless Qi charging station that charges iPhones and Android smartphones with up to 30 watts.
Overview
Xiaomi Wireless Charge Bluetooth Speaker (XMWXCLYYX01ZM)
General
Speaker type: stereo
Driver size: 40 mm
Impedance: 8 ohms
Microphone: Yes
NFC: Yes
Bluetooth: 5.0
Range: about 10m
Shop: Qi
Charging speed: MAX 30 watts
Loading range: 4 mm
other
Weight: Unknown
Size: 234 86.5 x x 73.9 mm
Xiaomi Wireless Charge Bluetooth speaker
Qi charging with up to 30 watts
Qi loading is practical. So practical that anyone who has tried it never actually wants to switch to wired charging again. However, one problem with Qi charging is the slow charging speed. The progress of current quick charging standards, which smartphones now charge with more than 60 watts, has not yet reached the wireless version. Nevertheless, there are already first approaches that promise a reasonably fast wireless charging.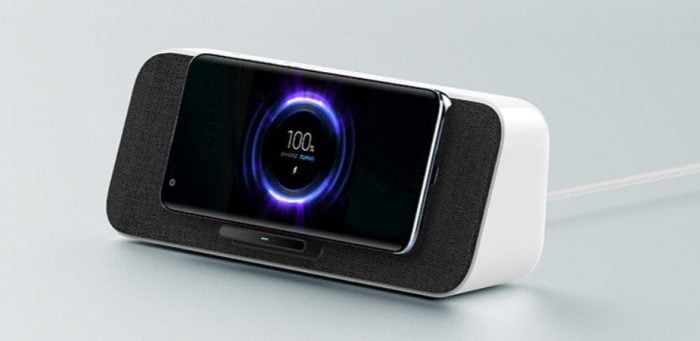 So the new Xiaomi speaker supports fast Qi charging with up to 30 watts, Provided you have a Xiaomi Mi 9 Pro, Mi 10 or Mi 10 Pro. Other smartphones with Qi charging function are also charged, but the charging speed can vary here. In addition to Android devices, the Xiaomi speaker charging station combo also charges iPhones. The Contact Range is about 4 mm, so that loading through thicker sleeves is also possible.

5 watt stereo speakers
Ensure a powerful sound two 40 mm, 5 watt speakers, The speakers are placed in such a way that the music playback is not impaired even while charging. The connection between smartphone and loudspeaker is made using Bluetooth 5.0, The maximum connection range is more than 10 meters. Just getting your smartphone on hand without stopping music playback is no problem.

Unfortunately, it is not known which audio codecs the Xiaomi Wirless Charge speaker supports. Supporting the largely lossless codecs such as aptX HD or LDAC would make the Xiaomi speaker an extremely interesting gadget. We will find out more about this in the test at the latest.
Quick Connect with NFC
Thanks NFC a connection between smartphone and loudspeaker is established in a matter of seconds. Provided the smartphone also supports NFC. If you also have a smartphone with MIUI operating system, the speaker is automatically recognized by the system. One way to use the Xiaomi speaker with charging station in practice would be as an alarm clock replacement. Through the 20 ° inclination of the smartphone support, you always have the time in view. Even videos can be viewed with the loudspeaker.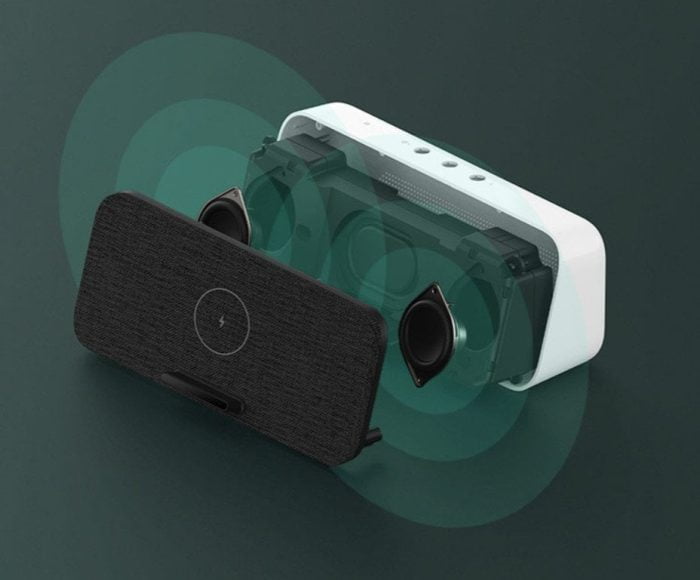 Incoming calls can be made directly over the loudspeaker. Xiaomi has one for this Microphone built in, which filters out noise and echoes. In addition to calls, the microphone can also be used to control the voice assistant. No matter whether Google Assistant, Siri or Bixby, as long as a voice assistant is set up on the smartphone, voice commands are accepted.
Sales of the new Xiaomi speaker are scheduled for February 18. The sale is initially only in China. Relevant import shops will most likely also include the speaker in the range. The Chinese retail price is 249 yuan, which is equivalent to € 33.
Source: item.mi.com/product/11570.html
How do you like the new Xiaomi speaker with charging function? From there in the comments!